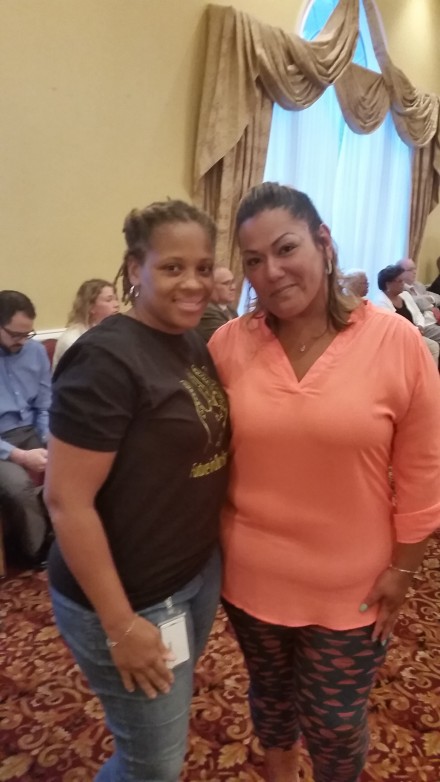 Get set for a bunch of primaries for City Council, possibly 9 of 10 districts. The Democratic Town Committee Monday night at Testo's Restaurant endorsed candidates for Board of Education, city sheriff and the 10 districts encompassing the legislative body on a day its leader Tom McCarthy announced he's not seeking reelection to his seat in the North End 133rd District.

With Town Chair Mario Testa presiding over the endorsement session and Mayor Joe Ganim observing after addressing party regulars, the Dems endorsed for citywide four-year term school board seats education activists Jessica Martinez, Chaila Robinson as well as former board member Hernan Illingworth who was knocked off in a primary two years ago. Former City Council member and retired city educator Sybil Allen, a long-time ally of Testa, was endorsed to fill out the final two years of the seat vacated by Republican Kevin McSpirit who was replaced by John Weldon per appointment by Mayor Joe Ganim. Under state law if the school board fails to fill a vacancy within 30 days it goes to the mayor to fill it with a replacement decided by voters the next municipal election year.
Dems endorsed for citywide city sheriff slots incumbent Steve Nelson, former long-time sheriff Dennis Scinto and former city councilor Anderson Ayala.
The City Council, it appears, is where the primary action will take place in September. Potential primary challengers are expected to hit the pavement this week to collect signatures for certification. Here's how it breaks down by district.

130th, Black Rock/West End, incumbent Scott Burns was endorsed with Rowan Kane, vice president of the revitalized Bridgeport Area Young Democrats. Black Rockers Pete Spain and Christina Smith will wage a primary challenge.
131st, South End/West End/ Downtown, incumbents Denese Taylor-Moye and Jack Banta were endorsed for another two years. Community activist Jorge Cruz says he will primary. It's unclear if Cruz will have a primary partner.
132nd, West Side, incumbent Evette Brantley was endorsed with Rolanda Smith. Young bloods Kyle Langan and Marcus Brown, backed by the Young Dems, will primary.
133rd, North End, with McCarthy packing it in, committee members endorsed incumbent Jeanette Herron and fellow DTC member Michael DeFilippo, a barkeeper at Testo's. Former State Rep. Bob Keeley and zoning commissioner Anne Pappas Phillips will primary.
134th, North End, incumbents Michelle Lyons and AmyMarie Vizzo-Paniccia were endorsed. No one has stepped forward yet to primary.
135th, North End/Whiskey Hill, District Leader Steve Nelson decided to go in another direction, collecting the votes to endorse Rosalina Christy and Darrett Evans Moss over incumbents Mary McBride-Lee and Richard Salter. "I'm not a yes person," says McBride-Lee who vows a primary with Salter. "I've got a new pair of sneakers to knock on doors."
136th, East Side, Hollow, lower North End, incumbent Alfredo Castillo was backed with education advocate Maria Zambrano Viggiano. Incumbent Jose Casco says he will primary.
137th, East Side, incumbent Aidee Nieves will join forces with former council member Maria Valle. Incumbent Milta Feliciano is teaming up with former State Rep. Hector Diaz, a city police commissioner, for a primary.
138th, Upper East Side, District Leader Maria Pereira worked the committee votes for Timothy Bassey and Michele Small over incumbents Anthony Paoletto and Nessah Smith. Two years ago Pereira backed Paoletta and Smith. They had a falling out. "This will be the battle of the summer," says Paoletto. "We're not going away without a fight."
139th, East End, incumbents Eneida Martinez and James Holloway, the longest serving council member, were endorsed. Former council member and state legislator Ernie Newton who lobbied for the endorsement says he will primary. East End neighborhood activist Wanda Simmons may also be in the primary mix. In an interesting twist District Leader Ralph Ford refused to cast a vote for either Holloway or Newton saying Holloway's been there too long and Newton has too many issues hanging over his head following his state conviction and six-month sentence for violating campaign finance laws. Newton is appealing. Martinez, also a committee member, said she wanted to support Newton with whom she has worked on second chances opportunities for her constituency. Holloway had four district votes to Newton's three with Ford abstaining. Martinez for Newton would have made it four each. So she cast her vote for Holloway to give him the endorsement. Each DTC district has nine members.
The Democratic Town Committee endorsement hasn't meant a whole lot in recent years as the city electorate has embraced a growing anti-establishment feeling.
So it's game on in what could be City Council primaries in nine districts, assuming challengers qualify with certified petition signatures.