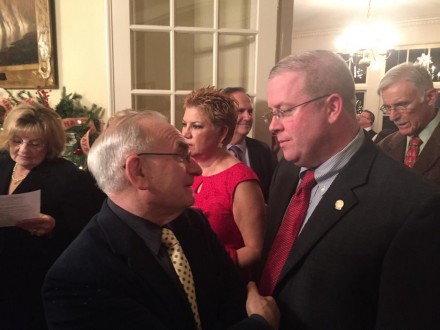 Saying his new job as director of labor relations for the city of New Haven was a factor, City Council President Tom McCarthy announced on Monday he'll not seek reelection to his seat in the North End 133th District, a position to which he first won election in 2001. He has served as council president since December 2007. His announcement came as Democrats prepare to endorse candidates for municipal offices.

"I'm very humbled about the number of people that reached out that asked me to run again, but there comes a time when you just know it's time to take a break," McCarthy is quoted in the Connecticut Post. "I put my heart and soul into the City Council and trying to help the City of Bridgeport for the past 16 years. And to be honest I'm tired."
McCarthy, as head of the legislative branch working at the pleasure of Mayor Bill Finch, became the poster child for the lack of checks and balances in city government. The Bridgeport City Charter prohibits city employee councilors but a loophole in state law allows, as cited by the City Attorney's Office.
Joe Ganim, in his 2015 comeback campaign, pledged to remove conflicts of interest in government. To remove McCarthy from his city position as deputy director of Labor Relations, rather than a potentially protracted legal battle, city lawyers and McCarthy's attorney, former Mayor Tom Bucci, agreed to a separation package in early 2016 of roughly $30,000 and 18 months of health benefits.
Ganim got what he wanted, a campaign promise fulfilled and McCarthy bought some time until he could land another job.
McCarthy rose through the ranks of city politics the old-fashioned way, an eager law school graduate who volunteered on campaigns including Ganim's 1999 reelection during JG1. He made himself available in other contests doing the grunt work associated with races. By 2001 he had a city position in Labor Relations and won a seat on the City Council. He built a strong relationship with Democratic Town Chair Mario Testa.
Even-tempered and well-liked in a sea of diverse council personalities, McCarthy served as a bridge between the legislative body and mayor's office to shepherd through city business.
For many years he was considered a top-tier candidate for higher office. McCarthy's timing was off. In 2008, he could have been the Democratic candidate for State Senate in the 22nd District. He turned it down during the Barack Obama tsunami that carried in numerous Democrats including Anthony Musto who defeated Republican Rob Russo in the multi-town district.
In 2014 Musto was defeated by Marilyn Moore in a primary. Two years later McCarthy challenged Moore and was trounced in a primary, including in his own council district.
McCarthy's departure will likely set off a scramble to select the next council president in December, depending how September primaries shake out.
Former State Rep. Bob Keeley and zoning commissioner Anne Pappas Phillips have been campaigning in the 133rd District against McCarthy and his council partner Jeanette Herron. Keeley's needling of McCarthy was gnawing. McCarthy toyed with seeking reelection if for no other reason than to show Keeley could not push him out, not exactly a prudent rationale for seeking reelection.