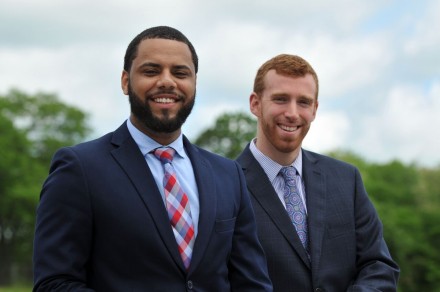 Democratic Town Committee member Marcus Brown and middle school teacher Kyle Langan announced on Monday they are teaming up to run for City Council in the West Side 132nd District. Incumbent councilman John Olson has announced he'll not seek reelection. The other incumbent in the district is Evette Brantley.

"Many of the same issues that plagued Bridgeport in my youth remain unresolved, including violent crime and an increasing tax burden," Brown said in a statement. "As a graduate of the Bridgeport Public Schools, I understand the shortfalls of a system where education is chronically underfunded over decades. I will not sit back and let these issues continue to hurt future generations in our city, and that is why I'm running with Kyle for City Council to make this City a better place."
Brown, who lives in the Brooklawn neighborhood, grew up in Marina Village, the South End housing project. He says he's worked on city issues with State House members Chris Rosario and Steve Stafstrom. He attends Housatonic Community College where he also serves as Secretary of the Student Senate. He is a member of the Greater Bridgeport Young Democrats.
Langan, a lifelong Bridgeport resident, attended Boston University as a Dr. Martin Luther King Jr. scholar where he received his BA in English. He holds an MA in Education Leadership Management and Policy from Seton Hall University. Langan teaches 8th grade literature at Achievement First Bridgeport Academy, a charter school. Langan is a member of Bridgeport Generation Now and Greater Bridgeport Young Democrats.
"As a native of Bridgeport, I am humbled by the opportunity to run for City Council," said Langan in a statement. Marcus and I are 'United for Change' to work hard with the citizens of Bridgeport to find creative solutions to the very real and complex problems we face. I believe that every voice is valuable and that through honest, transparent communication we channel the strength of our city."
Party endorsements will take place next month. The Democratic primary is September 12.