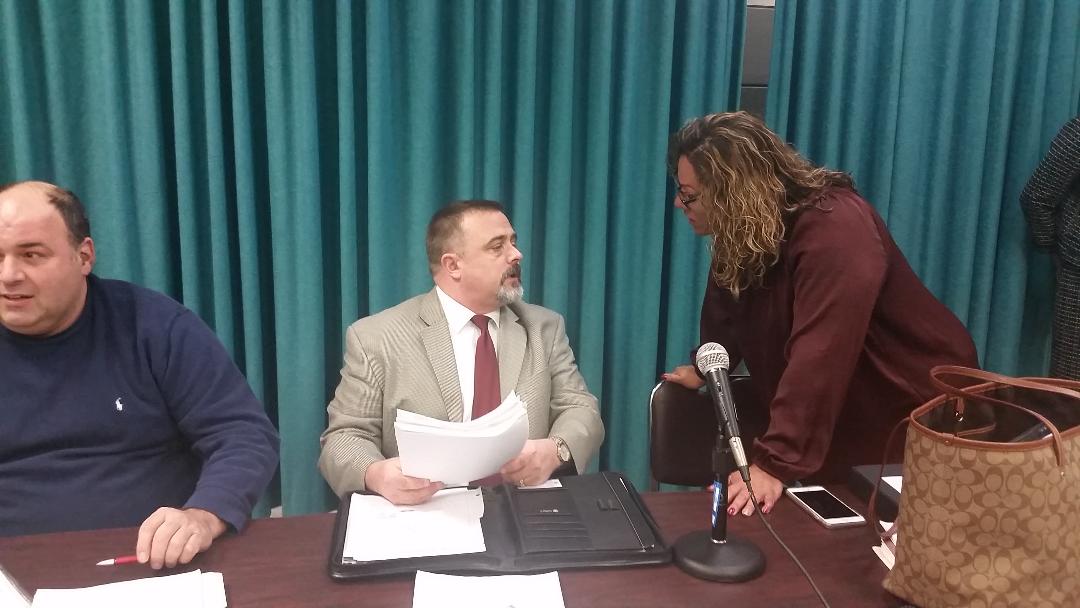 A majority of the Board of Education Monday night placed Jessica Martinez on written notice that they intend to remove her as chair on March 2, a move that board member Chris Taylor, who had supported her leadership position, says stems from substance abuse issues.
Taylor would not get into the details of the executive session that took place prior to the public vote but declared "I suspected she's using drugs. I asked her to take a follicle test and offered to pay for it. She refused."
A hair follicle test screens for illicit drug use analyzed for the prior 90 days while a urine screen simply identifies drugs the previous few days.
Martinez did not attend the public session that issued notice of intent to remove. John Weldon, Chris Taylor, Bobbi Brown, Sybil Allen, Joseph Lombard and Joe Sokolovic voted in favor to remove. Hernan Illingworth voted no.
CT Post reporter Linda Conner Lambeck tweeted: "7-1 to notify Jessica a vote to remove her as chair will be taken on March 2. Hernan voted no. Albert (Benejan) was given the chance to abstain but did not respond. It was recorded as a yes."
Benejan has clarified in the OIB comments section that he supports keeping Martinez as chair.
In January OIB published a story that included an image of Martinez holding what appears to be a crack pipe. She declared it was not crack in the pipe but marijuana. She said the photo was taken by her "ex" Orlando Baez with whom she has had a volatile relationship that led to both of their arrests for domestic violence.
Julio Baez, brother of Orlando, wrote on his Facebook page that was included in the story: "Jessica is a violent individual when she doesn't have her drugs of choice. When Miss Martinez doesn't get her quick fix she gets hostile and extremely violent."
Monday night Taylor, who's facing his own issues, told OIB, "I asked her, 'show me you're clean.' She could not so I told her she will lose her chairmanship."
There is a history of toxicity between Martinez and Orlando Baez, in more ways than one including Martinez's alleged substance abuse that she denies. She claims she's a victim.
In a September 2018 Facebook post Martinez wrote "We need better leaders to step up who lead with integrity, whom our children and upcoming leaders could mirror."
A month after that Facebook post Martinez was involved in a confrontation with Orlando Baez that led to her January 2019 arrest for felony assault and misdemeanor reckless endangerment. Orlando Baez is facing serious charges from the confrontation.
Last summer with State Senator Dennis Bradley providing her legal counsel, Martinez entered a guilty plea to reduced misdemeanor charges that also included violating the conditions of her prior release in a domestic violence case. Martinez's plea also included agreeing to a 20-week domestic violence program. As a result of completing the program her record relating to those charges were cleared.
Still, questions have lingered about substance abuse history and her veracity to run meetings.
Former board chair John Weldon would not discuss details of the Monday night executive session, but confirmed that bylaws allow removal of an officer with minimum seven days written notice of intent to do so.
OIB reached out to Martinez for a comment Monday night. She did not respond.
Weldon added there's no provision to remove an elected school board member, only bylaws to remove an officer, so Martinez will remain on the board if removed as chair. If that occurs the board will elect a replacement.