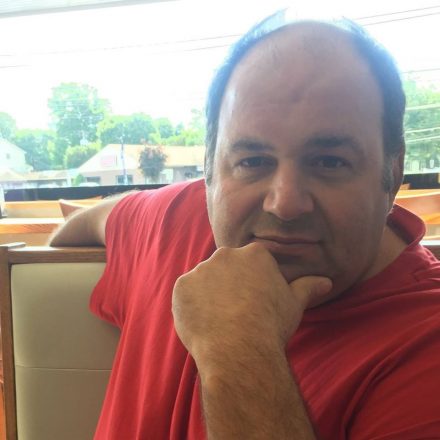 Board of Education member Chris Taylor's feeling like Public Enemy No. 1 in Connecticut's largest city. It will be up to him (and his lawyer) to educate, persuade, convince a Milford judge (and potential jury) that what Seymour police and a state prosecutor allege–attempted second-degree kidnapping with a firearm, third-degree assault, impersonating a police officer and risk of injury to a child–is a misplaced pile-on. His wife Stacy Ramos Taylor was also charged in the incident involving her children.
Yes, the burden of proof is always on the government.
Right now Taylor says no way he resigns from his elected Board of Education position.
The sequence goes back to November following an altercation. Seymour police allege Taylor and his wife talked their way (posing as cops) through a checkpoint in an apartment complex. What started inside with Stacy's 21-year-old son spilled outside with Chris Taylor and a 10-year-old boy in a car, also her son. Yell, scream, punches, an alleged threat to pull a gun. Taylor and wife fled, cops were called.
Months later, piecing together witness accounts, Seymour cops issued a warrant. A video may be part of the evidence. Taylor and wife were arrested a few days ago.
Taylor denies he had a gun at the scene. He admits he has a license to carry a pistol. He does not dispute many scrapes with the law in his younger days–and made it a focal point during his entertaining petitioning candidacy for mayor in 2015.
During that bizarre election cycle that ended with Mayor Joe Ganim's return to office, Taylor added a folksy peculiarity to forums. He sometimes introduced himself "I am Chris Taylor and I am not perfect, I have done some things in my life" without specificity. He added "I will gladly present my plan for Bridgeport in a PowerPoint presentation to any group of ten or more registered voters."
Bridgeport's cable guy included promises to lavish a bonanza of goodies on voters if elected mayor, such as a free laptop, credit card with $300 limit, free cable and free bicycle for each child and guardian. Although fun to cover, he finished deep into the back of the pack.
As a Republican, he won a school board seat in 2017 banking a state-mandated, minority-party slot.
The State Elections Enforcement Commission, based on a complaint brought by former school board member Maria Pereira, is investigating his proper residence when he was elected to the school board. Taylor has used a variety of Bridgeport residences throughout the years, but an abundance of evidence shows he was actually a resident of Fairfield when elected to the school board which would be illegal. Secondary residences, he argues, suffice to run for public office.
Taylor is both affable and irascible. In pop culture he's part Tony Soprano, part Ralph Kramden, part Cable Guy: deal over here, a bowling bowl over there, throw in a joke. Where they collide who knows.
In 2017, Taylor's application for a bail enforcement agent license was rejected by the Department of Emergency Services and Public Protection Special Licensing and Firearms Unit after a review by Detective Kenneth Damato and Lieutenant Eric Murray. A court challenge to the decision by Taylor's lawyer set forth the reason for denial including Taylor "arrested on numerous occasions for very serious criminal offenses" such as a felony conviction following Taylor's 4/12/2006 arrest by Cheshire Police for larceny. Taylor asserts the felony charge was reduced to a misdemeanor plea.
2017 court filing challenging rejection of bail enforcement agent license.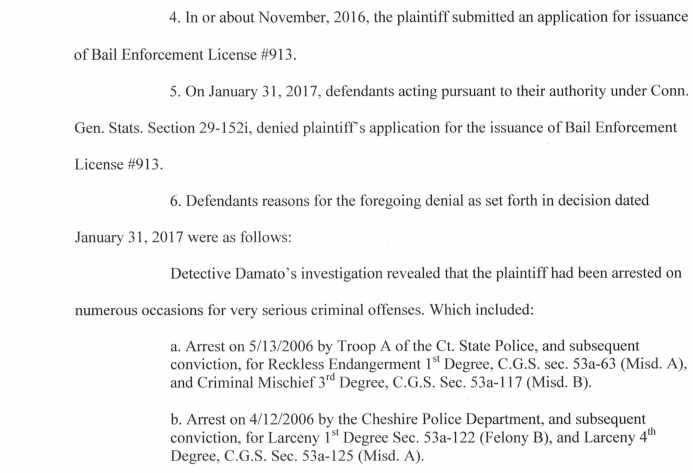 Taylor did not receive his bail enforcement license, but argues the so-called 2006 felony arrest, leading to conviction, is inaccurate. It was reduced to a misdemeanor, he says.