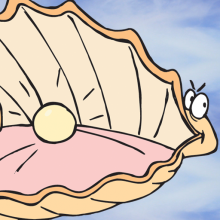 Welcome to Only In Bridgeport, the leading discussion source for how things work in Connecticut's largest city from city hall to the neighborhoods, with a cast of thousands reading and voicing opinions. This is where decision makers, opinion leaders and the politically active go for insight and information they just can't receive anywhere else complemented by witty and insightful postings by readers in the Bridgeport region and beyond.
Only In Bridgeport is not exclusively about the city. It's also about the people and issues that impact our state's largest city. Take a look under the hood. I look forward to hearing from you.
---
About Lennie Grimaldi
The phrase "Only In Bridgeport" has been connected to me for more than 30 years. Or should I say me connected to the phrase?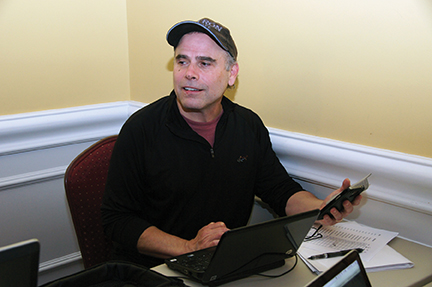 Reporting from the press box on the night of the
historic 2015 Bridgeport mayoral election. Photo/Susan Katz
My career in journalism dates back 40 years to when I was a teenager working for the Telegram (a predecessor paper of the Connecticut Post where I was exposed to all things Bridgeport–the strange, unique and unforgettable–as a general assignment and backup police and fire reporter.
I became fascinated by the city's ethnicity, neighborhood life and political curiosity as a series of twists and turns led to a recurring mantra. When the city built a fire house on private property someone said "only in Bridgeport," when the mayor wore a bulletproof vest during his reelection another proclaimed "only in Bridgeport," when the legendary Superintendent of Police Joseph Walsh turned the tables on an FBI informant who tried to coax him into a bribe, still another shouted "only in Bridgeport!"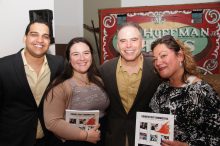 The first of my six published books is named Only In Bridgeport, An Illustrated History of the Park City. The other books also include a piece of the city in some fashion such as Connecticut Characters–Personalities Spicing Up The Nutmeg State and Chased: Alone, Black and Undercover, the life of mob infiltrator Billy Chase. Articles I've authored about Bridgeport have appeared in The New York Times, Yankee Magazine and Connecticut Magazine.
I also run a public relations company called Momentum Communications. To read more about me and Momentum Communications, follow these links: