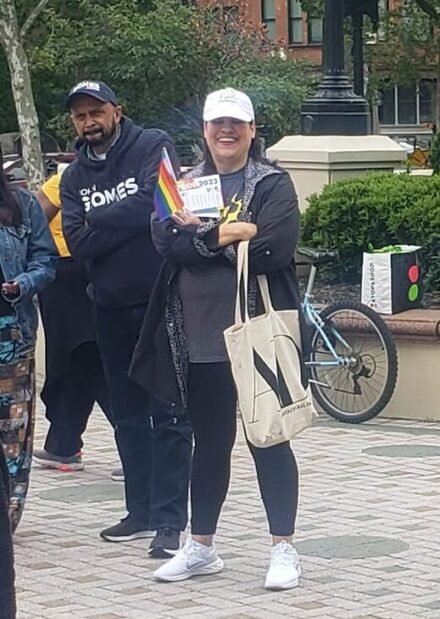 Caught on video searching for an absentee ballot in an elderly woman's vacant home, banned from public housing units after 20 complaints from seniors alleging bullying and harassment, arrested for third degree assault on another senior citizen at JFK precinct election day and now allegations that she illegally handled absentee ballots of elderly residents in the days leading to the September Democratic primary for mayor have compiled quite the fishy set of circumstances for City Councilwoman Maria Pereira who's always quick to self righteously point the stink at others.
Pereira's primary opponent Kevin Monks who defeated her on the machines to lose via absentee ballots has filed a complaint with the State Elections Enforcement Commission accusing mayoral candidate John Gomes' key absentee ballot harvester of numerous irregularities backed up by statements from senior citizens. The commission has voted to investigate.
See SEEC Complaint In re Pereira 11.15.23 (2)
From the complaint:
"I Charles Ross got my voting ballot. I got help from my aide filling it out and Maria Pereria came and picked it up to mail for me. Maria mails them out for most of the people here."
State law authorizes a limited amount of figures to touch a voter's absentee ballot including caretakers, medical designees and police officers.
From Monk's complaint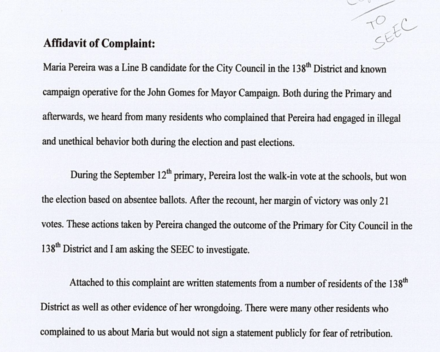 Pereira critic Tony Barr, who controls the Bridgeport New Movement Party, says the Gomes campaign opened up a can of worms releasing video surveillance of Joe Ganim supporters placing absentee ballots into drop boxes, evidence that caused a state judge to overturn the results of the Democratic primary.
Video surveillance also shows Gomes supporters doing the same.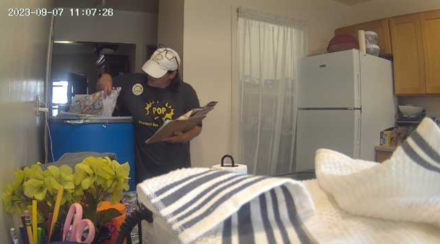 "Had John Gomes not released the tape the seniors would still be in the dark about what is legal and what is not," says Barr. "That woke up the seniors to know that what Pereira was telling the seniors to do was actually illegal. They saw what was going on on television and news accounts so they spoke up."
Barr resides in the 138th City Council district that Pereira represents in the Upper East Side covering the Hooker and JFK precincts. For years Pereira has emerged as a significant toiler of absentee ballots working several senior citizen and public housing units.
"She had the biggest basket of absentees for Gomes," says Barr. "Seniors have told me 'Mr. Barr she told me that was legal. I didn't think this was illegal until I saw the news.'"
In video above the senior citizen Maria Pereira allegedly assaulted explains how Pereira operates
A new Democratic primary for mayor will take place January 23. If Gomes wins another general election will take place with Ganim having a lifeline on Barr's New Movement Party line.
Gomes and his Campaign Manager Christine Bartlett-Josie have trumpeted often Ganim supporters mishandling of ballots while being dismissive of their own camp doing the same.
Local, state and national news outlets have largely done the same except for the Connecticut Post coverage, and a few other outlets, which placed Pereira's latest alleged misdeeds on the front page of its print edition and highlighted on its web portal.