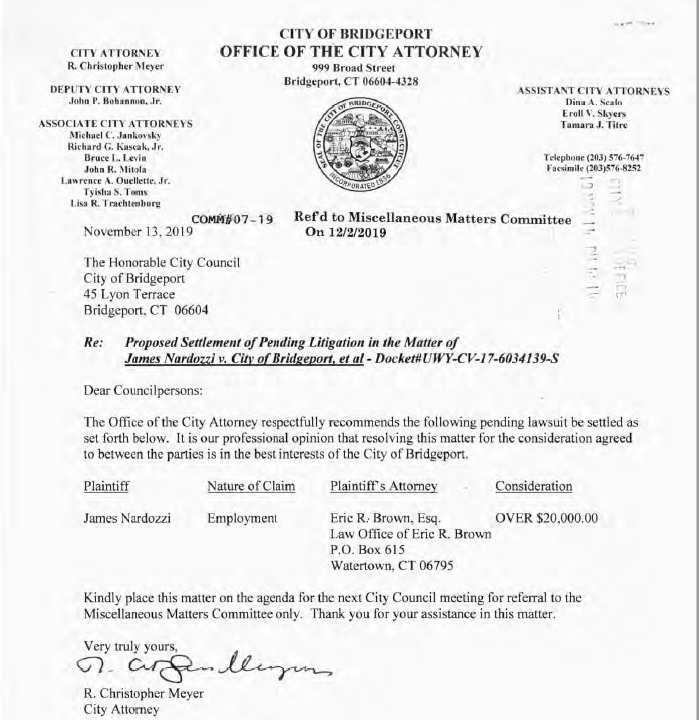 The City Attorney's office has crafted a legal settlement with former Assistant Chief James Nardozzi who sued after he was let go in 2016 charging he was canned for union-backed political reasons after he cut overtime spending.
The settlement will be referred to the Miscellaneous Matters Committee at Monday's City Council meeting. The city has not yet disclosed the amount of the proposed settlement, only to inform council members it's more than $20,000.
The position had been vacant for nearly four years until the appointment of Training Academy commander Rebeca Garcia on Monday.
Nardozzi was appointed the number two top cop seven years ago by then-Mayor Bill Finch with a reputation for reducing overtime from his days as deputy chief in Waterbury. His starting pay was $113,220.
Upon Joe Ganim's return to the mayoralty Ganim brought back former Chief Wilbur Chapman as a consultant to serve as his department hatchet man. Assistant chief is one of two positions (chief) outside of the union structure.
In January 2016 Nardozzi was let go earning $123,000 under a "reorganization" of the Police Department.
In 2017 Nardozzi filed a state lawsuit asserting he was booted by Ganim because Nardozzi hit the pocketbook of cops, by millions of dollars, who supported Ganim's comeback campaign.
OIB chronicled Nardozzi's efforts to cut overtime against the wishes of police rank and file. The lawsuit cited the City Charter which specifies that a termination must accompany a hearing before the Civil Service Commission. A hearing for cause did not occur. As a result the commission violated a term of the contractual relationship with Nardozzi, according to the complaint.
In the complaint Nardozzi's lawyer claimed Ganim acquiesced to the wishes of the police union: we'll support you for your election but Nardozzi and Joe Gaudett as police chief must go. Nardozzi was terminated for "political reasons." The police union was angry with Nardozzi, according to the complaint, because Nardozzi "enacted a plan, at the command of then Mayor Bill Finch" to reduce overtime expenditures. Nardozzi slashed overtime in one year from $8 million to $4.3 million and to the point that a $900,000 surplus existed for the 2014 budget year, according to the complaint.
In 2018 Nardozzi was one of seven finalists for Bridgeport police chief job. Ganim appointed AJ Perez with whom he's had a long friendship to a five-year contract.