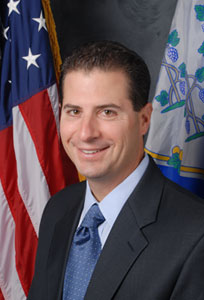 News release from Mayor Bill Finch:
Police Chief Joseph Gaudett today announced the appointment of James F. Nardozzi, Ph.D as the Assistant Chief of Police. Nardozzi, who most recently served as the Dean of Post College and Director of its Master of Public Administration degree program, retired in 2007 as Deputy Chief of the Waterbury Police Department, where he served since 1989. He will serve as second-in-command to the Chief coordinating daily business, operations and administration of the Department.


"Dr. Nardozzi will be an excellent addition to the force, working with the Chief to rein in overtime and reduce expenses while ensuring the officers are deployed in the most efficient manner," said Mayor Bill Finch. "His extensive police management experience as well as his work as a consultant to many Connecticut police departments makes him especially suited to assist Chief Gaudett in the day-to-day management of the department."

"I look forward to working with Dr. Nardozzi on moving the Department forward in a positive manner, keeping an eye on overtime and assisting me with the day-to-day operations and administration," said Chief Gaudett. "He has a stellar track record in organizational effectiveness and policy development, which will be of great assistance here."

While serving as Waterbury's Deputy Chief, Nardozzi reduced departmental overtime by $2 million annually, implemented new fiscal controls and monitored systems and procedures to increase efficiency and effectiveness of various department programs and operations.

Nardozzi was chosen from among the top three finalists presented to the Mayor after a nationwide search conducted by Randi Frank Associates. The Assistant Chief position was approved and budgeted by the City Council in the 2012-13 fiscal year.

Nardozzi's appointment is provisional pending his recertification by the Police Officer Standards and Training Council; he will be paid $113,220.

Dr. Nardozzi earned his Doctorate in Public Administration from Nova Southeastern University. He has a Certificate in Criminal Justice Education from the University of Virginia and graduated from the University of New Haven with a Master's Degree in Public Administration and a Senior Professional Certificate in Forensic Science. He also holds a Bachelor of Science Degree in Criminal Justice. He is a graduate of the FBI National Academy, the FBI LEEDS program, and the Connecticut Municipal Police Academy, and is a Certified Police Instructor in the State of Connecticut.