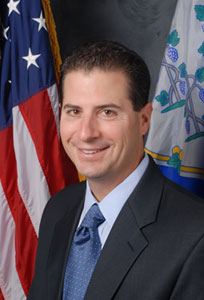 James Nardozzi was hired as assistant chief under Mayor Bill Finch to reel in overtime and then was booted by Mayor Joe Ganim because Nardozzi hit the pocketbook of cops who supported Ganim's comeback campaign by millions of dollars. That charge, among others, is part of a state lawsuit that Nardozzi has brought against the city and the Civil Service Commission for an unlawful termination without a hearing for cause. Nardozzi, as second in command of the department, was earning $123,440 when let go in January of 2016. See legal complaint here. The lawsuit was filed in the spring and a quick resolution does not appear forthcoming, according to lawyers involved.

Since Ganim's return to office police overtime expenditures have been a major issue with a projection to overspend the account by $3 million for the budget year that ended June 30, 2017. Ganim and Police Chief A.J. Perez say the overtime will diminish in the current budget year with new police hires.
Nardozzi was hired in 2012. OIB chronicled Nardozzi's efforts to cut overtime by millions of dollars against the wishes of police rank and file. The lawsuit cites the City Charter which specifies that a termination must accompany a hearing before the Civil Service Commission. A hearing for cause did not occur. As a result the commission violated a term of the contractual relationship with Nardozzi, according to the complaint.
One veteran member of the Police Department who did not want to be identified says "Nardozzi did an excellent job reducing overtime. He would not allow people to take advantage of the system."
In the complaint Nardozzi's lawyer claims Ganim acquiesced to the wishes of the police union: we'll support you for your election but Nardozzi and Joe Gaudett as police chief must go. Nardozzi was terminated for "political reasons." The police union was angry with Nardozzi, according to the complaint, because Nardozzi "enacted a plan, at the command of then Mayor Bill Finch" to reduce overtime expenditures. Nardozzi slashed overtime in one year from $8 million to $4.3 million and to the point that a $900,000 surplus existed for the 2014 budget year, according to the complaint.
Angry over the overtime cuts, the union sought Nardozzi's removal including an effort with some minority members of the department to besmirch his reputation "by falsely labeling him as a racist in the news media." Those claims were found unsupported. The effort to remove Nardozzi then became "political" with union members pledging support for Ganim in exchange for Nardozzi's firing.
The overwhelming support of city police officers, and by extension family and friends, became a pivotal campaign moment for Ganim who worked to assuage concerns about his 2003 conviction on public corruption charges. It immunized Ganim from attacks with a talking point at doors: the police union would not support me if its members had any concerns about my past.
During the 2015 primary campaign police overtime once again became an issue following a spike in violent crime in some neighborhoods. Hearing vociferous complaints, Finch, as the incumbent, reopened the overtime spigot to pad police patrols. Finch lost the primary to Ganim, but in a last-minute move before leaving office reappointed Gaudett to another five-year term as authorized by the City Charter. Ganim also inherited an election-year budget crafted by Finch.
Upon election one of Ganim's first hires was bringing back former Police Chief Wilbur Chapman to serve as a "public safety adviser." He essentially carried out the orders of the mayor to Nardozzi and Gaudett, the two leaders of the department the police rank and file wanted out. Chapman and John Gomes, who Ganim appointed acting chief administrative officer, became the hatchet men, although Chapman had kind words for Nardozzi including his ability to once again bring overtime costs under control, according to the lawsuit.
It was not to be. The complaint alleges that Police Union Chief Chuck Paris pressed Ganim to terminate Nardozzi. It was done.
In January of 2016 Gomes issued the following letter to Gaudett:
By the order of the Mayor, in order to improve the functionality, the operational and economic efficiency of the Bridgeport Police Department the following reorganization will be conducted. The position of assistant chief will be eliminated immediately.

Those duties currently performed by the assistant chief will revert back to the chief of police. The four deputy chief positions will be realigned to better coordinate the efforts of the mayor's crime reduction program. One deputy chief will be assigned to A and B shifts while two will be assigned to C shift. Schedules will be adjusted to ensure weekend coverage. The duty chiefs will respond in uniform to major incidents while on duty and will work with the commanding officer of the mayor's crime reduction task force to manage field resources. The commanding officer of the mayor's crime reduction task force will have overall authority for strategic appointment and overtime allocation.
With Nardozzi out of the way Ganim, who announced on the campaign trail the department needed a fresh start, went to work on Gaudett. But Ganim was handcuffed financially by Finch's last-minute appointment. Rather than a large payout of his contract, the city and Gaudett worked out a multi-year professional services agreement overseeing the Office of Emergency Management and the Communications Division. Gaudett resigned as chief. It allowed Ganim to appoint his long-time friend Perez as acting chief. Ganim has not announced a national search for a permanent chief.
Prior to joining Bridgeport, Nardozzi served as the Dean of Post College and Director of its Master of Public Administration degree program. He retired in 2007 as Deputy Chief of the Waterbury Police Department, where he served since 1989.
He seeks monetary damages, reinstatement to his position, with back pay and benefits, attorneys fees and punitive damages. He is represented by Eric Brown who once served as a police union lawyer.