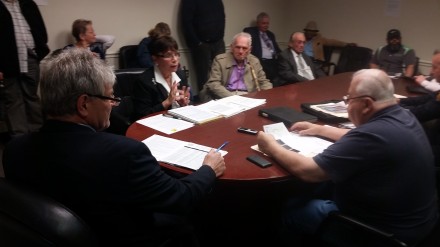 February 6 seemed like a benign day for retired Superior Court Judge Carmen Lopez who took her elderly father to a Downtown barber shop on Broad Street. She parked outside the shop and waited for her dad. As she described here in an OIB commentary she was later jolted by a $40 parking ticket: patrons of downtown businesses are given tickets without ever being told, warned, advised or otherwise notified that pulling over into an empty space for more than 5 minutes will result in a $40.00 ticket." Thursday afternoon she received justice–that she also wants on behalf of others subjected to fines–when a hearing officer dismissed her fine.

Joined by community supporters and even her husband Superior Court Judge Dale Radcliffe, Lopez leveraged her savvy legal skills during the City Hall meeting, filleting the city's roll-out of the modern meters without visible signage of the consequences for failing to execute a transaction within five minutes of parking a car.
Lopez, citing City Charter regulations, challenged the parking ticket through an administrative appeal. Retired city police officer Peter Kehoe who showed a cheerful indifference to the proceeding represents the city in these matters as a "parking violation administrator." Michael Moretti, also an elected city sheriff, volunteers his time as a hearing officer to rule on the appeals. He was appointed to a term by the mayor and approved by the City Council, per City Charter regulation.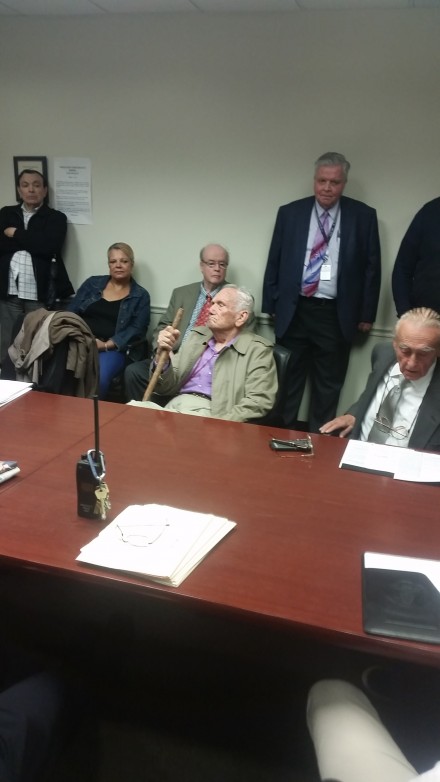 At several points Lopez seized control of the meeting actually turning the tables on Kehoe, "You're my accuser," questioning his credentials and evidence to prove the case against her. Kehoe and Moretti responded calmly to her challenges.
In the end Moretti sided with Lopez, ruling the city's lack of public meter signage was justification for dismissing the ticket. In doing so Lopez has created a boilerplate argument for others subjected to fines. And the police paperwork plopped on the desk inside the hearing room showed dozens and dozens of similar appeals and many others involving the handicapped are being heard regarding the modern meters that were designed to replace the antiquated coin-operated machines with an additional revenue windfall. Unintended consequences have amounted.
For instance Juan Santiago who operates the barber shop across from the Margaret Morton Government Center that created the parking ticket in question says he's lost more than 50 percent of his business since the meters were installed in front of his business. "I'd leave," he said Thursday, "but I have a lease. They are chasing people out instead of inviting them in."
The parking meter growing pain is also a source of frustration for Kelvin Ayala who operates Moe's Burger Joint in the remodeled Arcade Mall on Main Street. He'd like the city to issue a one-year moratorium on the meters and also reduce the fine from $40 to $20.
For info on the parking meter provider see here.
The modern meters are a fulfillment of a campaign promise by Mayor Joe Ganim. But they've become a toothache for some Downtown visitors and businesses who argue the meters don't provide proper signage notifying of consequences, for instance, not executing a transaction in five minutes. Others argue the two-hour parking limit is also an unfair burden.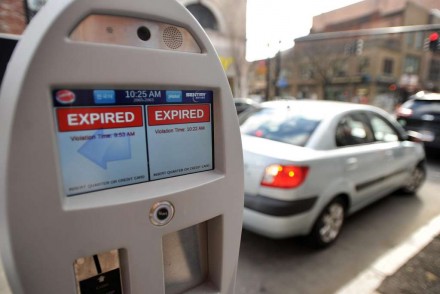 Despite the deletion of her fine, Lopez says she's not done bringing attention to the issue. "People need to know the city administration and City Council are hurting the people."