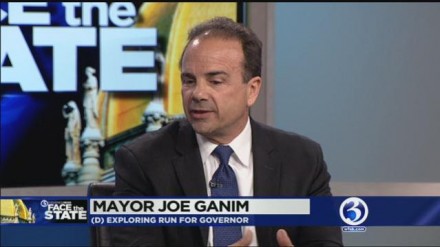 Eager for another shot at the governor's office, one he thought was his time until derailed by a public corruption conviction in 2003, Mayor Joe Ganim on Friday filed exploratory papers for a statewide run. He ran for governor in 1994 and ended up the Democratic candidate for lieutenant governor when Bill Curry lost to Republican John Rowland.

Ganim issued this statement Friday afternoon:
"I look forward to the opportunity to talk with people all across Connecticut about our future and how we can work together to make this a better place to live, work and raise our families," said Mayor Ganim. "I look to bring a sense  of optimistic, creative leadership that can restore the strength of our cities as engines that can drive a better economy that benefits all of Connecticut. I look forward to having  conversations with the people throughout our state in the coming weeks and months about how we move forward together."
Ganim made a remarkable comeback to the mayoralty in 2015 defeating incumbent Bill Finch in a close Democratic primary on his way to a convincing general election win harnessing a second-chance message.
Although just back in office 16 months it still eats away at Ganim that he'd have likely been the Democratic candidate for governor in 2002 if not for the federal investigation. He also sees a potential field of gubernatorial candidates that thus far, to him anyway, is unimpressive. Governor Dan Malloy's recent announcement that he'll not seek reelection changes the Democratic landscape.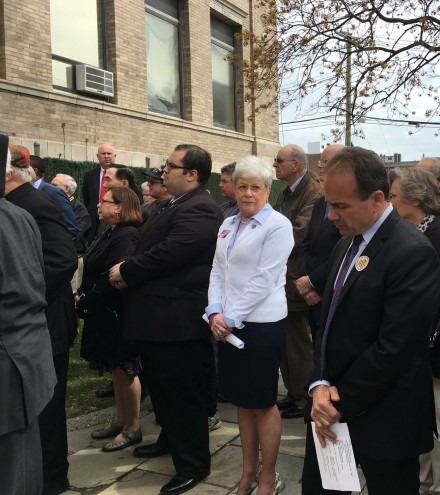 To Ganim's way of thinking he has a free run. If he fails at a statewide run in 2018, he's still mayor with about $200K already banked for a 2019 mayoral reelection. But running for statewide office is a different animal than Ganim's historic comeback on a local level with a Connecticut electorate not nearly intimate as city voters. He will face many questions about his history that requires more progress in the city to overcome suspicion. But this is Joe Ganim and he shoots high irrespective of the odds. It's something he must get out of his system.
For city voters who brought him back and may feel betrayed by Ganim's seeking statewide office he has this message, "I can do a lot more good for Bridgeport from that position," as he told the Connecticut Post.
A big question for Ganim remains, will he be able to participate in the state's Citizens Election Program of publicly funded races? The state legislature passed a law four years ago prohibiting office-related felons from participation. Ganim has asked the State Elections Enforcement Commission for clarification on the law.
Arnold Skretta, an elections lawyer representing Ganim, asserts there are constitutional issues such as unfairly applying the law retroactively to Ganim following his conviction on federal corruption charges in 2003. Courts generally disfavor laws applied retroactively.
Ganim's lawyer argues if the state wants clean elections then it would require–not ban–the participation of individuals like Ganim and others similarly situated.
If the SEEC rejects Ganim's argument, he may run into court to seek relief on constitutional grounds. He is in the process of interviewing lawyers for such an effort.
Meanwhile formation of an exploratory committee allows him to raise money with a maximum personal contribution of $375. If the SEEC staff and commission rule in his favor he could roll that money into a full-blown candidate committee, but only donations of $100 and less could apply to qualify for a major public grant.
If Ganim is blocked out both by the SEEC and court efforts he still has the option of raising money the old-fashioned way with large dollar donations, but that would undercut his second-chance narrative rejecting dark-money donations.
Ganim is a relentless retail politician. Will his second-chance message translate beyond Bridgeport? It's a very high bar. But one possible scenario could be a large primary field in which Ganim galvanizes urban voters to a second-chance message. Given that chance, would unaffiliated voters feel the same in a general election?
Still to be heard from, however, is Lieutenant Governor Nancy Wyman. Will she jump in?
The Republican side is also loaded with candidates.
In a Thursday evening taping of the Face The State, hosted by Dennie House, to air Sunday morning, Ganim announced his exploratory run. From House:
During the taping, Ganim called the budget situation in our state "depressing," and told us he believes as mayor of the state's largest city he is uniquely qualified to be governor, because he has balanced budgets without tax hikes.

"At this point, I'm gonna get out there and explore it as an opportunity to provide, I hope, maybe an opportunity for public service on the state level."

"Filing allows us to begin the process of looking for financial support, be in the process, and as we go–that's why I thought it was important to do that now."

Ganim's hometown was very forgiving, and the mayor hopes the rest of the state will feel the same way.

"We will find out how pervasive the concept of second chance is … I think that's what Connecticut is about."