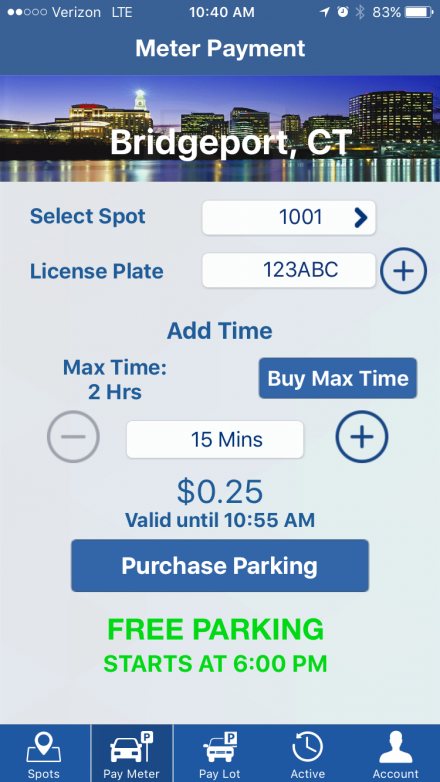 Brian Cassady, chief executive officer of Municipal Parking Services, the company that has provided the new Downtown parking meters to the city and is responsible for equipment management and maintenance, shares that a new mobile app is now available that can be downloaded from iTunes or Android Play Store. Cassady says the mobile app called Sentry Mobile enables a better parking experience.

Cassady shares some of the key features of the app.
• Check for parking meter availability in your area by using the map feature of the Sentry Mobile application. The map feature will tell you where the nearest open parking spaces are and it's a great tool for locating nearby meters, parking lots, and garages.
• Locate your vehicle easily with one touch of a button.
• Pay your meter with ease from anywhere! The Sentry Mobile app eliminates the obligation of feeding your meter in person. Simply select your numbered parking space and how much time you'd like to apply.
• Pay for parking in a nearby lot or garage without having to interact with kiosks or parking attendants. Easy in and easy out! Using the Sentry Mobile app to pay for parking in a lot or garage is not only convenient, it will also save you time!
• Track your active parking sessions. No need to remember when your meter will expire. The app will remind you if you are within 15 minutes and 5 minutes of a violation. You can also check back on your active parking sessions at any time and apply more time if needed.
• Receive an automated email receipt for every transaction you make. Receipts help you track which meter you used, what time you parked, how much you paid, and the time of your departure.
• Make deposits to your account balance at any time. The funds are available for use on parking immediately.
• Save your registered vehicles. You can add, edit, or remove license plate numbers from the account menu whenever you'd like.
• No need to memorize each municipality's parking rules and regulations. The Sentry Mobile app will tell you when there is free parking, when normal enforcement hours begin and end, maximum parking time limits, parking rates, etc.
• Need assistance with the app or report a malfunctioning device? Use the "Contact Us" option to connect with a support representative who will be able to assist you.