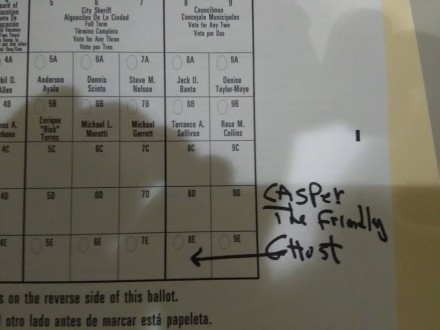 On this election day there's always Casper the Friendly Ghost. City social activist Jorge Cruz, who lost a September Democratic primary to City Council incumbents Jack Banta and Denese Taylor-Moye in the 131st District representing the South End, Downtown and portion of West End, wrote in the supernatural cartoon character.

Cruz writes on his Facebook page:
Today I proudly VOTED for CASPER THE FRIENDLY GHOST as a WRITE-IN candidate for the 131st District Southend for city COUNCILMAN at CESAR Battalla school. And VOTED TOP of the LINE for the BOARD OF EDUCATION AND SHERIFF. NO VOTE FOR CITY COUNCILLORS. THEY'RE USELESS.
The district actually has a bona fide write-in candidate, Ras Omari.