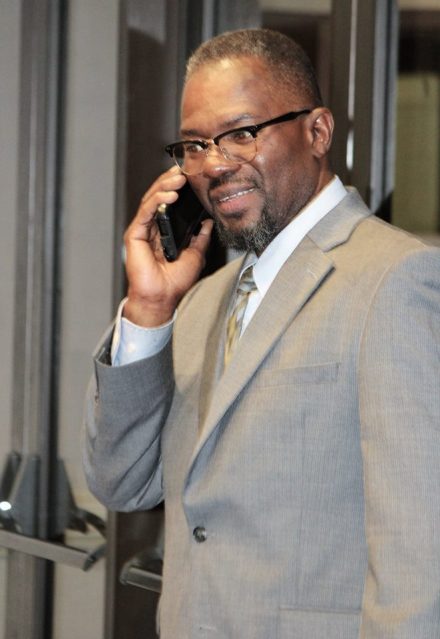 Tony Barr leverages his last name… well… like a crowbar. He's been behind bars in maximum security facilities, been barred from the mayor's office followed by a City Council request to bar him from meetings, even had dueling protective order requests with school board member Maria Pereira to bar each other's company. Now Tony's trying to raise the bar in a super long-shot run for mayor, the office he sought four years ago in which he finished dead last as a petitioning candidate with 24 votes citywide.
Undeterred from 2015, he made his mayoral announcement on Sunday at the Orcutt Boys & Girls Club on the East Side.
So what's changed from four years ago? He has since raised his political and public profile, winning a seat on the Democratic Town Committee from the Upper East Side 138th District, and along the way involved in a few scrapes with the law.
An outgrowth of his political involvement is a burgeoning alliance with State Senator Dennis Bradley whom Barr often promotes on his Facebook page.
Barr plans to run in the general election on the New Movement party line that was occupied by veteran political operative Charlie Coviello four years ago. Coviello, now a city employee, is supporting Ganim's reelection.
Tall, bespectacled, always nattily attired, the 52-year-old Barr who often refers to himself in the third person can come across professorial, even thoughtful, regaling on a number of subjects, but prepare yourself for a capricious segue when he turns up the temperature passionately about issues and personalities who violate his standard of sensibilities.
Barr, who is coy about how he earns a living, has made it his calling to speak out about creating opportunities for erstwhile offenders facing second-chance obstacles.
What's his beef with Mayor Joe Ganim? It generally centers on Ganim, a second-chance mayor, turning his back on felons, says Barr, that he inspired to the polls in 2015. "He has disappointed everyone who ever had handcuffs on them."
Translation: Ganim has not hired enough former offenders.
Barr tasted political victory last March when he joined a coalition of campaign veterans, backed by Democratic Town Chair Mario Testa, to lance a slate led by school board member Maria Pereira who had served as district leader.
Barr and Pereira give as good as they get, and often against each other. Barr claims Pereira started him in politics, something Pereira disputes forcefully. "He's completely delusional."
Late last year they both filed court papers for protective orders against each other. Superior Court Judge Barbara Bellis rejected their applications asserting "As public figures you have to face criticism and negativity."
Following the Sunday shooting death of a man he knows Barr lamented gun violence. In a video on his Facebook page he declares, "It's time we truly start to do something … let's pray to improve the quality of life for the people of the city of Bridgeport. Let's pray for job opportunities. Let's pray for putting our kids back first. Let's pray for being responsible parents again. Let's pray for being responsible leadership in the community."
How does he intend to finance his mayoral race? Without missing a beat he tells OIB, "I have a lot of rich friends."