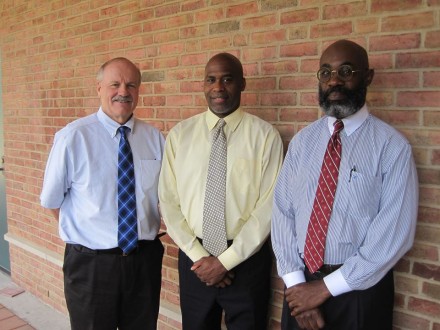 The challenge slate for Board of Education has kicked out a lengthy list of endorsements that includes political operatives, education advocates, civil rights leaders and even a few city employees. The slate of Andre Baker, Dave Hennessey and Howard Gardner is challenging endorsed Democrats Kathryn Bukovsky, Simon Castillo and Brandon Clark in a September 10 primary. Folks lending names to an endorsement list is not nearly as meaningful as the ones on the list putting in the grunt work so essential in primaries. A solid majority of activists on the list are seasoned campaigners. See news release below from Marilyn Moore on behalf of the challenge candidates.
The Better Education Starts Today, or BEST, slate of candidates running for the Democratic nomination for Bridgeport Board of Education today released a list of 31 elected officials, community leaders and educators who are endorsing them.


Candidates Andre Baker Jr., Howard Gardner, and Dave Hennessey are running on Row B as the BEST slate, the team of Democrats that represents and answers to the voters and the Bridgeport community, not political bosses. The primary will be held on Tuesday, September 10th and polls are open from 6am to 8pm.

"No candidate who opposed Board of Education elections should even be running in them," said Marilyn Moore. "We vote for our city officials so that we can chose candidates with integrity, experience, and commitment to the community, and that's why I'm supporting Andre, Howard, and Dave."

"Only community-driven reform and a democratically-run school system will guarantee every Bridgeport child a quality education. That's why it was important to protect the voters' rights," said Howard Gardner.

Support for Baker, Gardner, and Hennessey has been so strong, in part, because they are the only candidates in this Board of Education primary who stood up for the rights of city voters to elect their Board of Education members in last November's ballot question. The endorsed Democrats in this race all supported denying Bridgeport voters that right and handing over Board of Education appointments as a privilege to city politicians.

The following elected officials, community leaders and educators are supporting the BEST candidates:

John Bagley, Bridgeport Board of Education

Sauda Baraka, Bridgeport Board of Education

Deola Barfield, Pastor and retired Bridgeport Teacher

Sara Batalla, Bridgeport teacher and parent

Tammy Boyle, District Parent Advisory Council Corresponding Secretary

Maryanne Brewster, incoming president of Burroughs Community Center

Kevin Cassidy, Professor at Fairfield University

Ann deBernard, retired principal of Waltersville School

John DePina, Cape Verdean Community Leader and coach

Ralph Ford, district leader

Ed Gomes, former state senator

Lyle Hassan Jones, community advocate

Jack Hennessy, Bridgeport State Representative

Wayne Hiller

Scott Hughes, Bridgeport City librarian

Carmen Lopez, retired Judge and community activist

Max Medina, former Board of Education member and community leader

Kim McLaughlin, housing advocacy organizer

Marilyn Moore, community advocate

Migdalia Muniz, Bridgeport school nurse

Carolyn Nah, Past President, NAACP

Gary Peluchette, Bridgeport teacher, and President of Bridgeport Education Association

Maria Pereira, Bridgeport Board of Education

Donald Pierre-Charles, Haitian community activist and coach

Neida Robles, community activist

Bobby Simmons, Bridgeport Board of Education

John D. Soltis

Rob Traber, Bridgeport teacher and Bridgeport Education Association Vice President

Carolyn Vermont, Immediate Past President, NAACP

Bob Walsh, former City Councilperson

Teresa Wilson, college preparation advocate

The BEST candidates believe that all Bridgeport children need access to good schools, and that that can only be accomplished through collaboration between parents, students, teachers, administrators, board members and the community. The fundamental right to vote for Board of Education members is not just a civil right, it is essential for better schools.