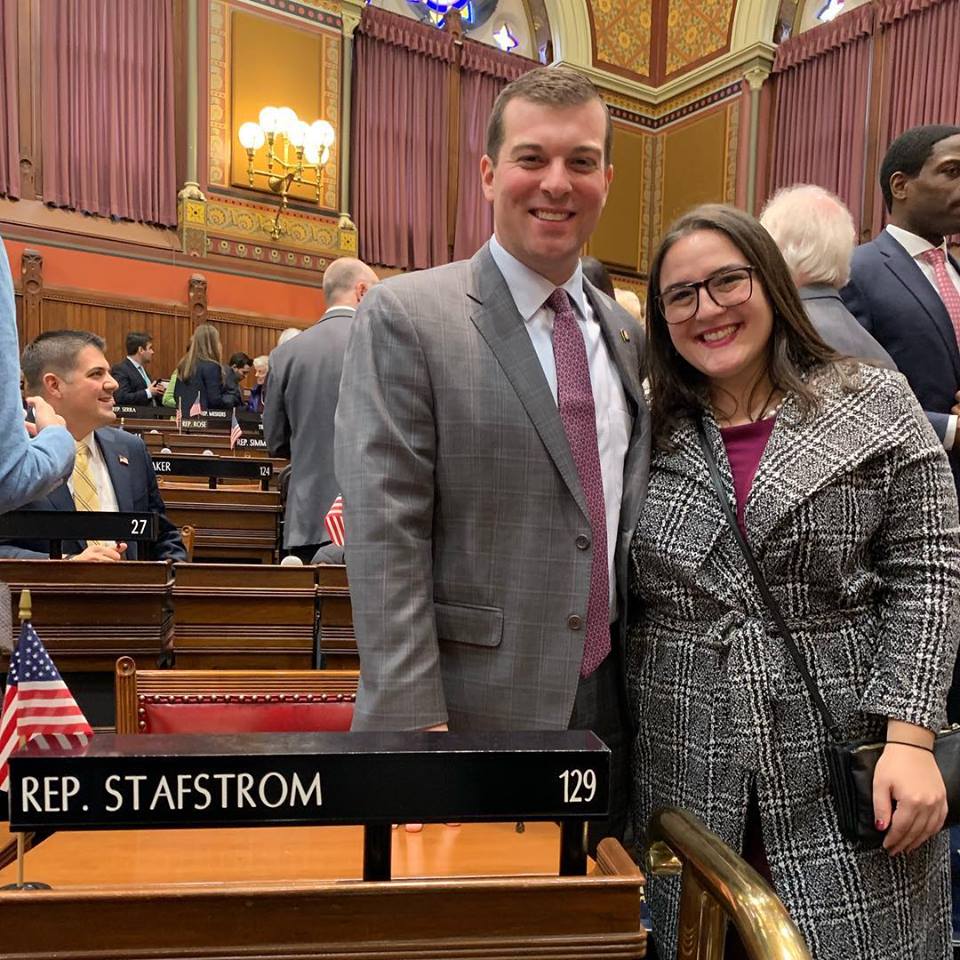 Constance Vickers, president of the Connecticut Young Democrats, has been hired by Mayor Joe Ganim to replace Av Harris as director of Legislative Affairs, a position that serves as an organizational bridge between the mayor's office and city's eight-member state delegation involving Bridgeport's agenda in the Connecticut General Assembly. Her salary is $84,993.
Harris recently left the position for a job in the Lamont administration. Vickers will represent the mayor's office to manage the city's legislative agenda regarding state, local and federal government issues.
"I am proud to welcome Constance to our administration and maintain our voice in Hartford," said Ganim in a statement. "Constance has built strong relationships with many political leaders and lawmakers regionally and within our community for the past several years that will serve her well in this role."
Vickers, a Bridgeport resident, established alliances with all members of the city's delegation when she served as president of the Bridgeport Area Young Democrats. She was named statewide president last year. She is well liked by members of the city delegation.
"She has good relationships with members of the delegation and she has built statewide connections based on her role with the Connecticut Young Democrats," said State Rep. Steve Stafstrom. "It adds another strong progressive voice to our advocacy team."
"She will be a wonderful addition to our team," said State Rep. Chris Rosario. "She is extremely knowledgeable and will work hard for the people of the city of Bridgeport."
Vickers is one of the many new, young faces involved in city politics. Last year the Connecticut Young Democrats recognized Vickers as the Female Young Democrat of the Year at its annual Robert F. Kennedy Awards event.
Vickers, 28, had previously worked as alumni and events coordinator at Housatonic Community College. Her LinkedIn page describes her as a relationship builder with years of development experience "in non-profit and higher education including grant writing and management, individual giving, corporate partnerships, event planning, strategic planning and program design."
Previously, Vickers was director of Grants and Foundation Relationships at Boys & Girls Club of Stamford, Inc. She is a board member of the Black Rock Farmers Market and is a founding member of the Thrive Young Professionals, an affiliate of the Bridgeport Regional Business Council.
She has a Bachelor of Science in Psychology from the University of Bridgeport, something that comes in handy dealing with politicians.
Bridgeport's legislative delegation: State Senators Marilyn Moore and Dennis Bradley; State House members Steve Stafstrom, Jack Hennessy, Chris Rosario, Andre Baker, Charlie Stallworth. Ezequiel Santiago passed away two weeks ago. A special election will take place May 7 to fill the seat.
Both Moore and Stallworth have announced challenges of Ganim who is up for another four-year term.