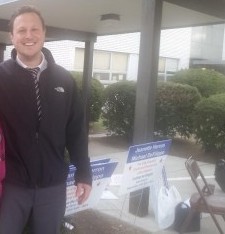 Talk about raising City Councilman Michael DeFilippo's spirits.
From Brian Lockhart, CT Post:
More than three years after his new North End liquor store was forced to close, City Councilman Michael DeFilippo has the city's OK to try again.

The Planning and Zoning Commission on Monday approved DeFilippo's application to re-open Vitro's at 1044 Brooklawn Ave.

"I'm done waiting. It's crazy," DeFilippo said in an interview. "This is 'go time.'"

Vitro's opponents, however, are not done fighting. A coalition of competing package stores is appealing in court the recently passed, re-written liquor regulations the Planning and Zoning Commission used to review and approve DeFilippo's proposal.

And their attorney, Joel Green, also appeared to lay the ground work Monday for a lawsuit against the vote on Vitro's, should the liquor rules be upheld.
Full story here.