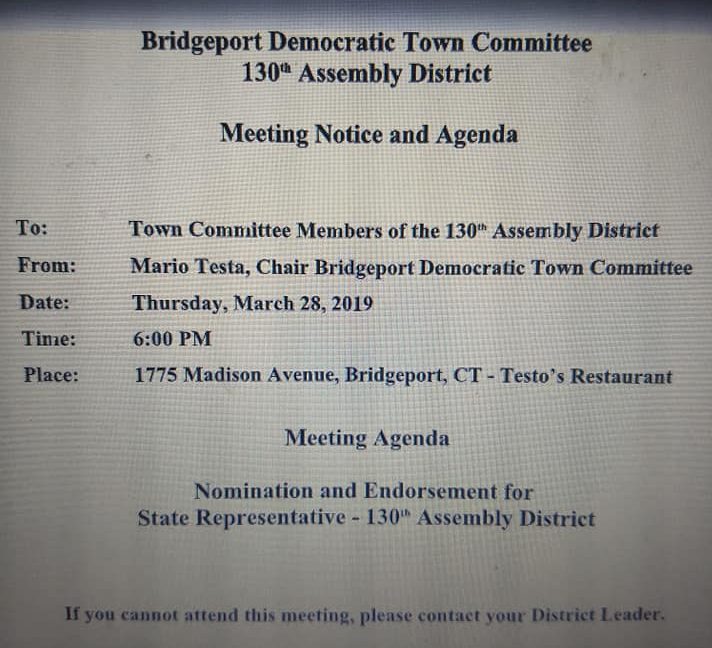 Members of the Democratic Town Committee from parts of four districts will vote Thursday evening to endorse a candidate to replace Ezequiel Santiago who died two weeks ago representing Connecticut's 130th Assembly District.
The endorsement vote will take place 6 pm at Testo's Restaurant on Madison Avenue owned by Democratic Town Chair Mario Testa.
Governor Ned Lamont set Tuesday, May 7 as the date to conduct a special election to fill the vacancy.
The Connecticut Secretary of the State's Office has crafted an election calendar that includes timelines for respective party endorsements, window for petition challengers to qualify for the ballot and issuance of absentee ballots, etc. Party endorsements, according to the calendar, must be made no later than April 1.
See election calendar 130 Assembly.
For background of district and map see here.
The district covers Downtown, South End and portions of the East Side and West End. Members of the Democratic Town Committee that fall within the state assembly district boundaries from local districts 130, 131, 132 and 137 will cast votes.
The names of a number of political operatives have been mentioned as possible candidates including Milta Feliciano, Hector Diaz, Christina Ayala, Antonio Felipe, Rosa Franco, Carmen Nieves, Kate Rivera and Eric Amado.
Opponents to the endorsed candidate can wage a challenge by petitioning onto the ballot via signatures.
District Republicans have endorsed Joshua Parrow, assistant director of development at the University of Bridgeport.