Afternoon Update: Sad to hear the news today about the passing of José "Chico" Rivera, a prince in city politics. Chico was a gentleman, stylish dresser, great sense of humor. Chico and his charm graced OIB parties. His last run for public office in 2008 was for state representative in the 130th State Assembly District. Despite his health Chico was a warrior in that primary won by Ezequiel Santiago. Blessings to Chico and his family.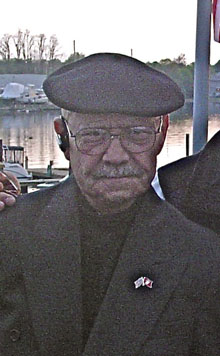 From Susan Bysiewicz
(Hartford) – Seeking official confirmation of her eligibility as a candidate, Secretary of the State and candidate for Attorney General Susan Bysiewicz today filed suit in Hartford Superior Court for a Declaratory Ruling on the state's legal requirements for the Office of Attorney General.

"I am happy to have this opportunity to confirm my eligibility for the office of Attorney General for the State of Connecticut," said Bysiewicz. "It is clear that I more than meet the requirements to serve as Attorney General and this effort will confirm that once and for all."

Connecticut State Law currently requires that the Attorney General be "an attorney of at least ten years' active practice at the bar of this state…" (CGS 3-124) Through the suit, Bysiewicz argues that she meets this requirement through her service in private practice and in public service as Secretary of the State for more than a decade. Furthermore, Bysiewicz indicates that the very requirement itself is unconstitutional under the Connecticut and U.S. Constitutions.

The suit seeks injunctive relief in order to prevent any harm to the Democratic Party and the voters of Connecticut, who face uncertainty as to the status of a declared candidate for statewide office. The suit includes all required parties that have authority over placement of candidates on the primary ballot this August, including the State of Connecticut, the Connecticut Democratic Party, and the Democratic Party Chair, Nancy DiNardo.

Bysiewicz, who filed the suit as a private individual, is represented by Attorney Wesley Horton, a renowned authority on Connecticut constitutional law. Bysiewicz was also joined by Connecticut Democratic Party Chair Nancy DiNardo.

"I am proud to stand with Susan as she takes this important step to resolving a critical issue not just for this election, but for all future elections for Attorney General," said DiNardo. "Connecticut voters deserve clarity on who is legally eligible to seek this office so they can focus on the more important issue of who is the best choice to serve."
Reaction from SuBy opponent George Jepsen:
Today's announcement acknowledges what should have been clear all along, that only in court can Bysiewicz clear up questions of her legal qualifications to serve as Attorney General.

Perhaps she finally got around to reading Attorney General Blumenthal's opinion. The fact that she has to go to court at all underscores how paper thin her actual, real world experience is as a practicing attorney.

Win or lose in court, the issue of her qualifications will not go away. Republicans can be expected to appeal any favorable decision to the State Supreme Court.

The Democratic Party cannot afford a nominee whose legal fitness to serve remains in doubt.
Recovery?
Okay kids, it's been one year since Barack signed the recovery act. Is your life better? Would it have been worse had he not signed it? Is it a workhorse? Or a show horse? Did Dems inflate expectations of the recovery act?
Bridgeport resident David Walker, the nation's high-profile former chief auditor who forewarned of this mess, told OIB a few weeks ago the problem with Barack's recovery plan was that it was only one-third stimulus, meaning two-thirds went into non-sustainable economic parts such as government and health care. It did little for small business.
So, what say you? Barack's initial spin focused on how it would reinvigorate the economy. His spin now is it saved the country from another depression. Hey, in the spin world of politics you go with what you got, right? News release from Congressman Jim Himes:
One Year In, the Recovery Act is Creating and Saving Jobs in Fairfield County

Recovery Act an essential component of Himes' efforts to put economy back on track

WASHINGTON, DC – One year ago today, President Obama signed the American Recovery and Reinvestment Act into law, the first of many essential steps Congress has taken to start turning around the economy. In one of his first and most important votes, Congressman Jim Himes (CT-4) proudly supported the Recovery Act, which gave a tax cut to over 218,000 workers in the 4th District and is estimated to have created or saved over 26,000 jobs in Connecticut. Additionally, statewide 620,000 seniors, SSI recipients, and disabled veterans received $250 economic recovery payments.

At the time of its enactment, economists across the political spectrum agreed that a stimulus would be a necessary component to realizing economic recovery. And now, at the macro level, standard market indications all point to an improving economy. In early 2009, job losses reached a rate of 700,000 per month, but January 2010 marked the first drop in unemployment since the recession began. Over the past year, the GDP has swung over 10 points from -5.4% in the fourth quarter of 2008 to 5.4% in the last quarter of 2009.

"We are certainly on stronger footing than we were one year ago today when the country faced an economy in free fall, but much work remains, especially in terms of creating jobs," said Congressman Himes. "Working in tandem with financial reform and our efforts to mitigate the housing crisis, the Recovery Act has helped put Connecticut on the path toward economic recovery."

The Recovery Act has already invested nearly $575 million in Connecticut's 4th District, and we are only half-way through the two-year program. Information about all of the projects in the district is available at www.himes.house.gov/recovery. The Recovery Act has made hundreds of local projects possible, but key investments include:

· $1.8 million completing funding necessary to demolish Congress Street Bridge.

· $4 million to the WorkPlace, Inc. to train and place 700 workers into in-demand "green" jobs.

· $4.8 million to put 20 new police officers on the streets in Bridgeport.

· $46 million to schools throughout the district to keep teachers in the classroom.

· $2.7 million for the Stamford Urban Transitway.

· $1.3 million to expand the Norwalk Community Health Center.
Jodi, Follow Your Own Advice
From www.ctmirror.org
Cutting it all, from beach sand to opera

By Keith M. Phaneuf

One of the incumbents' perks in a legislative election year, bragging on state funds won for pet projects in the district, is getting turned on its head this year.

Gov. M. Jodi Rell is asking legislators not only to hold off on new earmarks, but also to cancel projects that they have touted–but not yet delivered–to their communities.

The nearly $390 million in targeted projects largely avoids the highest priorities of Rell and the legislature, such as school construction, building programs at public colleges and universities, and highway and bridge repairs.
Hey, here's a novel idea for the governor since the state is hurting … don't build another prison in Bridgeport. Ain't it great, six years on the job and Jodi Rell's Bridgeport legacy is another joint. Oh I forgot, she vetoed joints for medicinal purposes.