Hey, every man (and woman) for himself.
Well, that will be the case for a number of candidates in upcoming City Council Democratic primaries. Example, incumbents in the 138th District Bob Curwen and Rich Paoletto face a tough challenge from Andy Fardy, retired city firefighter and longtime active pol and Ann Barney, a 25-year veteran of the Board of Education.
Curwen, in comments to OIB and the Connecticut Post is doing his best to distance himself from Mayor Bill Finch while partner Paoletto, who has a key city job, isn't inclined to jump the reservation. Curwen, as well, has his eye on a potential mayoral run in 2011. But first he must get past the primary.
A wrinkle has been added to the primary mix with the addition of James Morton and Tyreke Bird who could appeal to African-American voters. Finch does not want Fardy on the council, fearing another Bob Walsh-type antagonist. That's fine except Finch and Curwen are not best buds either so what's Finch to do? Maybe the devil you know?
The 138th District runs above Boston Avenue taking in the Upper East Side along the Trumbull and Stratford borders. Voters in the Hooker School precinct can be a choosy bunch. For instance, Republican Rob Russo carried the precinct in his special election win for state senate in 2008 against Democrat Tom Mulligan.The turnout was about 10 percent in that special (open to all registered voters) and that's just about what primary candidates expect will turn out in September. Special elections are like primaries, identify your friends and drag them to the polls.
Fardy and Barney and Curwen and Paoletto have begun to identify their vote by knocking on doors and making phone calls. Finch doesn't have much standing in the Hooker precinct. Tax increases and general dislike for his job performance makes him vulnerable to help a candidate up there much like he couldn't help Mulligan in Trumbull after Finch called it a bucolic town with no problems. Except Finch was not saying that when he curried Trumbull voters for his state senate runs. Yeah, yeah, there goes Lennie picking on Finch's verbal gaffes. Hey, maybe he should choose his words more carefully.
But JFK school, the other precinct in the district, might be a place where Finch can play. Hooker has a higher percentage of owner-occupied dwellings. The tax issue, though relevent, is not as big at JFK.
Finch supported State Rep. Auden Grogins in her primary win over Bob Keeley last August. Finch was toast in Black Rock School, one of the highest voter-turnout areas of the city. But Longfellow School precinct was a place where the mayor still had standing. He went into the P.T. Barnum apartments and made direct appeals to voters. Grogins won both Black Rock and Longfellow. She out-maneuvered and out-hustled Keeley in that primary. It's possible that Keeley, the longest-serving legislator in the city's history, had more friends than Grogins going into primary day. But she did a better job persuading them to the polls, including a bloc of Jewish voters in the Central precinct she split with Keeley.
Morton and Bird, assuming they secure enough signatures to make the ballot, could be problematic for Curwen and Paoletto. The JFK precinct is one place Finch could swing votes to Curwen and Paoletto i.e. the Success Village area. Unless Morton and Bird pick off those voters. If so, advantage Fardy and Barney.
Or maybe Finch says screw it let's just try to save Paoletto … Curwen's not gonna be a friend anyway. Ah, campaign machinations.
Only At Hallen School
The image below is too funny to pass up. It appears the first edition dust jacket to my book Only In Bridgeport is such a high commodity that someone at Hallen School library thought they were better suited as window shades. Well, dust me off. Glad I could keep out the sunlight.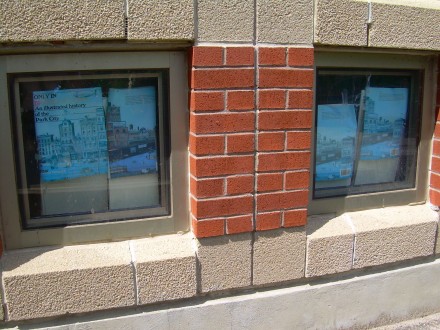 Support This
The Black Rock Community Council and the Norden Club Present:

An outdoor summer concert

Featuring the Celtic sounds of Pogey

Straight from Nova Scotia, this is their only East Coast appearance for their 2009 tour!

Also appearing is the local sensation, the Pat Lattin Quartet.

Tuesday, July 28: 6-10pm

Admission $20.00 plus one non-perishable food item is required. Children 14 and under accompanied by a parent are free.

A concert to benefit the Black Rock Food Pantry!

Bring a lawn chair but no coolers please. Burgers, hot dogs and fries will be sold starting at 5:00pm. Inclement weather location will be Saint Ann's Gym. For more information contact the Black Rock Community Council at brcc@blackrockcc.org, call (203) 334-0293 x14 or visit our website at www.blackrockcc.org.

Tickets available at the door
News release from Michele Mount, former director of legislative services for Bridgeport.
Local leader graduates from Yale Women's Campaign School.

Michele C. Mount, former State Representative candidate, and current Monroe Town Council candidate, graduated with 2009 class of the Women's Campaign School at Yale July 18. The School at Yale University was founded in 1993 by Westport resident, author and scholar Andrée Aelion Brooks. The Yale school describes themselves as:

"… [As a] nonpartisan, issue-neutral political campaign-training program. Our mission is to provide the very best training in the world for women who want to run for office or who want to move up the ladder to higher elective office. We train women to run political campaigns and to advance their careers in public service. We value leaders who are capable of building relationships regardless of political point-of-view. "

Michele stated, "This has been one of the most incredible experiences of my life. I was one of three women from Connecticut in class with students from at least 8 countries and 30 states. A woman in my class was fighting for free elections in the Sudan, and another one as an Afghani parliament member for human rights and democracy in the Middle East. I learned so much from the speakers who came from both sides of the aisle, not just how to campaign for myself or others, but how to advocate for issues and people without a voice."

Yale recruits the top consultants from both political parties to teach at the program. They focus on our common needs and experiences as political women, not our differences as political partisans.

The students at Yale leave with a one-of-kind experience in collaborative learning about the political process. Mount stated that, "I will use the skills that I have learned regarding collaboration and bridge building to benefit Monroe, the region and Connecticut. The school reinforces my strong belief that we must work together to achieve the best result. I look forward to the challenges that lie ahead and feel well equipped to handle them with new insights and energy."