Attendance hawk Maria Pereira, the self-proclaimed piranha of city politics, provided a deep dive into the show-up rate of City Council members last week. Now, she shares the attendance record of the Board of Education, the elected board she recently departed to join the city's legislative body
The attendance records below, compiled by Pereira, highlights regular school board meetings as well as various committees covering the two-year period ending November 30.
Keep in mind that Pereira, John Weldon, Jessica Martinez, Joe Sokolovic, Hernan Illingworth, Chris Taylor and Sybil Allen served completely during the two-year period of calculations. Dennis Bradley, Ben Walker, Joseph Lombard and LaMar Kennedy did not.
The attendance focus Pereira places on regular meetings is based on the percentage rate of actual meetings conducted during their respective service time.
A different standard is applied for committee chairs because only they can call committee meetings. For instance, the Personnel Committee chaired by Illingworth reflects 80 percent attendance rate based on eight meetings attended for 10 required.
Pereira's calculations below highlights in yellow attendance below 90 percent, a baseline she argues is relevant to student achievement. She notes, "Our students need to maintain a 90% attendance rate to pass all subjects for a school year."
If any past or present school board members take issue with Pereira's calculations or believe extenuating circumstances impacted attendance, please let us know.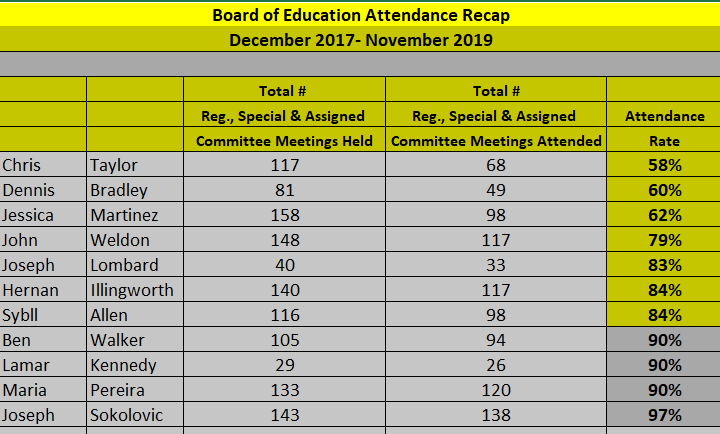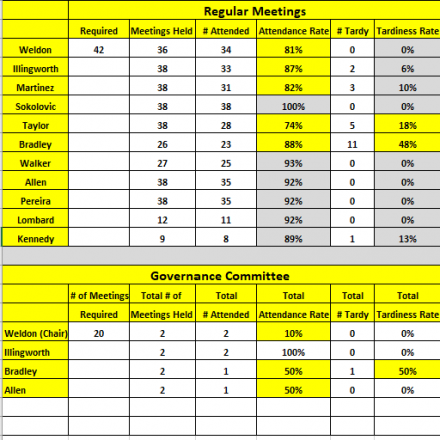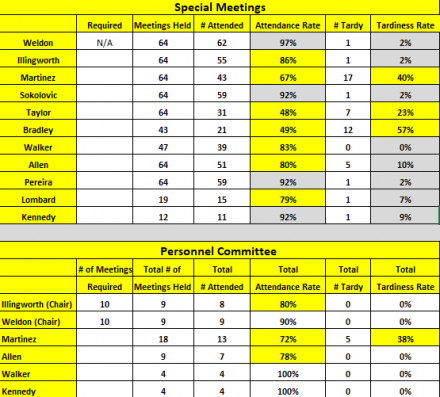 Note: a clarification about "attendance rate" for Finance Committee Chair Martinez, below, should reflect 40 percent and not 100 percent because Pereira's calculation standard here is based on meetings attended (8) for meetings required (20). Pereira requested that this number be updated.