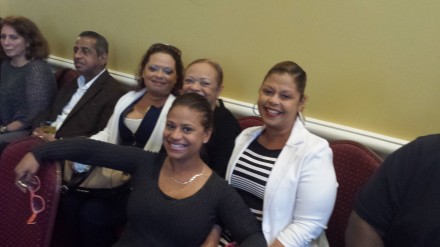 Democratic Registrar of Voters Santa "Sandi" Ayala who oversaw the largest active municipal party voter enrollment in Connecticut the past 16 years has announced her retirement from her elected position effective December 14. Her longtime deputy Patricia Howard will take over until a new Democratic registrar is elected in November 2020.
The political maneuvering will now begin for the 2020 election cycle. Ayala's daughter Inis has worked for years in the registrar's office.
Although Ayala dealt with a number of election controversies during her time, be it the 2010 Bridgeport ballot shortage in the November gubernatorial election, lawsuits contesting the results of various elections, questions concerning the petition process for candidate ballot qualification, or political turf battles, she emerged as the ultimate survivor in city politics harnessing a close relationship with Democratic Town Chair Mario Testa.
Throughout it all, although diminutive in stature, she's no shrinking violent. "I'm a tough Puerto Rican," she would say when some questioned her judgment or pondered a direct primary challenge against her that never occurred.
Ayala would always say privately that she wanted to go out on her own terms, and this seems to be the case.
Technology, same day registration and voting, and growing voter enrollment occurred during her time including the phasing out of the old-time lever voting machines to implementation of the optical scan modernization that occurred roughly 10 years ago when Susan Bysiewicz, now lieutenant governor, was Connecticut's chief elections officer.
In 2003 the city's total voter enrollment was roughly 53,000. Today it's more than 74,000 with the highest active Democratic enrollment in the state at more than 48,000. Much of that registration surge came during Barack Obama's time as candidate and president.
The 2020 election cycle could include a number of Democratic primaries, the first step in March with potential challengers for Democratic Town Committee, the so-called party infrastructure, whose members pick a leader and endorse candidates for public office.
In May party insiders will endorse candidates for state legislative seats as well as registrar of voters. This being a state cycle, primaries will take place in August versus September in municipal years.