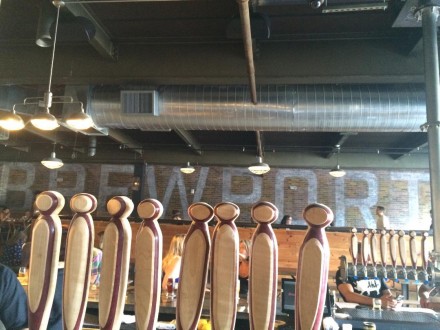 News release from Campaign For Tomorrow's Jobs:
As Gov. Dannel P. Malloy heads into his final year in office, when it comes to economic growth, there's one particular industry that has been tapped more than others: Craft beer.
Since the governor was first sworn into office, the number of active craft breweries in Connecticut has tripled from 16 in 2011 to 49 in 2016, according to the Brewers Association. Also, nearly 40 new craft breweries are in the planning stages.

"Connecticut's craft beer scene is booming," said Brett Broesder, co-founder and vice president of Campaign for Tomorrow's Jobs. "Not only is Connecticut's craft beer industry having a half-billion-dollar economic impact on the state's economy every year–employing thousands of people statewide–it's serving as a boon to tourism and agriculture. That's a win-win."

Taking office in 2011, Gov. Malloy ramped up the state's brownfield program and allocated more funds for it, according to the Danbury News-Times. Since then, the state has invested nearly $200 million to remediate and revitalize over 160 run-down properties.

One investment made by the state's brownfield program during Gov. Malloy's tenure is $500,000 used to clean up the former U.S. Baird site in Stratford that now serves as home to Two Roads Brewery, which employs 100 people and is the largest craft brewery in the state, according to the Hartford Business Journal.

In 2012, the Connecticut General Assembly passed–and Gov. Malloy signed–a new law allowing for craft breweries to have onsite taprooms that didn't require serving food. Before this law change, brewers could only give tastings, or they had to get a liquor license as a brewpub and sell food along with beer.

Brad Hittle, CEO of Two Roads Brewing Co., told the Stratford Star in 2012 that his vision for the brewery "… was to create a special beer tasting setting where you can come and experiment with our beers and talk to our employees, who are really, really educated about the beers."

"Prior to passage of Gov. Malloy's Sunday liquor sales law, breweries were not allowed to sell beer by the pint and were only allowed to offer samples," said Hittle. "We worked with the Town and they helped us a lot in initiating a change in Connecticut law that would make this possible."

Connecticut's craft beer industry in 2012 generated a nearly $374 million economic impact. By 2014, the economic impact of the Nutmeg State's craft beer industry grew to $569 million, employing 4,632 people, according to the Brewers Association.

In 2015, three new craft beer-related bills were passed by Connecticut's General Assembly and signed into law by Gov. Malloy. They expanded liquor store hours, increased the number of liquor licenses one person can own, and giving establishments the ability to sell sealable 64-ounce containers of beer (e.g., "growlers") that can be taken home, according to The Hour.

This year, the General Assembly passed a bill–championed by State Representative James Albis and signed into law by Gov. Malloy–creating a farm brewer manufacturers permit. The license allows permittees to make, store, bottle, distribute, and sell up to 75,000 gallons of beer a year, and to advertise their product as Connecticut Craft Beer.

After signing the Farm Brewery Bill into law, Gov. Malloy touted its potential impact.

"New Connecticut law allows farmers to become beer brewers–this will improve CT's booming craft beer scene," said Governor Malloy via Twitter.

In neighboring states, farm brewery permit laws have resulted in significant craft beer industry growth. For example, in New York, since permits became available in 2013, more than 160 businesses have obtained farm brewery licenses in 50 counties across the state, creating jobs and boosting the state's economy.

About Campaign for Tomorrow's Jobs
The Campaign for Tomorrow's Jobs focuses on growing Connecticut's economy for present and future generations in three key policy areas: workforce preparedness, business growth & innovation and fiscal sustainability. Read more at www.tomorrowsjobs.org.