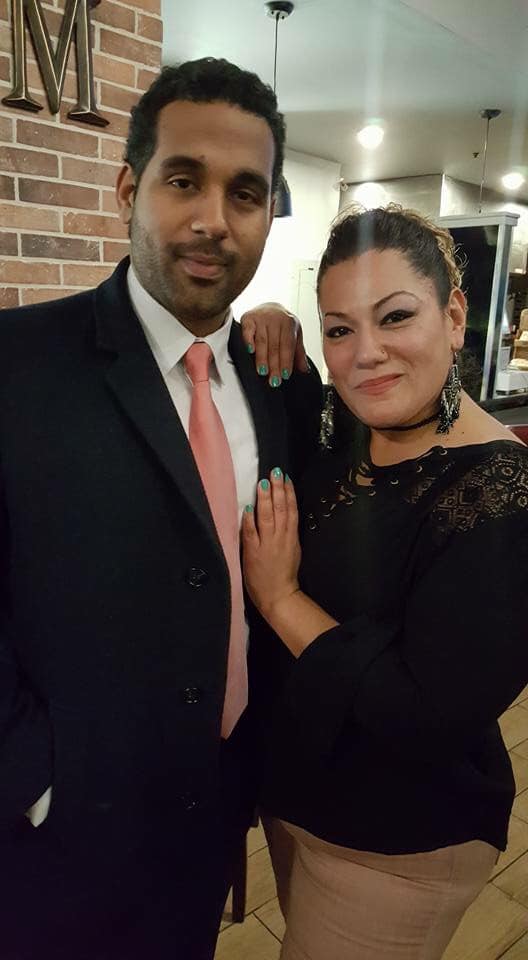 Bradley with his 2018 campaign treasurer Jessica Martinez
State Senator Dennis Bradley and Board of Education member Jessica Martinez were charged on Tuesday with multiple counts of federal wire fraud in connection with fundraising for his 2018 run for state office. Martinez served as his campaign treasurer. See the return BRADLEY & MARTINEZ indictment.
Martinez was also charged with providing false statements to federal investigators.
Federal investigators allege that Bradley and Martinez schemed a party that was billed as "A BDK Law Group Night To Remember" at Dolphin's Cove in the East End but was actually a campaign fundraiser in violation of Connecticut's public financing rules. Bradley also is accused of illegal use of his money to finance the event from funds received from his law firm.
Bradley, according to the indictment, was questioned by his campaign consultant of fronting the law firm, "Wouldn't that be illegal?"
Bradley, an attorney, responded no.
From indictment: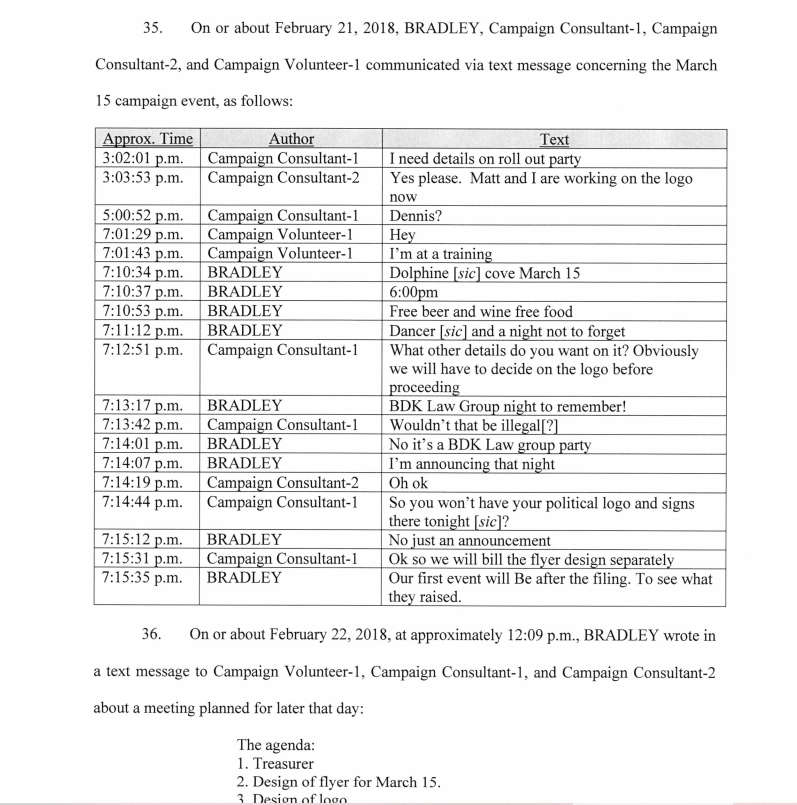 Shortly after 1:30 p.m. Bradley entered a not guilty plea in New Haven federal court. Assistant U.S. Attorney Jonathan Francis, who prosecuted former Police Chief AJ Perez and ex personnel director David Dunn for rigging the 2018 top cop test to benefit Perez, announced the indictment includes "very strong evidence against (Bradley)."
Bradley is being represented by former federal prosecutor James Glasser.
Martinez entered a not guilty plea around 2:30 p.m. She seeks representation from a public defender.
The wire fraud charges bring a maximum of 20 years, but based on federal sentencing guidelines prison time will be substantially less upon a conviction.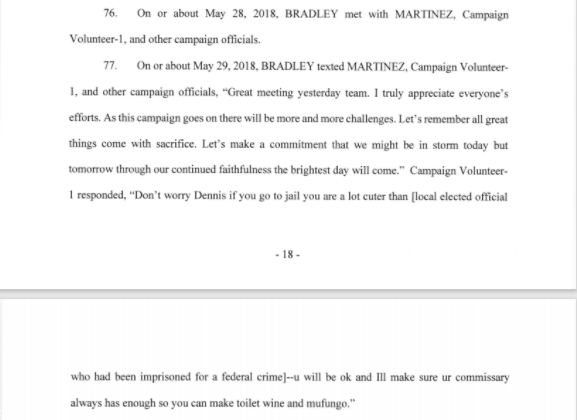 News release from U.S. Attorney's Office:
Leonard C Boyle, Acting United States Attorney for the District of Connecticut, and David Sundberg, Special Agent in Charge of the New Haven Division of the Federal Bureau of Investigation, today announced that a federal grand jury in New Haven returned an indictment yesterday charging Connecticut State Senator DENNIS A. BRADLEY, JR., and his former campaign Treasurer, JESSICA MARTINEZ, with multiple offenses related to defrauding Connecticut's program for publicly funding political campaigns during Bradley's 2018 run for State Senate.

Bradley and Martinez appeared today before U.S. Magistrate Judge Robert M. Spector in New Haven, entered pleas of not guilty to the charges, and were released on bonds in the amount of $300,000 and $250,000, respectively.

As alleged in the indictment, Bradley, 38, of Bridgeport, has been a member of the Connecticut State Senate since 2018, representing the 23rd State Senate District. Martinez, 39, of Bridgeport, was the Treasurer for Bradley's 2018 State Senate campaign. In Bradley's 2018 campaign for State Senate, Bradley, Martinez, and others conspired to defraud the Connecticut State Election Enforcement Commission ("SEEC"), the Citizens' Election Fund, and the State of Connecticut by making misrepresentations concerning Bradley's compliance with state election law and the requirements and restrictions of the Citizens' Election Program ("CEP"), a voluntary public election-financing program under which candidates can apply to SEEC for grants to fund their primary and general election campaigns.

"Candidates for public office must be held to a high standard of conduct, especially when they apply for public funds for their campaigns," said Acting U.S. Attorney Boyle. "It is alleged that these defendants not only broke the rules at the outset of Mr. Bradley's first campaign for the State Senate, but then engaged in an extensive coverup to conceal their illegal behavior and to receive additional public funds. The U.S. Attorney's Office and our FBI partners are committed to holding public officials to account."

"The Federal Bureau of Investigation is committed to protecting the citizens of Connecticut against all forms of illegal fraud and deception," said FBI Special Agent in Charge Sundberg. "Maintaining the integrity of our state and federal election processes is crucial to ensuring the will of the voting public is carried out based on truth and fairness."

The indictment alleges that Bradley, Martinez, and their co-conspirators violated CEP rules by holding a March 15, 2018, campaign event at Dolphin's Cove restaurant in Bridgeport, then engaged in a scheme to trick SEEC into awarding his campaign undeserved CEP grants by making misrepresentations and omissions to disguise the nature of that event.

It is alleged that, although CEP rules imposed a $2,000 limit on Bradley's expenditure of personal funds, Bradley used personal funds to pay Dolphin's Cove $5,597.31 for the campaign event, and used personal funds for other campaign expenditures related to the event, including printed invitations and a band.

It is further alleged that, in an attempt to hide the March 15 campaign event from SEEC, Bradley, Martinez and their co-conspirators claimed it was a "Thank You Party" for friends and clients of Bradley's law firm, Bradley, Denkovich & Karayiannis, P.C., also known as BDK Law Group.

It is alleged that, although at least eight donors gave to Bradley's campaign at the Dolphin's Cove event, Bradley's and Martinez's co-conspirators altered and falsified the contribution cards so that none were dated March 15, 2018.

It is further alleged that, although CEP rules required complete and truthful disclosures of Bradley's campaign contributions and expenditures, in April, May and June 2018, Bradley's campaign filed Itemized Campaign Finance Disclosure Statements with SEEC that omitted that Bradley had held a campaign event on March 15, 2018 at Dolphin's Cove restaurant, omitted that Bradley had incurred approximately $6,307 in expenses for the event, omitted that Bradley had accepted multiple campaign contributions at the event, and misrepresented the dates of those March 15, 2018 contributions.

It is further alleged that on May 24, 2018, Bradley and Martinez applied for a CEP grant to fund Bradley's Democratic primary campaign. On July 10, 2018, relying on the false and misleading information contained in Bradley's filings, SEEC issued the campaign $84,140 in public funds. On August 14, 2018, Bradley won the Democratic primary with approximately 55 percent of the vote.

It is further alleged that, after issuing a CEP primary grant to Bradley, SEEC began investigating a citizen complaint regarding Bradley's campaign, including the campaign event at Dolphin's Cove. On August 21, 2018, Bradley emailed a letter to SEEC in which he denied all the allegations in the citizen complaint as "frivolous and manipulative." In that letter, Bradley falsely stated, "On March 15, 2018, BDK hosted a Client Appreciation event at Dolphin's Cove restaurant[.] … This was in no shape or form a political event. … In fact, we did not collect any donations at this event and have no donations dated 03/15/2018."

On October 12, 2018, after Bradley and Martinez attempted to obtain an additional $95,710 CEP grant to fund Bradley's general election campaign, Martinez made similar false statements under oath to SEEC. SEEC eventually denied Bradley a general election grant. On November 6, 2018, Bradley won the general election with approximately 87 percent of the vote.

It is further alleged that Martinez made similar false statements to investigating FBI special agents in March 2020, and under oath before the grand jury in September 2020.

Bradley is charged with one count of conspiracy to commit wire fraud and five counts of wire fraud, and Martinez is charged with one count of conspiracy to commit wire fraud, five counts of wire fraud, one count of making a false statement to the FBI, and one count of making a false declaration before the grand jury. The conspiracy and fraud offenses carry a maximum term of imprisonment of 20 years on each count, and the false statement and declaration offenses carry a maximum term of imprisonment of five years on each count.
For background see OIB's exclusive story from Jan. 25, 2020.
For Dennis Bradley, it started with frivolity March 15, 2018 as an Ides of March campaign event at Dolphin's Cove in the East End formalizing his announcement that led to election to the State Senate.
Bradley noted in a media advance, "the day marked by history as Caesar's pride and destruction will mark Bridgeport's humbleness and rebirth. For God will take the stone that was discarded and use it as His cornerstone … Bringing the classics back to Bridgeport politics. It's about time we raise the bar."
The State Elections Enforcement Commission ruled that Bradley had raised the bar in more ways than one, violating state law by leveraging roughly $10,000 in law firm funds to finance his election, including free drinks and food at Dolphin's Cove. It led to the watchdog agency rejecting his application for a general election grant under the state's Citizens Election Program of publicly funded races.
Even his named campaign committee, "Attorney Dennis Bradley for State Senate" leaves residual reminders: is he promoting his profession, his political career, both? What is the purpose of mixing your profession with your run for public office in the same filing?
Now the federal government has taken notice impaneling a grand jury in New Haven that is hearing from witnesses associated with his 2018 run for state office including expenses financed by his law firm, donations made and where the money leads.
On March 15, 44 BC, Brutus and dozens of conspirators, so the story goes, plunged daggers into Caesar during a meeting of the Senate.
Bradley's hoping the federal dagger doesn't pierce his Senate credentials.
These are frustrating days for the outgoing Bradley whose gregarious gift for gab, alluring charm and put-together presentation wins friends fast but whose showy ambition also chafes his political enemies who see a rusty engine under the polish of the Maserati he drives. He's perplexed by what he terms aggressive state action and further in the potential fallout of a federal investigation that could impale a rising star's appeal.
During the March 15, 2018 State Senate campaign announcement–"Thank You" celebration sponsored by BDK Law Group–a video (no longer available) featured on Bradley's Facebook page, references his law firm's relationship with the community and his candidacy.
"God bless you all," Bradley declares to hundreds of enthusiastic supporters at Dolphin's Cove, an East End waterfront destination. "Drinks are on the house, food is on the house and love is all over the room."
The announcement transpired as Bradley prepared to raise small-dollar donations in pursuit of close to $200,000 in public money between the primary and general election. Senate candidates must raise $15,000 in donations of $250 and less from 300 contributors to qualify for grant money.
Fundraising also took place the night of the event, according to attendees there, incorrectly recorded on finance reports by Bradley's campaign treasurer Jessica Martinez, the current chair of the Board of Education.
Former Board of Education member Maria Pereira, with whom Bradley served prior to his election to State Senate, triggered a state investigation in a complaint filed with SEEC accusing Bradley of misusing law firm funds to finance his campaign. After approving a primary grant for Bradley, the commission rejected the general election grant application ruling that Bradley's coordinated law firm expenditure violated state fundraising regulations. They also announced that Bradley and Martinez were subject to additional civil penalties. The case is still open.
Meanwhile Bradley didn't do himself any favors in another matter bringing unnecessary attention. His 2018 primary opponent Aaron Turner filed an SEEC complaint based on Bradley proffering a peculiar financial overture to 2017 Stratford mayoral candidate Stephanie Philips who rebuffed in a text message exchange his offer to commit $5,000 to her campaign in return for a paid municipal job and other assistance.
At the time Bradley called it fake news. In hindsight he characterizes it as a rookie mistake with good intentions.
Bradley pushed back on the watchdog agency's public money rejection in October 2018, just a few weeks from the general election, asserting it "wronged my campaign, my law practice and the citizens of Bridgeport."
After a competitive primary win against Turner, Bradley had no issue winning the general election without money given the overwhelming Democratic registration advantage in a district covering about two thirds of Bridgeport and a piece of western Stratford. Still, a lot of campaign workers expecting to be paid were stiffed without the near $100,000 cash infusion for the general election. Political operatives in Bridgeport rely on campaign dough to feed their people who in turn churn out a vote. Martinez, as treasurer and campaign worker for the primary, was paid $924 during a four-week period in the summer of 2018.
Her boyfriend Orlando Baez, with whom she has had a violent history leading to arrests, was paid $852 during roughly the same period. (Bradley has represented her in those cases.) Tens of thousands more in public money in support of the August primary went to other wage earners, operatives on the ground such as canvassers and consultants typical of a campaign.
The well ran dry for general election workers expecting to be paid. If they were paid to quell the chirping, how were they paid?
Martinez's campaign finance filings, a meandering Etch-A-Sketch exercise in resilient reading, included 15 amendments and corrections in support of the public grant during the primary. The financial disclosures for treasurers are signed under penalty of false statement.
The SEEC is the civil oversight authority for campaigns waged in Connecticut. It has no criminal investigative powers. It can–and has–refer matters it deems potential criminal acts to proper law enforcement agencies.
Despite the unsettling civil news for Bradley, the immigration lawyer was appointed by Democratic leadership in Hartford Senate chair of the key Public Safety Committee which navigates gaming bills. Bradley brought his finesse to Hartford.
Meanwhile, Bradley bruised the feelings of some of his strongest supporters when he sat out the 2019 mayoral race, trying to thread a very fine needle that has come back to prick the freshman senator. He made a dubious political calculation: distancing himself from Mayor Joe Ganim will score points with backers of Marilyn Moore for whatever future office he pursued, including a run for mayor. That strategy could work if he'd embraced Moore. The end result was both sides angry at him. Pick a side, dude.
Even after Ganim won a close primary contest, Bradley did not support him in the general election while Ganim thwarted Moore's write-in challenge. Bradley had all the cover he needed: I'm supporting the party nominee. He ducked.
It's a political miscalculation, much like the misstep he made as school board chair calling for a boycott of meetings to bring pressure upon Pereira to resign. It fell flat. In politics good looks and charm can dry up fast for a young politician if it appears ambition transcends core values.
Former city Public Facilities Director John Ricci dubbed Bradley "the chameleon" who morphs into this or that for misplaced expediency.
Right now Bradley's political skirmishes are the least of his worries in an election year.
The federal investigators assigned to his case are serious law enforcement professionals such as FBI agent Paul Takla who investigated Bernie Madoff's historic Ponzi scheme and Assistant U.S. Attorney Jonathan Francis who's earned his stripes putting away corrupt hedge funders and stock brokers.
It raises the question, what's the federal angle here? Is it simply focused, or a broader investigation with underlying federal violations involved.
One thing is for sure, Bradley can't afford to shrug it off without savvy legal counsel because way too many trapdoors exist in federal investigations. Federal law enforcement has had many successes in its "Corrupticut" probes the past 20 years. They've also spent a lot of time on many other elected, political figures that never came to pass. They didn't have enough. So it's way too soon to predict the outcome. The knee-jerk response in Bridgeport often is this one is going away or that one is going away simply by the presence of the federals. Not always true.
Still, witnesses before a grand jury means the feds have something brewing, be it at beginning stage, middle, or near the end.
Grand jury proceedings are conducted in secrecy. There is no judge in the room. Lay folk, consisting of 16-23 people, sit as the jurors absorbing information directed by a prosecutor to determine if probable cause exists to deliver an indictment via written charges. Twelve must vote for an indictment. It is merely a charge in which the burden of proof at trial, if it gets that far, is on the government. The process, although a staple of the federal criminal investigatory process, has come under fire for being a rubber stamp of the prosecutor. You've heard the line you can indict a ham sandwich; well the genesis is a federal grand jury.
Witnesses, sometimes reluctantly, sometimes willingly, are generally brought in under subpoena to share what they know about the government's intended target. Witnesses are under oath. They have rights to an attorney but the legal advice must be administered outside the jury room.
The prosecutor directs the questions. Jurors can also question the witness. The process is shrouded in mystery. No one in that room can share outside the room what transpired. Here's the cool part; under federal law, witnesses are not bound by the secrecy provision. They are free to walk out of the room when done and scream from treetops this is what I told the grand jury. Now prosecutors don't like that, and often insist they say nothing, but witnesses are free to do what they want.
For now Bradley feels victimized by investigations that he maintains seem disproportionate to the events.
"From the bottom of my heart the fact that our government can do this hurts," he says. "I've only tried to be an agent of change."
Amateur mistakes, some argue. Perhaps.
Either way amateurs, in this case, are not investigating.