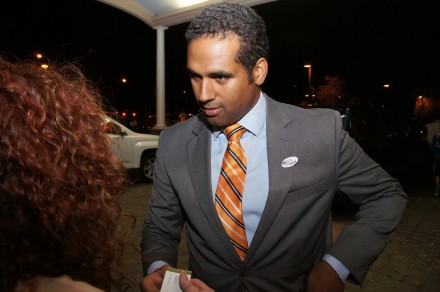 City politics requires a sense of humor. School board member Dennis Bradley has set March 15, the Ides of March, to announce his formal candidacy for State Senate. Hmmm, will Julius Caesar, Brutus and Cassius show? Please, someone hide the daggers.

On March 15, 44 BC, Brutus and dozens of conspirators, so the story goes, plunged daggers into Caesar during a meeting of the Senate. And you think Bridgeport politics requires a sturdy heart? Reminds us of the legendary line from OIB friend Philip L. Smith:
"Some towns play political softball, other towns play hardball … in Bridgeport they play hand grenades."
Bradley's announcement is scheduled to take place March 15, 6 p.m. at Dolphin's Cove Restaurant, 421 Seaview Avenue in the East End.
As Bradley notes, "the day marked by history as Caesar's pride and destruction will mark Bridgeport's humbleness and rebirth. For God will take the stone that was discarded and use it as His cornerstone … Bringing the classics back to Bridgeport politics. It's about time we raise the bar."
As a lawyer, Bradley knows something about raising the bar. Two years ago, as the endorsed Democrat, he came up short in a primary against incumbent Ed Gomes who's not seeking reelection to his State Senate seat representing the 23rd District that covers about two thirds of Bridgeport and a portion of western Stratford.
This time around Gomes is supporting his former legislative aide Aaron Turner who hopes to follow in his boss's footsteps.
Former regional NAACP leader Carolyn Vermont is also expected to enter the race.