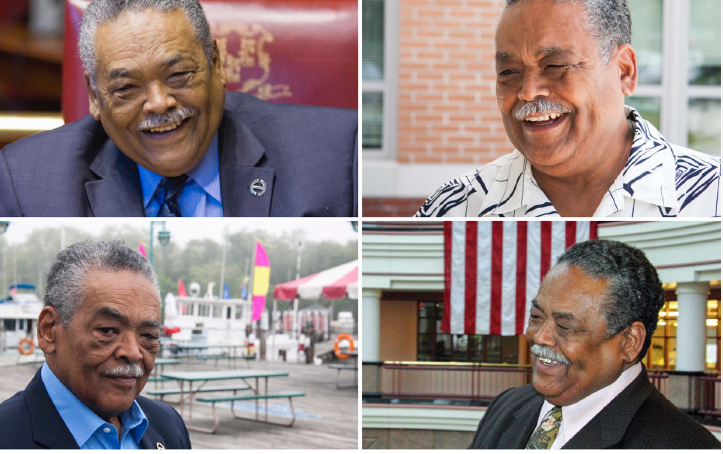 Thursday afternoon City Councilwoman Maria Pereira sent this email communication to the City Clerk's Office
Both Evette Brantley and I are withdrawing our resolution in honor of Edwin A. Gomes. Evette Brantley is on copy as confirmation of her support of the withdrawal.

I contacted a niece of Ed Gomes at 11:00 a.m. who then spoke with Ed Gomes' son. They are grieving and feel overwhelmed and do not want anything done in honor of Ed Gomes at this time, therefore out of respect for Ed Gomes' family the resolution is withdrawn.
Original story:
Not all City Council members are on board to name the council chambers after former State Senator Ed Gomes, laid to rest Wednesday following an auto crash that ended his life December 23.
Advocates for the honorific such as Evette Brantley and Maria Pereira are receiving some pushback. A resolution seeks immediate consideration on the measure at the council session Monday night.
In an email to peers East End councilor Ernie Newton writes:
I believe we should honor the late Sen Gomes but changing the name of The Bridgeport City Council chamber is something we as members should discuss. I served with the late Senator Penn and I would have questioned re naming the Bridgeport City Council chamber after him and I consider him my big brother. City hall is an institution. The city hall committee which is in charge of all building in our city would have to have some say so in allowing us to change the name. This isn't like naming a street, a school after someone. If we are going to do it. We should do it right.

If you wanted to change the name of a school the board of education has a process in doing it. The Senator Morton building was a building purchased by the city it wasn't the city council chamber. What will it be called? Again I'm in favor of naming something after the late Senator Gomes. I just don't think Bridgeport city council name should be that place. Please help me understand. Councilman Newton.
From North End councilor Jeanette Herron:
Ernie,
You have A good points on this and I agree. Senator Gomes deserves to be recognized and have a place in our city that we can honor him. I do agree that conversation should be had.

Council Women Jeanette Herron
From West Side councilor Evette Brantley:
Ed served both on a city and state level. I don't see anything wrong with the council naming something in his honor on a city level. You also served on both levels if either legislative body want to honor anyone on either level what is the problem.

What are you implying, the state office trumps the city.

The council chose not to honor Sen Penn at that time for whatever reason. This is a new council who is asking to honor Ed on a city level. Let's build some bridges and not tear them down. We have to start somewhere and come together on this very honorable request.

Councilwoman Brantley