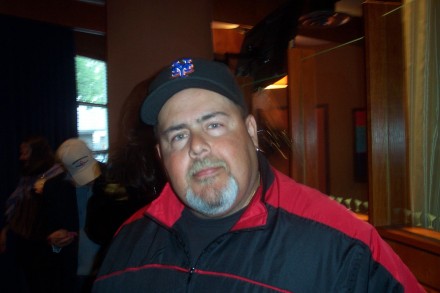 Former City Councilman Ralph Mojica has filed paperwork to try to reclaim his former seat on the city's legislative body challenging incumbents Denese Taylor-Moye and Jack Banta in the 131st District that covers the South End, Downtown and the West End. Big Mojo served on the council for several years. He supported Chris Caruso for mayor over Bill Finch in 2007 and lost his seat in that razor-close primary.

After Mojica's defeat, in the last months of Mayor John Fabrizi's administration in 2007, Fabs appointed Mojica as director of Weights and Measures, the city's consumer compliance department that monitors grocery scales and meters for gas pumps, oil trucks and taxi cabs. Mojica was let go by Bill Finch shortly after Finch took office.
Fabrizi, when contacted by OIB about Mojica's candidacy, characterized Mojica as a dedicated public servant when he served on the council, someone who asked tough questions about the budgetary process but fair in criticism. Fabs said he would campaign on behalf of Mojica if asked. Mojica is a frequent contributor to OIB comments trying to wake up a lethargic city electorate he calls "Zombie Land."
The council is battling through a difficult budget process. The number of primary challenges will likely depend on the size of the city's tax hit. Mayor Bill Finch, who's not up for reelection until 2015, has proposed a $520 million spending plan that comes with a $400 tax hike for the average homeowner. The council will vote on the budget in May. The budget then goes back to the mayor for possible veto action until the council sets the mil rate in June.
Mojica's entry into the City Council field is an appetizer to potential primaries in September for the all-Democratic legislative body. Bridgeport's City Council features 10 districts with two members per district. Here's a quick look at the other council districts:
130, Black Rock. Veteran council member Sue Brannelly was recently joined on the council by Steven Stafstrom, an attorney with Pullman & Comley, who replaced Marty McCarthy who resigned to pay more attention to his neighborhood restaurant business. Brannelly is facing the fire this year as co-chair of the council's Budget and Appropriations Committee. She represents a noisy constituency tiring of tax increases. It's also the highest-turnout area of the city. Brannelly is respected by her constituents, but many say she's become too closely aligned with Mayor Bill Finch, not the most popular politician in the neighborhood. How this budget process plays out will determine if Brannelly and Stafstrom have primaries. Black Rock is also the most Republican area of the city so it's highly likely the GOP will field candidates in November.
132, West Side. John Olson and Evette Brantley are showing some independence from the Finch administration in this budget cycle. They conducted a district meeting on the budget over the weekend. For her part Brantley says she will not vote for another tax increase and has even threatened to put her house up for sale and leave the city should the council pass a tax hike. They represent the high-turnout Brooklawn neighborhood that votes at the Central precinct as well as working-class residents voting at Bassick High in the lower end of the district.
133, North End. This is the domain of City Council President Tom McCarthy who's popular among his voting constituency, and his council partner Howard Austin. Big Mac, the deputy director of the city's Labor Relations Department, is among five council members on the public payroll coming under fire from the community action group Citizens Working 4 A Better Bridgeport that claims it's impossible for the legislative body to serve as a check on the executive branch when they work for the executive branch. Big Mac insists there's no inherent conflict of interest for a city employee to serve on the council, even though the city charter prohibits it but it is allowed by a loophole in state law. One thing's for sure about Big Mac, he's front and center whether as a Finch loyalist, city employee, Bridgeport advocate, council president or responding to constituent requests.
134, North End. Michelle Lyons and AmyMarie Vizzo-Paniccia. Say North End and you say taxes, zoning and Sacred Heart University. Lyons and Vizzo-Paniccia are inundated with constituent complaints about beered-up SHU students creating havoc in their neighborhood. SHU has an interesting relationship with Bridgeport. Campus proper technically lists a Fairfield address but student dorms are across the street in Bridgeport as well as a boatload of other students who rent homes in the North End.
135, Whiskey Hill, North End. Warren Blunt and Richard Bonney are both city employees. Blunt works in the Health Department and Bonney in the municipal airport. Both have served as loyal soldiers for the Democratic Town Committee. There's some talk Mary McBride Lee, a town committee member from the district, may run a primary. This is also the backyard of former State Senator Ed Gomes, not a fan of the Finch administration.
136, North End, Hollow, East Side. Carlos Silva and Angel DePara have been council mainstays for years. DePara serves as co-chair of the Budget and Appropriations Committee with Sue Brannelly. Silva and DePara were brought through the political ranks by long-time Bridgeport political veteran Dottie Guman, the outgoing party vice chair who recently moved out of the city for Stratford. John Gomes, 2011 mayoral candidate, resides in this district. Some political operatives say Gomes may be eying a council seat to build prestige and serve as a check on the executive branch as he ponders another run for mayor in 2015.
137, East Side. Lydia Martinez and Manny Ayala represent the district in the land of the Ayalas. Andres Ayala represents the district in the State Senate, his cousin Christina Ayala represents the district in the State House and Tito Ayala, uncle and father respectively to Andres and Christina, is a big player in district politics. But it's hard to discuss the district without mention of the city's queen of absentee ballots Lydia Martinez who knows her peeps, especially those who vote by AB. Former council member Maria Valle, who won control of the district town committee with Tito Ayala, is among those considering a primary.
138, Upper East Side. This is a nephew-uncle combination. Rich Paoletto replaced his uncle Mike Marella on the council in 2001 but his uncle recently reemerged back on the council replacing Bob Curwen who resigned to attend to family health matters. Paoletto works in the city's Housing and Commercial Code Enforcement while his uncle has served as the long-time director of the Police Activities League. Marella was also a spearhead on the council for the formation of the Bridgeport Bluefish professional baseball team.
139, East End. In Andre Baker and James Holloway you have the (Baker) most anti-Finch Administration council member and also the longest-serving council member (Holloway) who's also on the public payroll, a veteran employee of Public Works. Holloway, with more than 20 years on the council, has said for years this would be his last term. Will this be the last? Baker has emerged as the one consistent voice against Finch administration policies following the departure of Bob "Troll" Walsh in 2010.