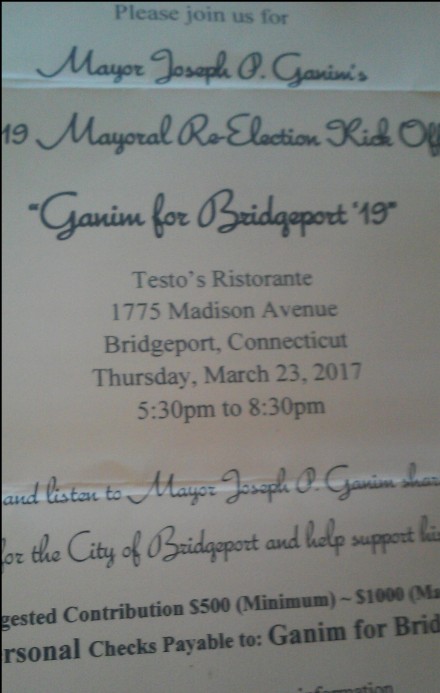 Hold on to your wallets. (Or maybe not.) Four months after a fundraiser at Testo's Restaurant hauled in more than $40,000 for the local party, Democratic Town Chair Mario Testa and Mayor Joe Ganim hope they can reprise that (and more) for hizzoner's Ganim for Bridgeport 2019 campaign committee event March 23. The suggested contribution is $500 minimum and the $1,000 maximum personal contribution allowed by state law. Mario will expect the political payroll to step up.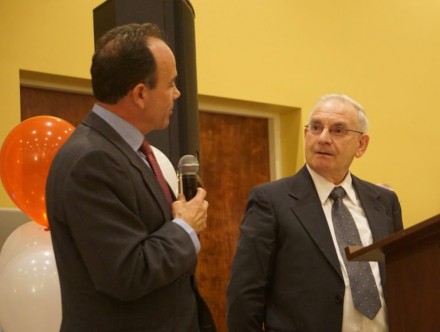 The power of incumbency in a four-year term brings many advantages and getting off to a fast fundraising start is one of them. Ganim is about 16 months into the mayoralty he reclaimed in 2015, defeating incumbent Democrat Bill Finch in a close primary on his way to a big general election win.
Many Ganim discretionary appointees, as well as lawyers and developers who contributed to the party event in November will be likely faces at this higher-ticket event.
It's a key year for Ganim who comes off a scratchy budget cycle from 2016. He wants to hold the line on taxes this year to both quiet the neighborhood noise from a mil rate increase and rebuild confidence in the investment community. He'll submit his budget proposal to the City Council the first week of April.
Mario declared there was no arm-twisting for the November party fundraiser that reasserted his historic fundraising strength, but make no mistake, Mario keeps score. He has (in his own head) contribution thresholds based according to a city employee's paycheck. He does not do this alone. Mario harnesses a fundraising team that includes city employees, longtime developers and other contacts to raise campaign cash.
He will do so on behalf of a mayor with whom he has a strong alliance. Ganim is also a mighty fundraiser. His fundraising prowess in 2015 surprised many in his comeback to office following his conviction on public corruption charges in 2003. He started by raising more than $50,000 in one night in an exploratory committee. And that was before Testa, despite Ganim schmoozing him, weighed in heavily for Ganim in 2015. That did not come until after the July party endorsement for mayor captured by Finch in a close vote.
Testa and Finch were never close. Mario is a political deal cutter who never gelled with Finch's highfalutin wonkism. Testa was coy about throwing Finch under the bus until he was confident Ganim could take out Finch in a primary. As Mario told several operatives, "I don't a-wanna slice my throat." So although Finch won the endorsement, Testa, as party chair, backed Ganim only when he thought Finch was vulnerable.
Now Ganim and Testa are back together like the old days raising money. And in this cycle they can raise money from the business community that heavily backed Finch in 2015.