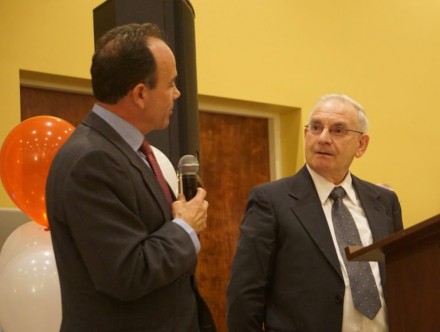 When Bridgeport Democratic Town Chair Mario Testa hosted a fundraiser in November at his Madison Avenue restaurant it was billed as a general election rally to also commemorate the one-year anniversary of Mayor Joe Ganim's comeback. Backed by the political payroll and developers, with an all-star cast of city and state politicians, the chairman flexed his fundraising muscles raising $43,000 for his party committee that night, see here, $10,000 of which was quickly donated to the Democratic State Central Committee chaired by Nick Balletto, see here. You can make friends fast that way.

Finance reports were filed last month with the State Elections Enforcement Commission. Speculation centers on Testa trying to position Ganim for a statewide run in 2018. One way to do that is through the mother's milk of politics: money. It's a political dance that may speak volumes with Balletto.
During JG1, Ganim and Testa had a close relationship positioning Ganim for statewide office while Testa grew in stature as a political powerbroker helping to maneuver the young mayor as the lieutenant governor candidate in 1994. Bill Curry lost a close general election to Republican John Rowland.
After Ganim's exile from office followed by a 2015 comeback, they appear to be picking up where they left off. Filings with the State Elections Enforcement Commission show a $10,000 contribution from the Bridgeport Democratic Town Committee to the state party days after the local fundraiser.
Of the roughly $43,000 raised $9,800 was expended on food at the chairman's restaurant.
Ganim and Testa are building a strong relationship with Balletto, elected state party chair in 2015 after serving as vice chair under Nancy DiNardo who had a long run as leader.
Ganim is hoping that a strong 2017, with tax relief and development progress begins to recast the luster he enjoyed during JG1. Is Ganim angling for something specific statewide? Not necessarily. It depends on a number of factors such as Governor Dan Malloy's future prospects for reelection in 2018. Sometimes you position by building contacts, schmooze political operatives and see how things shake out.
A big part of that is showing you can raise money. One of the big surprises of Ganim's comeback was his fundraising strength in 2015. He surprised even himself. Dissatisfaction with incumbent Bill Finch, who also accumulated a mighty warchest, contributed to Ganim's fundraising performance.
When it comes to fundraising, Mario keeps score. He relies on the political payroll to step up. Some city employees who contributed for the Nov. 3 event included Director of Labor Relations Janene Hawkins, $250, Finance Director Ken Flatto, $200, Health Director Maritza Bond, $250, Personnel Director David Dunn, $500, Deputy Chief Administrative Officer John Gomes, $1,000, police officer Ramon Garcia, $500, blight enforcer Danny Pizarro, $500, Deputy City Attorney John Bohannon, $1,000, Public Facilities Director John Ricci, $1,000, City Attorney R. Christopher Meyer, $1,000, Assistant City Attorney Bruce Levin, $500, former Police Chief, now city consultant, Joe Gaudett, $250, mayoral aide Ed Adams, $500, mayoral aide Tom Gaudett, $500, Associate City Attorney Mark Anastasi, $1,000, mayoral aide Danny Roach $1,000.
Some local developers and lawyers also stepped up such as developer Sal DiNardo, $1,000 and land use attorney Ray Rizzio, $2,000.
The fundraiser also took place on the one-year anniversary of Ganim's comeback win with about 250 pols, friends and supporters filling Testo's Restaurant ballroom. State elected dignitaries included Lieutenant Governor Nancy Wyman and Attorney General George Jepsen. The suggested contribution was $250 minimum. Prior to the event, Ganim had some trepidation about the turnout considering a scratchy first year led by budget woes and skirmishes from pols whose peeps did not end up on the public payroll.
State elections operate under the voluntary Citizens Election Program of publicly funded races that pony up public dollars after a fundraising threshold has been met based on accumulating small dollar donations.
The fundraising system for municipal, party and political action committees do not function under public dollars. State law, for instance, allows an individual to contribute up to $2,000 per year to a local town committee.
Stay tuned. A bunch more fundraisers will be on the horizon.