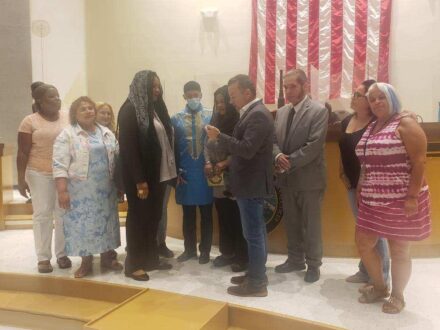 Sometimes you can say a lot by saying nothing. Former City Councilwoman Michele Small did just that Tuesday night in quiet solidarity with Samia Suliman who returned to the City Council to fill the seat Small vacated recently.
Both Small and Suliman have endured the wrath of Councilwoman Maria Pereira and both have had enough. In her own measured demeanor Small sent a message to her ex council partner Pereira who had dictated how she should vote.
Pereira did the same to Suliman when once aligned, now Small and Suliman join the extensive list of subjugated victims who've walked away from Pereira. Small stood close to Suliman at the front of the council chambers as Mayor Joe Ganim issued the oath of office.
In a city that rarely disappoints for its politics and personality clashes the council meeting lived up to the mantra issued decades ago by former Councilman Tom Mulligan declaring meetings the "Monday night fights." The difference was this was a Tuesday.
The council by 15-1 (guess who voted no?) also issued a censure of Pereira for inflammatory remarks she's made at meetings about ex offenders in general and specifically toward Councilman Ernie Newton.
Pereira, who's Upper East Side constituency features hundreds of ex offenders, lately has been tossing the word "felon" around like nickels and dimes, although she never uses the word when they support her. Only when she's inconvenienced. She supported Ganim in his return to the mayoralty in 2015 running on a second-chance message.
Pereira has also had her own clashes with the law.
Several council members are among the reentry community including Newton, Fred Hodges who works in reentry and Jorge Cruz.
"There wasn't just fireworks, there were cherry bombs going off," said Cruz of the raucously loud exchanges. "The council chambers was ablaze in colors."
People in the reentry community also spoke against Pereira Tuesday night during the public comments portion of the meeting.
"We got tired of it," says Cruz. "We had people come in who've transformed their lives. She's a disgrace. She thinks she's the mayor, council president and city attorney. She's a narcissist, a witch from hell."
Many in the room were also surprised when urban warrior Helen Losak, once aligned with Pereira, condemned her language and treatment of people. Losak and Periera took turns firing off accusations at each other. Losak, as well, joined the group for the oath of office ceremony.
Council rules prohibit public belligerence among the legislative body. The rules call for an opportunity to apologize. When Pereira refused, at the request of Council President Aidee Nieves, a censure ensued.
A censure is nothing more than symbolic, but in this case represents a galvanizing unity among council members. The council president can also strip her of committee assignments.
Pereira's acting more and more like an attention-junkie narcissist marooned on her own island.
"She's out of control," says Newton. "Ex offenders are taxpayers and property owners," adding a reminder that Pereira is neither taxpayer nor property owner. She doesn't earn a living professionally. "We let her know we're not going to forget. She took a terrible whooping last night."