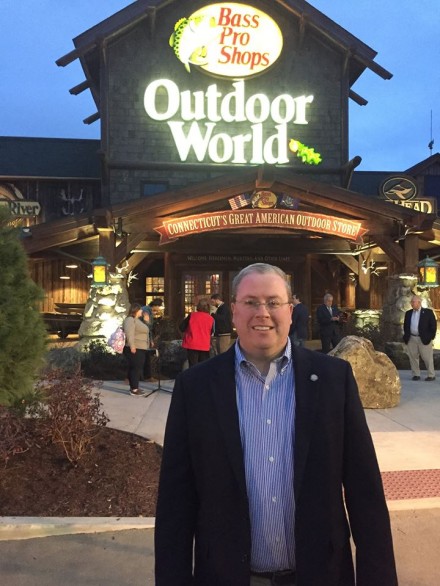 It's been nearly 18 months since he's been on the public payroll, but City Council President Tom McCarthy is now the director of Labor Relations for the City of New Haven, a position that was available to him last year that he turned down during his failed State Senate primary bid against Democratic incumbent Marilyn Moore. McCarthy works at the pleasure of New Haven Mayor Toni Harp. McCarthy, weeks away from the party endorsement, still has not made a decision about seeking reelection to his North End seat.

The six-figure position opened up after Harp fired labor relations chief Marcus Paca who's now running against her according to this account in the New Haven Independent.
McCarthy is no stranger to labor relations. He served as Bridgeport's deputy director of Labor Relations for more than a decade negotiating union contracts on behalf of the city. He left city service following the comeback of Mayor Joe Ganim who promised on the 2015 campaign trail to reduce conflicts of interests such as city employees serving on the City Council.
McCarthy, as head of the legislative branch working at the pleasure of Mayor Bill Finch, became the poster child for the lack of checks and balances in city government. The Bridgeport City Charter prohibits city employee councilors but a loophole in state law allows, as cited by the city attorney's office.
To remove McCarthy from his city position, rather than a potentially protracted legal battle, city lawyers and McCarthy's attorney, former Mayor Tom Bucci, agreed to a separation package of roughly $30,000 and 18 months of health benefits.
Ganim got what he wanted, a campaign promise fulfilled and McCarthy bought some time until he could land another job.
Moore is not fond of primaries, although she has a history of succeeding in them, so State Senate leadership with whom Harp served while in the legislative body carved out an offer to McCarthy for a municipal position in New Haven in lieu of challenging Moore in a primary in 2016. He turned down the labor relations slot, putting his efforts into a primary challenge of Moore. She trounced him in the primary by about two to one.
It was a tough pill to swallow for McCarthy, a Democratic party loyalist close to Town Chair Mario Testa. McCarthy rose through the ranks the old-fashioned way, an eager law school graduate who volunteered on campaigns including Ganim's 1999 reelection during JG1. He made himself available in other contests doing the grunt work associated with races. By 2001 he had a city position in Labor Relations and won a seat on the City Council in the North End 133rd District.
Shortly after Bill Finch's election as mayor in 2007 McCarthy was elected council president by his peers, a position he has since maintained.
McCarthy still enjoys core support and community interests who want him to stay on as council president shepherding through city business. It's no walk in the park corralling 19 other council members with an assortment of personalities and agendas. Yeah, almost everyone says it's easy. It's not. It takes a certain personality type that can roll with the slings and arrows. What the City Council does matters, be it serving as a check on the executive branch, approving city contracts, passing a budget and signing off on time-sensitive federal and state grants.
Will he give it another try?
Former State Rep. Bob Keeley and zoning commissioner Anne Pappas Phillips have announced a challenge of McCarthy and his council partner Jeanette Herron.
If McCarthy decides to seek reelection, he'll not mail it it.
Does he have enough fire in his belly to do that in lieu of the new job?