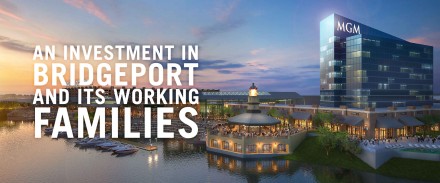 Declaring MGM Bridgeport can be "a major economic force, a top-tier entertainment resort, and an essential contributor to this community," MGM Chairman and Chief Executive Officer Jim Murren, a Bridgeport native, on Monday shared details of a $675 million waterfront resort for the East End creating thousands of construction and permanent jobs, a guarantee $8 million annually to the city as the host community in addition to millions more from real estate and personal property and building permits. MGM Resorts International is partnering with the RCI Group, developers of Steelpointe Harbor, to build a casino on the old Carpenter Technology site on Seaview Avenue. The proposal seeks no public subsidy. See website here. A major battle looms in state legislature for approval.


The proposal requires state legislative support because of a gaming monopoly the state granted Connecticut's two tribal nations in exchange for 25 percent of the slot take, a number MGM officials assert is dwindling with a promise of more revenue to the state including an up-front $50 million licensing fee upon a green light. MGM has given state officials swimming in red ink something to think about as legislators try to settle on a state budget. MGM pegs its revenue stream to the state at more than $300 million annually.
Noting the state's bleak fiscal picture and the battle ahead in the state legislature with the tribal nations that run Mohegan Sun and Foxwoods protecting their turf, Murren added "this project can help to turn the economic tide of this state. We just need the political commitment to make it happen." MGM says the community benefits include:
— More than 7,000 new jobs in the Bridgeport area
— $50 million in license fees paid to the State of Connecticut in fiscal year 2018
— >$8 million in annual payments to Bridgeport (as host city, in addition to taxes payments)
— $4.5 million in annual payments to surrounding communities
— More than $600 million in new private investment; 100% privately financed construction
— $430 Million in new labor income
And right out of the box Bridgeport received the blessing for this project from New Haven officials including Mayor Toni Harp, sitting next to Mayor Joe Ganim at the news announcement. New Haven will host MGM's work force development and training center extending the economic impact to the Elm City. Embracing the proposal Harp told the gathering overlooking Yellow Mill Channel and the harbor, with a nod to her former peers in the state legislature, "Don't shoot ourselves in the foot."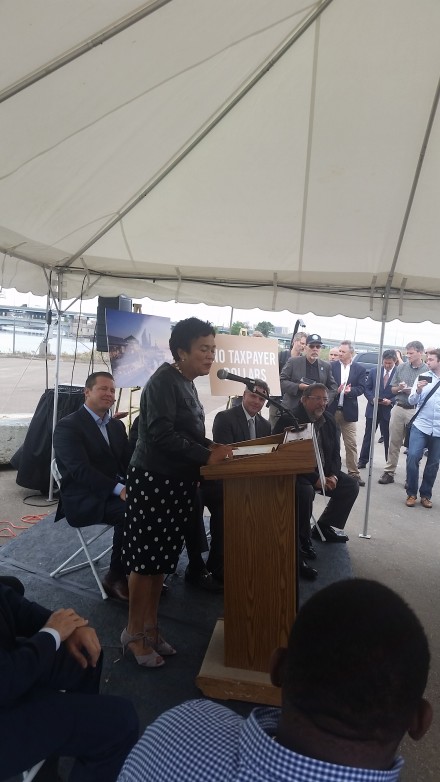 Several members of Bridgeport's state legislative delegation attended including State Senator Ed Gomes, a retired union organizer, who worked for more than a decade at Carpenter Technology.
What makes this proposal different than other casinos swelling around Connecticut? Murren and MGM official Uri Clinton argue proximity, a New York and Fairfield County market, waterfront views and amenities like no other casino in the state. "We are the market leader," said Murren. "We are doing as well today as 15 years ago."
Murren also spoke on a personal level about his roots in the city where his dad owned a saloon on State Street. His mother resides in the city's North End. "We're the right developer, the right time, the right place."
MGM Bridgeport calls for 2,000 slot machines, 160 table games, a 700-seat theater, 300-room hotel, retail and multiple dining options.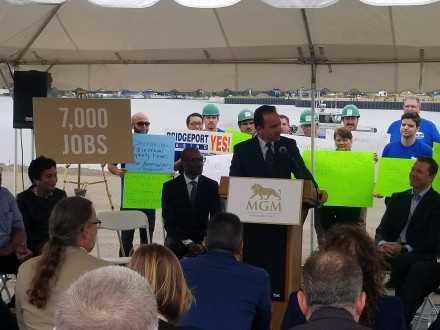 "The focus is rightly on the thousands of jobs that will be created, on the economic impact that will be felt by families, by the community, and by residents all across this state," said Robert Christoph Sr., Chairman of The RCI Group, developer of Steelpointe Harbor. "That impact should not be underestimated, and cannot be overstated. What we have developed with MGM is, in so many ways, a blueprint for progress for Bridgeport and for Connecticut."
"The last time someone came in with a promise of 7,000 good paying jobs, which included jobs for the residents of Bridgeport, was never. We'd be crazy not to pass this deal," said Bob Proto, Vice President Unite Here International, who joined officials at the announcement as well as members of the Building Trades and Carpenters Union.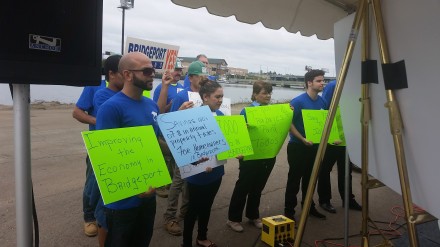 Clinton said if the proposal is approved it will take 30 months to complete the project. "It's funded and shovel-ready," he said.
Bridgeport officials noted the building permits alone would amount to roughly $7 million.
Ganim, in his remarks, thanked Murren jestfully for the "$18 million" annually coming to the city. Whether $18 million materializes is unclear, but certainly a number that will aid the city's always-challenging budgets.
Video of news conference courtesy of Steve Krauchick, Doing It Local.