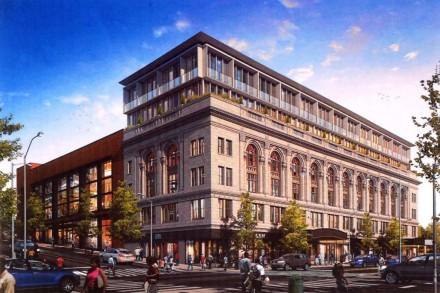 The City Council Monday night in a 13-4 vote signed off on New York-based Exact Capital's $410 million proposal to resurrect two nostalgic Downtown theaters and former Savoy Hotel in addition to constructing more than 800 housing units along adjacent streets. The vote came without a Project Labor Agreement that had been encouraged during a public hearing two weeks ago by union activists. Instead the council adopted an amendment to urge the developer to use "reasonable efforts" to hire local and union workers.

Project Labor Agreements guarantee union jobs at prevailing wages and benefits. Council members Tom McCarthy, Scott Burns, Michelle Lyons and AmyMarie Vizzo-Paniccia voted against the contract, citing various concerns. McCarthy, the council president, said he could not support the contract without a PLA.
McCarthy's council partner Jeanette Herron who's locked in a tie with former State Rep. Robert Keeley that's headed for a Tuesday recount following last week's Democratic primary, voted yes arguing the economic benefits for the city were too great to turn down.
For many older city residents the Poli and Majestic theaters represent the city's heyday as a magnet for New York's theater and pageantry. They have been shuttered for more than 40 years. The developer is seeking financing and projects a groundbreaking for summer 2018.
Exact Capital and affiliates propose to transform the closed theaters and 200-room Savoy Hotel into a multi-purpose performing arts center involving high-rise residential towers on several Downtown parcels including Main, Water, Golden Hill, Gold, Middle and Housatonic. The Planning and Zoning Commission has approved sale of the multiple parcels associated with the project.
Three council members Alfredo Castillo, Joe Casco and Denese Taylor-Moye did not attend the vote session.