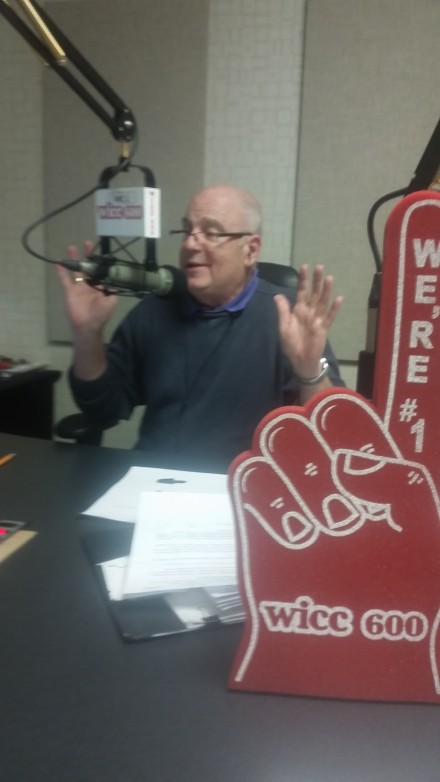 For thousands of listeners Jim Buchanan was good company, like the uncle you could joust with, make peace and come back another day. Talk radio is a fragile existence in the world of corporate bottom lines that prefer low-cost canned shows to informative live bodies sharing breaking news and an outlet for conversation. Last Monday, as Buchanan noted on his Facebook page, was his last on WICC where he's enjoyed two runs dating back more than 30 years.

Buchanan's slot has been replaced by the syndicated show finance author Dave Ramsey. His Talk Of The Town Show was a fixture during afternoon 4-7 with his signature "Be that as it may" declaration taking on a variety of subjects. And Buchanan dates back to an era when talk radio was king in Bridgeport be it WICC, WNAB, WDJZ. He was simply "Pal Jim" to many listeners.
WICC is owned by Atlanta-based Cumulus Media. Once listeners get beyond the genial team of Tony Reno and Mike Bellamy in the morning everything becomes canned syndicated stuff, conservative host Laura Ingraham, consumer warrior Clark Howard, Ramsay and others in the red eye hours.
Buchanan sounded a sanguine tone during a telephone chat on Tuesday, pragmatic in thought about the realities of radio programming while sounding an optimistic beat about the unknown future.
In radio they generally don't allow you time to say goodbye on the air. So he expressed gratitude to his listeners via his Facebook page, the newer medium.
Hi everyone:
As some of you may have already noticed I am no longer with the radio station. My last full day was Monday of last week. I only want to say I miss you all very much already. It was my true pleasure to Serve and Protect The Public Good for all these many years. I hope we will talk again soon. God Bless.