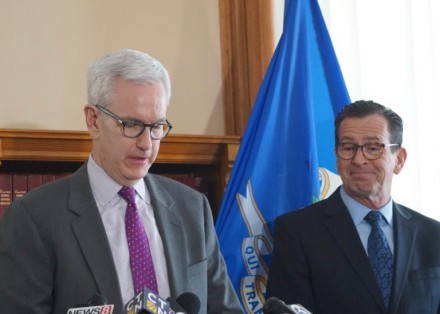 From Mark Pazniokas, CT Mirror:
A hearing today on the confirmation of Justice Andrew J. McDonald as chief justice of the Connecticut Supreme Court comes as politicians, lawyers and advocates debate the question of how ideology and partisanship should be balanced against questions of intellect, competence and integrity in evaluating fitness for the bench.
The nomination of McDonald, an old friend and political ally of an unpopular governor now seeking to promote him, pushes more buttons than most. As a Democratic state senator, McDonald was unabashedly liberal, a proponent of gay marriage and abortion rights, drawing fire from the Catholic Church. As a justice, he voted to repeal the last vestiges of capital punishment.

McDonald, 51, also is a trailblazer for the LGBT community as the first openly gay justice on the state's highest court, a factor that opponents say is irrelevant and supporters say is impossible to ignore. His sexual orientation has been central to an anonymous hate campaign waged in the wild west of political discourse, the internet.
Full story here.
Statement from Democratic Attorney General candidate Chris Mattei:
Chris Mattei, Democratic candidate for Attorney General and former Assistant United States Attorney, issued the following statement regarding Supreme Court Justice Andrew McDonald's nomination to be Connecticut's next Chief Justice:

"This week, Supreme Court Justice Andrew McDonald will appear before the Judiciary Committee of the Connecticut General Assembly. He has been nominated by Governor Malloy to serve as Connecticut's next Chief Justice. He is fully qualified, and Connecticut would be well served with him leading our state's judiciary. He should be confirmed in the regular course.

However, I have grave concerns about the posture Republicans have taken toward Justice McDonald's nomination. None of their criticism has focused on his mastery of the law, his performance as a judge or his personal integrity, which is beyond reproach. Instead, they have taken their cues from Republicans in Washington by launching transparent political attacks.

First, two Republican gubernatorial candidates argued that Justice McDonald's nomination should be ignored because Governor Malloy–with nearly a year left in his term–should not be permitted to fill a vacancy on the Supreme Court. Second, they have argued that Justice McDonald should be rejected because he is "too close" to Governor Malloy. It should come as no surprise that a governor would nominate someone in whom he has trust and confidence built over years of serving together. More importantly, Justice McDonald has already demonstrated his independence during his time on the bench.

This is not the stuff of serious criticism. It's even harder to take seriously given that Justice McDonald enjoyed overwhelming bi-partisan support when he was nominated to the Supreme Court a few years ago. I am reluctant to presume that Republicans oppose Justice McDonald because he is gay, but the weak rationales they have offered so far smack of pretext.

Justice McDonald's confirmation as Chief Justice would be historic. But, his sexual orientation standing alone is neither a reason to support, nor oppose his nomination. He should be judged based on his intellect, his integrity, his judicial performance and his devotion to the law. On these scores, I am confident the legislature will do its job and confirm a Supreme Court Justice that the people of Connecticut need and deserve."