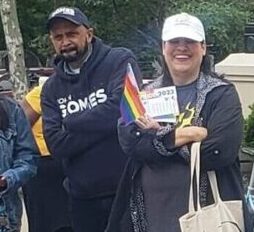 Bridgeport politics for sure is a screwy wabbit, especially when hunting votes. City Councilwoman Maria Pereira was certainly an asset hustling signatures for John Gomes to make the mayoral primary ballot.
She's also mighty handy banking absentee ballots, especially in her home 138th District where Gomes should perform well with the early vote.
As a campaigner Pereira is like a one-woman riot squad making arguments on behalf of or against candidates. She is both ferocious on the campaign trail but also mercurially volcanic. You bring her on and hold your breath she doesn't combust at a key campaign moment.
The ultimate diplomat in politics when it comes to reckoning Pereira is John Ricci, once a Mayor Joe Ganim backer who's now a key Gomes insider. He has the patience of Job when dealing with Pereira's peculiarities, serving as a bridge between Pereira and the candidate.
Pereira has never been a Gomes fan, then again she was no fan of former State Senator Dennis Bradley whom she once described "unethical, dishonest and sleazy as they come" but found a way to rationalize backing him in his primary loss to Herron Gaston last year, declaring on Facebook "I know this sounds a little nuts…
Earlier this year she posted on her Facebook page "I am absolutely NOT supporting John Gomes…John Gomes is arrogant, cocky and disrespectful and is surrounded by former BOE and city employees who were pushed out or fired. Many of them are looking for high-level city jobs should he prevail."
What changed?
More than just a wink and a nod. Pereira would have to be satisfied that whatever brought her to the campaign table must cement. Last year she served as a hired gun, managing long-time State Rep. Jack Hennessy's primary loss to Marcus Brown.
Perhaps she also has more enmity for Ganim than Gomes and would delight taking out the incumbent.
Pereira, a former school board member, must also be satisfied that Gomes will invest more in city schools the same thing that lured school board members Joe Sokolovic and Rob Traber to team Gomes. Sokolovic and Traber are key lieutenants hitting that theme on the campaign trail. Gomes has acquiesced to more funding. How much more?
Win first and figure that out later.