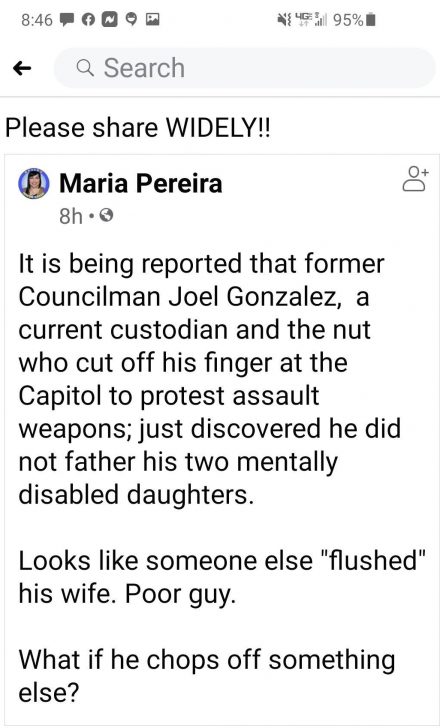 Fallout from a potential super-spreader party at the Trumbull home of city employee Danny Pizarro continues with former City Councilman Joel Gonzalez filing a police complaint against councilor Maria Pereira for attacking Gonzalez and his two autistic daughters in a vile, salacious Facebook rage.
The confrontation began after Gonzalez declared in the OIB comments section that Pereira's 24-year-old daughter Myla Campos, mother of a young child, attended the party while Pereira was calling for resignations and terminations of public employees who had attended. State Attorney Joseph Corradino is looking into the matter to "determine whether any additional enforcement actions can be taken and proven to the exacting standards of the criminal law."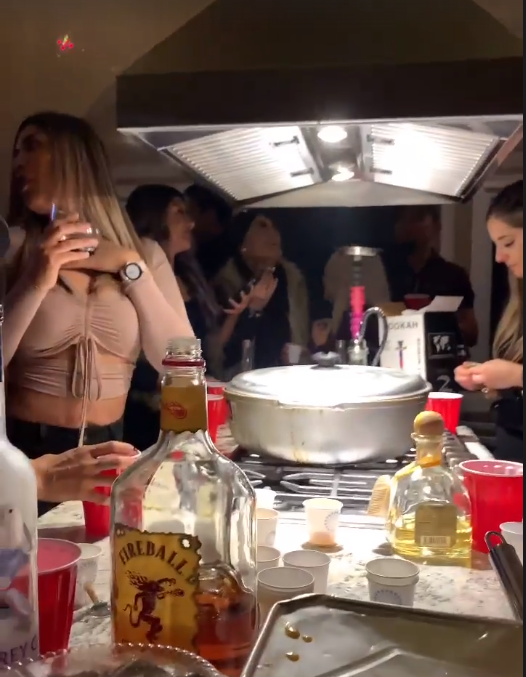 Pizarro has paid a $500 fine. Party attendants could be fined $250 for violating Governor Ned Lamont's executive order covering large events. Videos and pictures from the event show maskless clusters of jubilant partiers of more than 100 people. Pizarro bragged it was 300 people.
Statement from Gonzalez:
In response to the reaction, behavior and evil act by Maria Pereira against my wife and children, due to my OIB post stating that Pereira's daughter attended Danny Pizarro's Birthday bash in Trumbull, I have taken the following actions: I provided OIB with 2 photos of Myla Campos the daughter of Maria Pereira, taken inside Danny's residence in Trumbull that night; On Sunday, I called the Department of Family and Children hotline and reported Myla Campos presence at the party and the risk to her child and others of Covid-19 exposure; On Monday, I filed a complaint with the Bridgeport Police Department against Maria Pereira in regards to the threat made during a text exchange on messenger and her Facebook posting that followed; I left a phone message with the Trumbull Health Department; I also called in my complaint to City Council President Aidee Nieves.
Gonzalez, a Police Department custodian, says he and his wife have two autistic daughters ages 12 and 18. They have legal guardianship of the 18 year old.
Pereira made clear in churlish Facebook messenger exchanges with Gonzalez, she would exact revenge. In doing so Pereira, the former two-term school board member who represents the Upper Side 138th District, continued an obsessive preoccupation of falsely highlighting the sexual plumbing of people on her enemies list, be they male or female.
(Full disclosure: she has Facebook-posted me twice with lies.)
Pereira postures veracity in public but her mendacious, sexually explicit rants on Facebook speak volumes about a troubling side of a woman who lashes out at people with jaw-dropping, bile-filled lies. It leaves her largely isolated from coalition building and potential advocates who just plain stay away from her.
Gonzalez asserted in the OIB comments section that Pereira's daughter attended the party. In a fit of vile, Pereira unleashed a tirade against Gonzalez, first in Facebook texts to him, then on her Facebook page urging followers an exclamation to share "WIDELY."
Pereira starts the Facebook post by highlighting Gonzalez' 1994 amputation of his finger in Hartford to protest gun violence. She then insults his manhood, autistic children and wife.
It's not the first time Pereira has dragged family members into her enemies list of rants. She has done it with elected members of the Board of Education.
Pereira castigated Gonzalez's assertion that her daughter had attended the Pizarro party, but she doesn't flat out say her daughter was not there either. She simply challenges the evidence.
So Gonzalez says he secured the evidence, pictures of Campos he asserts were taken at the party.
OIB has confirmed with a party attendee that Campos was at Pizarro's soiree. Gonzalez emailed OIB two images, one capturing a portion of her face. See below image of Campos from her Facebook page following, for comparison, one image provided by Gonzalez.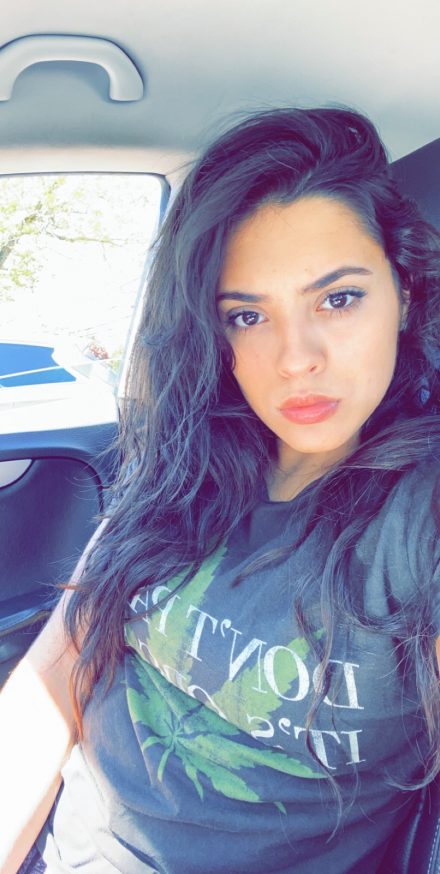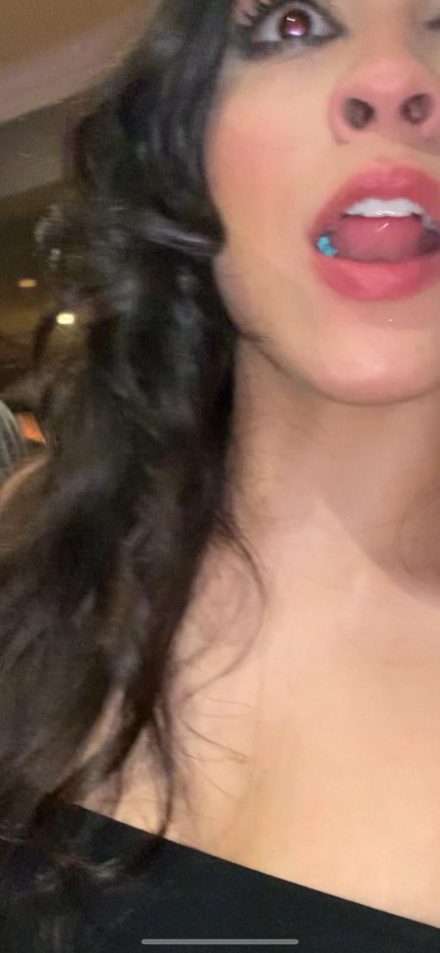 On January 22, OIB sent the following email to Pereira. There has been no response.
Maria, is your daughter willing to send a statement to correct the record? I'll contact her independently of you if you wish, but I don't have her contact info. I'll leave it up to you. There are many video components in this matter so is this a case of your daughter saying I'm 24 and an adult and I don't have to confirm or deny where I go, to my mother? Or will she say flat out I wasn't there?

The only relevance I see in this story involving your daughter (if she was there) is your call for people to be fired or resign. If she was there then should she be subjected to a fine?
Police report and messages follow: