More than $300,000 in legal/consulting bills and counting. Over the past 12 months the city has issued pricey payments, at taxpayer expense, responding to federal inquiry including AJ Perez's positioning as a police chief finalist in a national search.
Lawyers being lawyers, a tight lid has clamped down public awareness of mushrooming costs, who's receiving them and why.
Until now.
City Councilwoman Maria Pereira's dogged determination, coupled with analysis from retired Superior Court Judge Carmen Lopez, has unearthed a treasure trove of invoices, accounts of meetings and personnel involved including federal investigators.
"There is no one in Bridgeport I admire and respect more than the Honorable Carmen Lopez," says Pereira in a shared statement to OIB readers. "I also understand the importance of the public's interest and right to know. It is due to the trust and respect that I have for Carmen Lopez, that I have agreed to allow her to share this critical information with all of you."
From Lopez:
Only in Bridgeport do taxpayers increase the salary of our City Attorneys while simultaneously hiring outside counsel to do the work. Apparently, Bridgeport operates under "Ganim's Law" of municipal accounting: the outsourcing of legal services to high-priced contract attorneys increases, in direct proportion to the size of our in-house attorney budget.
Recent disclosures of legal and consulting fees paid to New York lawyers and consultants in connection with two Federal Subpoenas, one from Connecticut and another from the Southern District of New York, raise the obvious and rhetorical question: Who is minding the store?
On February 12, 2019, R. Christopher Meyer, Bridgeport's City Attorney, unilaterally signed a retainer agreement with Attorney James R. DeVita, a white collar criminal defense attorney based in White Plains, New York. In the agreement, Attorney DeVita agrees to represent the City "in connection with an investigation ("the Investigation") being conducted by the United States Attorney's Office for the District of Connecticut and the Federal Bureau of Investigation." The plain language of the retainer agreement states that the City is retaining Attorney DeVita to "assist and advise it in connection with complying with a grand jury subpoena" issued to the City in connection with the "Investigation."
The Chief City Attorney was very busy on February 12, 2019 signing retainer agreements with outside lawyers and consultants. In addition to the retainer agreement with Attorney DeVita, Attorney Meyer also signed a retainer agreement with Guidepost Solutions LLC, a New York investigations and research company. In this agreement, Attorney Meyer promised to pay this company from $375-425 per hour to "perform an independent inquiry into the City of Bridgeport's Procurement; Contracting; and Administrative Services (the "Programs") and other matters directly related to those Programs as determined in the sole discretion of Guidepost."
Thanks to Council Member Maria Pereira and her dogged investigation, this fleecing of the taxpayer has been exposed and there is surely more to come. Ms. Pereira shared copies of the invoices, the purchase orders and all retainer agreements with me, with the goal of promoting the public's right to know.
I have reviewed each and every invoice and have attached all copies of the invoices to this OIB commentary with the hope of informing OIB readers as well as members of the City Council who remain confused about their role as an independent branch of city government, and instead view themselves as useful props for the Mayor.
How can they preside over this flagrant abuse of power, and dare to refer to themselves as the representatives of the people?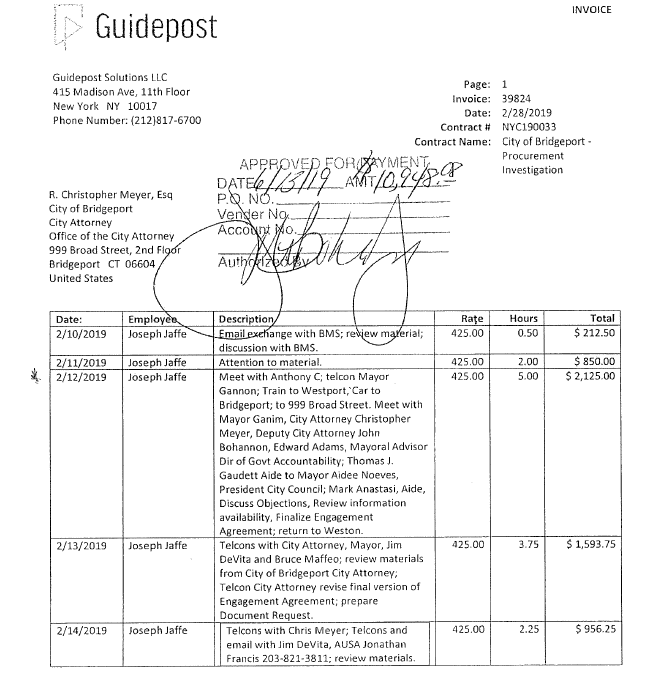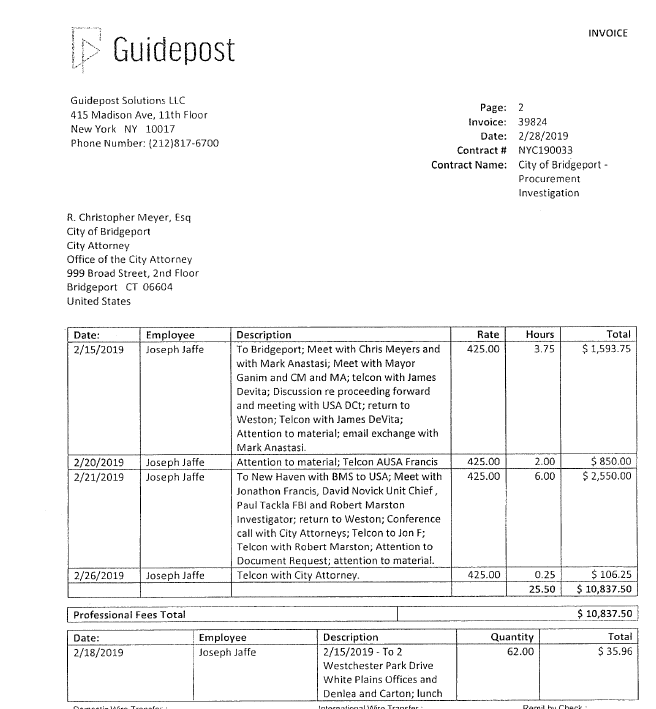 These legal fees have been expended even though there is no case in active litigation, no demand for money from the City of Bridgeport has been received and no city official has been sued or threatened with suit. Nor is there any evidence that either the City or outside counsel went to court to attempt to quash either subpoena.
In a CTPOST article of February 8, 2019, Brian Lockhart reported that the City of Bridgeport had been served with a Federal Subpoena. The article states that Mayor Ganim declined to comment on the subpoena, "but added that his departments have clearly been instructed to provide any information requested as part of the FBI's work."
While advising the CTPOST of his promises to cooperate with the investigation on February 8, the invoices tell another story.
Three (3) days later, on February 11, 2019, Mayor Ganim held a meeting in his office with Attorney DeVita and Chief of Police Perez, together with City Attorney Meyer and Deputy City Attorney Bohannon. Attorney DeVita billed the City $1,487.50 for that meeting.
The next day, February 12, 2019, was Guidepost Solutions, LLC turn to meet with the Mayor. Mr. Joseph Jaffe, lead investigator for Guideposts was in attendance. Also present were the Chief and the Deputy City Attorney, and of course, Mark Anastasi. Also present were the Mayor's Director of Governmental Accountability, Mr. Ed Adams, and Mayor's Aide T. Gaudett.
Also in attendance was none other than the President of the City Council, Ms. Aidee Nieves. According to the notes of work performed at the meeting, Mr. Jaffe states that the parties met to "discuss Objections, Review Information availability, Finalize Engagement Agreement."
The invoices provide evidence that the President of the City Council was in on the take-off of this scheme.
Unbeknownst to anyone outside of the Mayor's inner circle, the City was served with a second subpoena on July 17, 2019, five months following the issuance of the subpoena seeking records on the City's procurement and contracting services.
This information was discovered after Ms. Pereira obtained a copy of a second Guidepost Solutions, LLC retainer agreement signed and accepted by John Bohannon, Deputy City Attorney and Attorney James R. DeVita on August 1, 2019.
The seven (7) page agreement was made available to OIB readers in a recent article posted by Lennie Grimaldi. The agreement is printed on Guidepost Solution letterhead and identifies the subject matter as "City of Bridgeport advs. United States (US Attorney SDNY, US Attorney D. CT) Response to Subpoena dated July 17, 2019."
The effective date of this agreement is July 31, 2019. Fees are $425 per hour.
Unlike the February 12, 2019 retainer agreement between the City and Guidepost, this agreement represents that the "Law Offices of James R. DeVita (JDV) has retained Guidepost Solutions" to provide services identified only as (the "Engagement") in connection with the issuance of a second subpoena.
On July 18, 2019, the day after the subpoena was issued, City Hall was burning up the phone lines to the tune of $1955.00 in three telephone conversations between Attorney DeVita and the Mayor's Chief of Staff, Dan Shamas, as well as conversations with Mark Anastasi, Attorney Bruce Maffeo and the Office of the US Attorney. These phone conversations, coupled with a "review of the subpoena" consumed four hours and thirty six minutes of billable hours.
On July 31, 2019, a meeting was held in the NY office of Guidepost Solutions. Attorney DeVita billed $1,317.00 for that meeting; Guidepost Solutions billed $1,740.00 for the same meeting.
The billing records establish that the first order of business in this new "Engagement" was an August 5, 2019 one hour conference call with R. Frost, attorney for Chief AJ Perez. There is also a charge for a one hour conference call with F. Paoletti, attorney for David Dunn. Attorney DeVita and Guideposts have billed the Bridgeport taxpayer for conference calls with many others, including D. Grudberg and B. Maffeo. They have also billed for interactions with Precision Discovery, a NY legal firm specializing in digital forensics, data collection and preservation. According to their web-site, they provide "End-to-End Discovery Solutions."
This is only a snapshot of the invoices that the City of Bridgeport has been paying for services provided in secret and away from the taxpayers' view. What is clear and unambiguous is that Mark Anastasi is the go-to guy in this matter. It is inconceivable that the taxpayer has paid so much money to outside counsel to talk to Mark Anastasi and to lawyers representing city officials.
How can this happen right under the nose of the City Council and as the story is being reported by Brian Lockhart and Lennie Grimaldi, the only response heard from the President of the City Council, Ms. Nieves is a lament that "Somebody should have made me aware."
In a February 11, 2020 CTPOST article entitled, "Why has Bridgeport paid a consulting firm $152,000?" Ms. Nieves admitted that she supported bringing in Guidepost Solutions. However, she alleges that she did not know that the firm was also being used for legal matters.
On February 13, 2020, in another CTPOST article covering this issue, Ms. Nieves is quoted as saying "This payment does not make me feel warm and fuzzy. I expect to meet with the mayor and Chris Meyer to discuss the new contracted services (Guidepost) are performing, within the details that can be shared with me."
Wait a minute; what does that mean?
As OIB has reported, Council member Pereira filed a resolution on the Guidepost issue and it was referred to the Contracts Committee. The contracts committee was scheduled to discuss this at its March 10th meeting. The meeting was cancelled due to an expected lack of a quorum on that date. The members of the City Council will be attending a taxpayer-funded junket in Washington DC.
Notwithstanding the urgency surrounding these new disclosures, the President of the City Council has indicated that March 16, 2020, might be a good date to get a briefing on this issue. That is, if, it is convenient to the Mayor, Mark Anastasi and other city officials who will be brought in to schmooze the City Council.
Here are a few questions that require immediate answers before March 16, 2020:
1. Is anyone going to seriously argue that the taxpayers of the City of Bridgeport should be responsible for paying the legal fees of municipal employees who may be charged with a crime?
2. Were any of the subpoenaed documents public records?
3. Has the City been threatened with a civil suit?
4. Why does the City need to hire Jackson Lewis, an employment firm? What is their role on behalf of the City?
5. In light of the fact that the retainer agreement with Attorney DeVita refers solely to the subpoena issued by the US attorney for the District of Connecticut, is there a second retainer agreement with him covering the second subpoena issued by the US Attorney for the Southern District of New York on July 17, 2019?
6. Why do we need outside counsel to merely respond to a subpoena? Is there no legal capacity in our City Attorney's Office to handle this type of matter?
7. Unless the City of Bridgeport will be charged criminally, why are we hiring a criminal defense lawyer to represent the City?
8. What did the Mayor's Chief of Staff, Dan Shamus know and when did he know it? Why was he the first person that Attorney DeVita spoke to on the day following the issuance of the second subpoena?
There is much talk these days at the national level about an entrenched bureaucracy, sometimes referred to as the "deep state" that controls the country.
This latest scheme hatched by the City Attorney's Office, an entrenched bureaucracy, lends credence to the notion that a "deep state" subject to no election and lacking any accountability to the taxpayer is alive and well in the Park City.
Stay tuned, we taxpayers have not paid the last invoice!
Links to invoices: