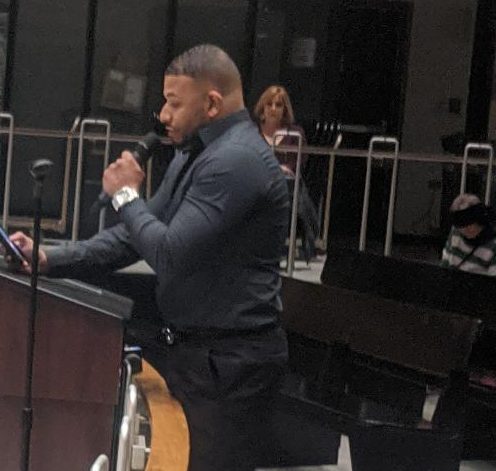 Davon Polite, president of the Bridgeport Guardians, an advocacy group for minority police officers, addressed the City Council Monday night about Rebeca Garcia's promotion to assistant chief while recommending Captain Lonnie Blackwell's rise to deputy chief.
First and foremost I personally would like to congratulate Assistant Chief Garcia for her promotion which was well deserved.

The Bridgeport Guardians support the decisions that Mayor Ganim and Chief Perez have made to diversify the City of Bridgeport and the leadership of the police department.

However, I'm here today advocating on behalf of meaningful diversity with the appointment of black officers to leadership positions at the upper ranks of the police department, which we haven't had a Black Officer at the position of deputy chief in about 20 years.

From my understanding Police Chief Perez and Police Commissioner Charles Ramsey (city consultant) selected Captain (Lonnie) Blackwell's resume along with Captain (Ray) Masek and Captain Garcia to all be promoted to the executive level.

I have been receiving tremendous pressure from the community and guardian members for the promotion of Captain Blackwell to deputy chief.

I personally haven't seen any indication that the selection process is being acted upon.

Please be advised that Captain Blackwell is the first African American to run our regional academy. He attended chiefs school and all leadership schools such as PERF which is Police Executive Research Form. Captain Blackwell is well rounded and extremely qualified. Captain Blackwell holds a masters degree in Criminal Justice and a bachelor's degree in Business Administration and has taught at the collegiate level as a professor for several years. Captain Blackwell continues to stay connected to the community implementing the six pillars of 21st century policing.

The police administration and the city of Bridgeport have stated they want the police department to represent the demographics of the city of Bridgeport. Currently we have 3 Hispanics and 1 Caucasian at the Executive level and no African American representation.

As the president of the Bridgeport Guardians I would like representation at least at the deputy chief position. There hasn't been an African American at that level in 20 years.

Finally, it is my duty to keep the city council informed that we do have a very qualified African American who should be promoted from within.