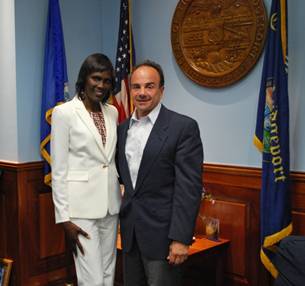 In a realignment of some key positions in his administration, Mayor Joe Ganim has demoted Chief Administrative Officer John Gomes, placing Kimberly Staley in charge of department heads, demoted State Rep. Charlie Stallworth from the mayor's office as well as Chief of Staff Danny Roach to special projects coordinator. Newly hired as de facto chief of staff is Christine Bartlett-Josey who served as a Ganim campaign strategist during his 2015 general election comeback. Communications Director Av Harris will shift to director of Public Policy and Legislative Affairs.

Some changes are immediate, others will take place early January. Salary adjustments based on the changes will also take place. Those adjustments are under review, according to a mayoral spokesman.
Ganim signaled a potential reshuffling months ago with his hire of Staley from the corporate world. Initially she reported to Gomes. He will now report to Staley.
The demotions stem from Ganim losing confidence in some of his key hires as well as trying to find a better fit for their respective skill sets.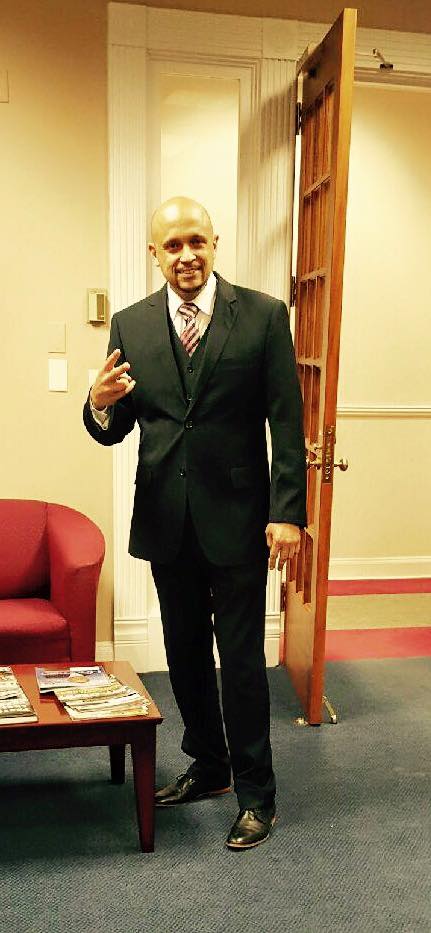 Tensions escalated recently between Ganim and Gomes when Ganim learned two of Gomes' family members were hired without his sign off, one in the police department, the other in economic development. An argument ensued between the two last week with Ganim questioning Gomes' administrative judgment. Other Ganim staffers have complained relentlessly that Gomes is heavy handed as an administrator. Gomes' pay as CAO is $127,555.
Gomes served as an administrator during the early mayoral years of Bill Finch. The two had a falling-out, Gomes was removed from his job, he entered the race for mayor in 2011, but backed out to support Mary-Jane Foster who lost a Democratic primary to Finch. Gomes supported Ganim in his 2015 comeback.
In Stallworth's East End church, on January 1, 2015, Ganim issued his first public apology on his way to a historic comeback. Stallworth, a leader in the politically active Interdenominational Ministerial Alliance, emerged as a high-profile Ganim campaign supporter. Ganim rewarded him with a $100,000-a-year job as special adviser to the mayor heading up the Minority Business Resource Center working out of the mayor's office.
In the restructuring Stallworth will have a lesser role with less hours, removed from the mayor's office. As a member of the State House, Stallworth's city hours would be cut back anyway as he enters a six-month legislative session that starts in early January.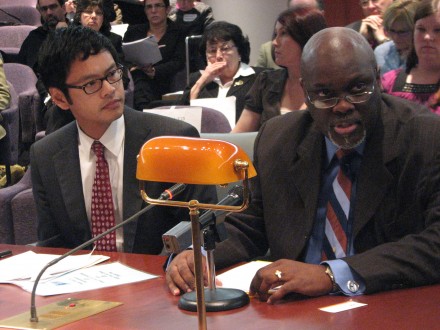 Stallworth recently joined several black political leaders condemning the rank demotion of Lieutenant Lonnie Blackwell who was accused of fabricating a racial letter within the Police Department. Blackwell denies the charges. Stallworth speaking out was seen as a public swipe at Ganim. Stallworth, in frustration, made some internal noise about quitting his city position. Discussions between Stallworth and city officials ensued about staying or going. In lieu of Stallworth leaving the payroll completely, Ganim opted to reduce his role in the administration.
Roach, Black Rock district leader, has been a trusted friend of Ganim for decades. Serving as chief of staff for a mayor is no picnic in Seaside Park. It requires both a political and governmental head to move along the business of the internal office while helping to manage and focus the mayor's time. His salary is $130,000.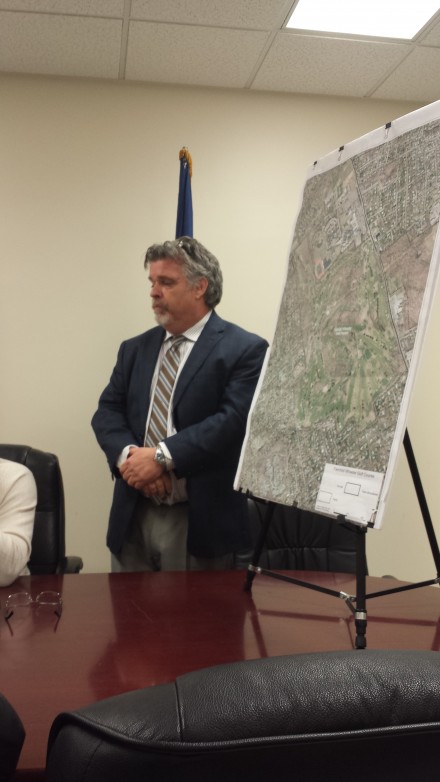 Ganim, who does not trust easily, places a large premium on loyalty. If he senses a hire has an agenda outside of his loyalty scope he will shut down on them. He may not terminate them but he will reassign to send a message, and maybe they will go away on their own accord.
The hallmark of JG1 was the mayor's negotiating skills and savvy department heads. Top to bottom Ganim's current department heads, so far, do not measure up to the successes he achieved during his more than 10-year run during JG1.
Harris has served as communications director for Ganim's first year back. He's being shifted to legislative services to focus on rallying more state and federal dollars for the city. Prior to working for Ganim, Harris had extensive experience working in the Office of the Connecticut Secretary of the State where he built up many legislative relationships in Hartford key in attracting state dollars.
Official City Hall news release:
Mayor Joe Ganim today announced that he has made several administrative staffing changes in the leadership of Bridgeport's City Government. The changes–listed below–are the result of a strategic planning process that began in July and continues to take place, evaluating 1) the strengths of each individual in Mayor Ganim's administration; 2) the best use of available human resources; 3) identifying needs that could be filled by new personnel. There may be other personnel announcements in the near future as the staff reorganization takes further shape.

"Now that my administration has one year in office, this is a good time to take stock of all we have accomplished and determine how best to achieve our future goals," said Mayor Ganim. "Each of the people I appointed to my administration has given serious time and effort to improving the quality of life of the residents of Bridgeport and I thank them all for their public service. Now is a good opportunity to realign our administration personnel to better realize our vision to bring greater economic development, better public schools, safer neighborhoods and a lower tax burden to this great city. We will also make a serious effort to strengthen Bridgeport as a center of prosperity for our entire region, and we are well poised to make this a reality. I am confident that each of the new appointments I have made will help us get there, and these are changes that work to everyone's strengths within our organization."

Kimberly Staley has been promoted from her current position of Assistant Chief Administrative Officer to the post of Acting Chief Administrative Officer for the City of Bridgeport, effective January 3, 2017. Staley grew up in Bridgeport and has extensive private sector and nonprofit experience, primarily in the field of workforce and community development.

John Gomes has been reassigned from the position of Acting Chief Administrative Officer to the post of Deputy Chief Administrative Officer, effective January 3, 2017. Gomes will continue to work on cost savings and government efficiency measures, and assist various city department heads.

Dan Roach has been reassigned to the position of Special Projects Manager, effective January 3, 2017. Roach has lead efforts related to the sale of city parkland to Sacred Heart University and the agreement with PSEG to build a $550 Million natural gas power plant, and will continue to work on other major city initiatives.

Christine Bartlett-Josie has been appointed as Deputy Chief of Staff in the office of Mayor Ganim, effective December 27, 2016. Bartlett-Josie has extensive government and advocacy experience, including the Connecticut Secretary of the State's Office, the Hispanic Health Council and as a political consultant with DNA Campaigns. She worked on the Mayor's 2015 campaign.

Reverend Dr. Charles Stallworth has been reassigned from his position as special advisor to the Mayor to the post of overseeing the Minority Business Enterprise Office, effective immediately.

Av Harris will shift responsibilities from Director of Communications to Director of Public Policy and Legislative Affairs, effective January 3, 2017. In his new capacity Harris will be working with Bridgeport's state and federal Congressional delegations to advance the legislative agenda for the city and serve as chief liaison from the city to state and federal government agencies.

Dalmarys Matos has been appointed to a full-time position as Communications and New Media Specialist in the Mayor's office. Matos has been a part-time communications assistant since June. Matos, who is also fluent in Spanish, was born and raised in Bridgeport and has worked as a television broadcaster on News 12 Connecticut.