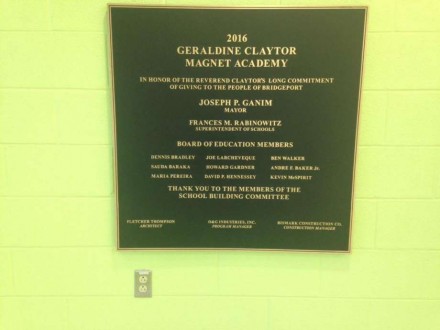 Jim Holloway, the longest-serving member on the City Council, who also sits on the School Building Committee, is hollering about his name omission on a plaque honoring a new city school, Geraldine Claytor Magnet Academy. The squawking will pay off, in more ways than one.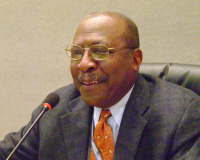 … Holloway made a motion that everyone on the committee, which includes a smattering of city council members, school board members and city and school officials, be recognized on the plaque. It was approved unanimously.

The plaque cost about $1,300 according to Hedman. A new plaque, listing more names, is bound to cost more.

Luckily, the budget for the new school, the committee was told, is in excellent shape, about $5 million under its $50.8 million budget. About one fifth of that, $1 million, will go back to the city once the project is done. The rest to the state, which is footing about 80 percent of the project cost.
Full story here from Linda Conner Lambeck, CT Post.