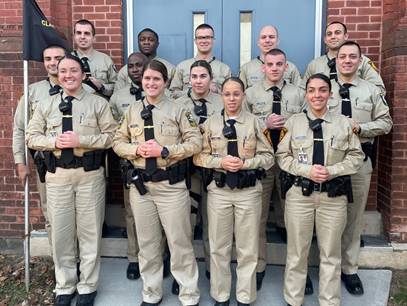 News release from Mayor's Office:
Friday evening, Mayor Ganim and Chief Porter welcomed fourteen new officers into the police force during a graduation ceremony held at University of Bridgeport's Arnold Berhnard Center. The ceremony follows a six-month long program that took place at the Bridgeport Police Training Academy where the former recruits participated in a variety of training sessions and skill building, led by Lieutenant Angelo Collazo.

Mayor Ganim stated, "I want to congratulate all of the officers that completed their training and can now serve our communities in the best way possible. I commend them for their persistence towards wanting to keep our city safe and protect our residents."

"It's my honor and pleasure to welcome these new officers into the profession of Law Enforcement; particularly, those who are joining the Bridgeport Police Department. Those who join Law Enforcement accept and take on a call to serve their communities and fellow citizens. Such an act should be met with extreme gratitude and appreciation," Chief Porter stated.

Lieutenant Collazo stated, "We appreciate Class 44 for choosing this noble profession, as we all know it's not easy being a police officer. I know these officers will serve the community with the principles and values that this academy has instilled in them. I wish Class 44 much success and hope they remember this phrase: 'If it was easy, everyone would be doing it.'"
See video of ceremony here.
The graduates that completed the academy are as follows:
— Sal Carollo
— Tamara Garcia
— Roger Hamilton
— Christian Lewczak
— Shawn Lynch
— Matthew Maciejko
— Christopher Matarazzo
— Emily McGinn
— Luisa Merced
— Valerie Perzanowski
— Fred Reid
— Paula Rocha
— Victor Rrapi
— Adam Salce