On January 1, 2015 in the East End church of Rev. Charlie Stallworth, Joe Ganim launched his historic comeback for mayor with his first public apology before a forgiving audience of worshipers at a New Year's Day emancipation event following his 2003 conviction on public corruption charges. Video above. Now in an OIB twist Stallworth is posturing for Ganim's job.
Ganim had declared for more than a decade that he did nothing wrong but has since, out of political pragmatism, turned a conviction into a second-chance credential.
Ganim's six minutes at the pulpit lectern was part reminiscing, part apology, part coalition building punctuated by an embrace from Stallworth who is also a member of the State House representing the 126th Assembly District. It kicked off informally a surreal election season in which Ganim challenged and defeated incumbent Democrat Bill Finch in a close primary on his way to a big general election victory.
Fast forward four years and once again Ganim is in campaign mode, but with Stallworth as a potential rival. Is Stallworth posturing for something or really serious about a citywide primary that requires coalitions, hundreds of thousands in campaign cash with an all-out effort for the task. He also comes off of two primary scares from school board member Maria Pereira in 2016 and former Jim Himes congressional staffer Shante Hanks in 2018.
State Senator Marilyn Moore is also examining a run for mayor. Moore and Stallworth both enjoy a base of support in the African American-rich Wilbur Cross precinct where Ganim has also performed well. Supporters of retired Superior Court Judge Carmen Lopez, as noted in the OIB comments section, are also urging her to run for mayor.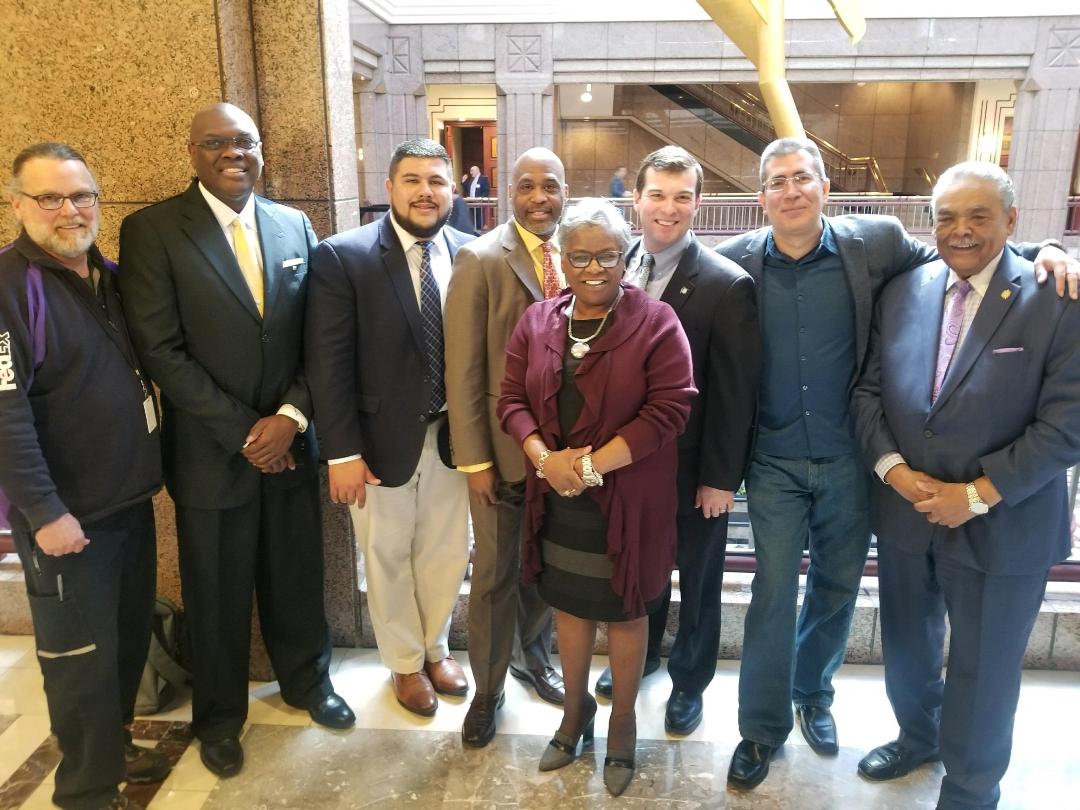 Stallworth had been a key face of Ganim's 2015 campaign. Ganim rewarded him with a $100,000-a-year job as special adviser to the mayor heading up the Minority Business Resource Center working out of the mayor's office. A year later Stallworth was demoted in a shakeup of Ganim's administration.
Stallworth had joined several black political leaders condemning the rank demotion of Lieutenant Lonnie Blackwell who was accused of fabricating a racial letter within the Police Department. Blackwell denied the charges. Stallworth speaking out was seen as a public swipe at Ganim. Stallworth, in frustration, made some internal noise about quitting his city position. Discussions between Stallworth and city officials ensued about staying or going. In lieu of Stallworth leaving the payroll completely, Ganim opted to reduce his role in the administration.
In March 2017 however, Stallworth resigned his city job. His relationship with Ganim, without public vitriol, is up and down, depending on the day.
Stallworth is poking around for political support probing pockets in Ganim's soft spots. Stallworth declares that Ganim's 2015 campaign promises have not measured up. Coupled with a property revaluation-led tax increase in 2016, as well as a misplaced run for governor, has anti-Ganim folks on the hunt for alternatives.
How vulnerable is Ganim? Depends on the competition. Ganim's in full reelection mode, raising money, leveraging the public candy store touting successes including a New Year's Day op-ed extolling his return as mayor.
Stallworth has made peculiar campaign declarations before, including a befuddling short-lived run for lieutenant governor in 2018.
Cynical Moore supporters argue that Stallworth and Ganim are actually in cahoots to split up a Ganim anti-vote should Moore get in the race. Conspiracy theorists abound in city politics. Could this one be correct?
Things will heat up soon. A clearer picture of Ganim's opposition will sort out within the next few months. Stay tuned.