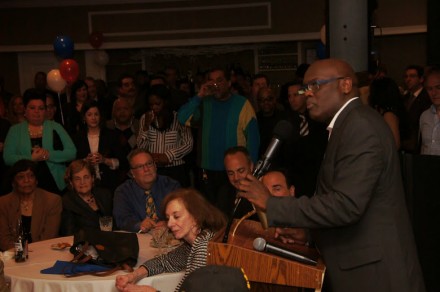 State Rep. Charlie Stallworth, an early backer of Joe Ganim's mayoral comeback, has resigned as director of the Small & Minority Business Resource Center after being demoted from the mayor's office as part of an administrative shakeup by Ganim in December. His last day of employment will be April 14, according to his resignation letter to Ganim.

"Thank you for the opportunity to serve the wonderful people of Bridgeport," he wrote. "The experience has been both educational and fulfilling. I hope and pray for the success of our city. I will continue to be an advocate for the city and the great people of Bridgeport."
In Stallworth's East End church, on January 1, 2015, Ganim issued his first public apology about his conviction on public corruption charges in 2003 on his way to a historic comeback. Stallworth, a leader in the politically active Interdenominational Ministerial Alliance, emerged as a high-profile Ganim campaign supporter. Ganim rewarded him with a $100,000-a-year job as special adviser to the mayor working out of the mayor's office.
Stallworth had joined several black political leaders condemning the rank demotion of Lieutenant Lonnie Blackwell who was accused of fabricating a racial letter within the Police Department. Blackwell denies the charges. Stallworth speaking out was seen as a public swipe at Ganim. Stallworth, in frustration, made some internal noise about quitting his city position. Discussions between Stallworth and city officials ensued about staying or going. In lieu of Stallworth leaving the payroll completely, Ganim opted to reduce his role in the administration and cut back his hours during the legislative session that began in January.
In an interview with OIB Wednesday morning, Stallworth said "It was time to move on. There are a lot of things I want to accomplish for the community."
What was his his most recent relationship with Ganim?
"Joe and I have had very little interaction."
Is he pondering a mayoral run for 2019?
"It's not something I'm thinking about at this time."