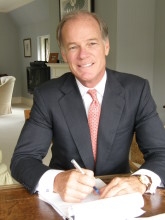 When Tom Foley announced his exploratory campaign for governor at the Burroughs Community Center last September he acknowledged Republicans must perform better in Democratic strongholds with a promise to spend more time in cities. We'll see if he puts words into action. The U.S. ambassador to Ireland under George W. Bush made his formal announcement on Wednesday in Waterbury seeking the Republican nomination for governor in a GOP field that includes State Senator John McKinney and Danbury Mayor Mark Boughton. An August primary is expected.

"The failure of the governor's agenda falls hardest on the residents of cities such as Bridgeport who already were suffering from high crime rates, too few jobs, the impact of corruption, and underperforming schools," Foley told a gathering of reporters in Bridgeport last September. "The fate of our cities will be the fate of our state. Governor Malloy and the legislature are not doing nearly enough. So I will be spending a lot of time in Connecticut's cities listening to residents' problems and helping craft solutions."
Foley narrowly lost to Democrat Dan Malloy in 2010 with cities such as Bridgeport and New Haven making the difference on that crazy Tuesday when the city experienced a ballot shortage that became embarrassing national news following a visit by Barack Obama three days prior.
"Connecticut's future is really as good as the future of our cities," Foley announced on Wednesday. Foley promised to cut the sales tax and help address city issues such as crime and poverty. He also said he would institute school choice in underperforming districts.
Governor Malloy has not yet made a formal reelection announcement.
In anticipation of Foley's announcement Democratic Party Chairman Nancy DiNardo stated, "Tom Foley is against the minimum wage, against common sense gun control, and he supported the Tea Party led government shutdown that cost Connecticut residents a lot of jobs. He's wrong on the issues, he's wrong for Connecticut."
Bridgeport resident David Walker has formed a candidate committee to explore a run for the Republican nomination for lieutenant governor. He's been busy raising money to qualify for the Citizens Election Program of publicly financed races. On Tuesday Boughton announced former Groton Mayor Heather Bond Somers as his running mate. Will Walker land as a running mate with either Foley or McKinney?