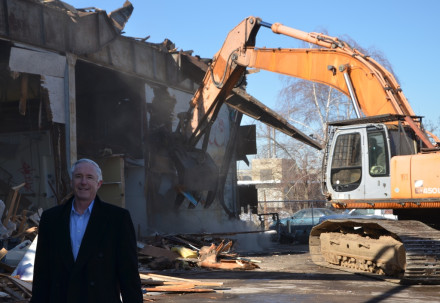 From Mayor Bill Finch:
Mayor Bill Finch today marked the demolition of 337 Knowlton St., as a part of Phase III of construction of the City's newest park–Knowlton Park.


Construction of Phase II of Knowlton Park began in Fall 2013 and will consist of: a basketball court, play equipment and rubber play surface, a pergola, pavilion, sidewalk paths throughout the park along the waterfront, and landscape improvements.

Knowlton Park, which opened in 2012, is located on Knowlton Street in the City's East Side along the Pequonnock River. Knowlton Park is a part of Mayor Finch's waterfront recapture initiative, which aims to give residents an opportunity to enjoy the City's waterfront. The City's Parks Master Plan calls for the creation of parks and green spaces throughout the city that are within a 15-minute walk of most residents.

"Since its opening in 2012, Knowlton Park has been a tremendous asset to the East Side community. The next phase of the park will bring a playground, basketball court, and boardwalk, all of which will certainly draw in crowds of people from throughout the neighborhood to enjoy," said Mayor Finch. "We're tearing down a blighted property that has not been productive in several years and replacing it with a beautiful waterfront park, featuring nearly two football field's length of linear access to the Pequonnock River."

The property at 337 Knowlton St. was donated to the City by MP Development. The demolition project, estimated to cost $1 million, is funded by City capital funds and the HUD Neighborhood Stabilization Program (NSP). The expected duration of the demolition project is 30 days.