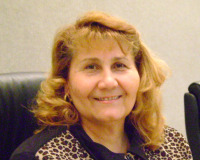 If City Councilwoman Lydia Martinez is to win reelection to represent the East Side, it looks like she must wage a September primary. Lydia and her council partner Manny Ayala were not endorsed for another two-year term Wednesday afternoon by Democratic town committee members representing the 137th District. Instead they endorsed former council member Maria Valle and Aidee Nieves, both of whom are on the district town committee. Lydia, knowing the outcome was a foregone conclusion, did not attend the district caucus. This endorsement is not quite official just yet. That comes July 22 when the Democratic Town Committee meets at Testo's Restaurant to endorse candidates for school board and City Council at the party convention.

Once official, Lydia must secure signatures from five percent of registered Democrats in the district to wage a primary. That should not be a problem assuming most of the signatures are legit. It's unclear who will run with Lydia.
Seven of the nine-member town committee district were present for the endorsement caucus that took place Wednesday afternoon, according to District Leader Gil Hernandez. Voting to endorse Valle and Nieves were Gil Hernandez, Maria Rivera, Vidal Agosto, Nieves, Valle, Juan Hernandez and former town committee member Tito Ayala the proxy for Dimas Couto.
Lydia's rejection for another two-year term was basically sealed last year when Tito Ayala and Gil Hernandez seized control of the district through a town committee primary. Maria Rivera and Vidal Agosto, two members who did not endorse Lydia, ran on her slate last year. But in East Side politics you just never know about the ever-shifting alliances.
Lydia's not expected to give up the fight. She knows her district peeps as queen of city absentee ballots. She also directs community block grant funds to her district as co-chair of the council committee that distributes grants. But if Lydia's to prevail, she'll need to crank up her mighty absentee ballot operation that has gotten her into hot water with state elections officials in the past, including a fine a few years ago for helping a constituent fill out a ballot in violation of state law.