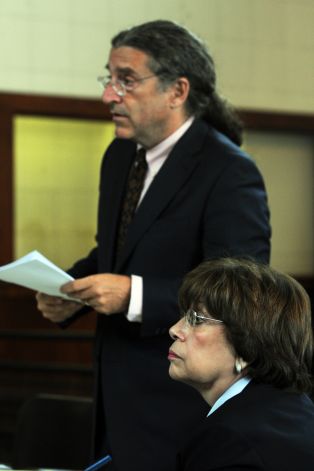 Superior Court Judge Barbara Bellis Wednesday afternoon ordered Paul Vallas off the job as superintendent of schools while her decision removing him for lack of legal certification is under appeal. Judge Bellis' original decision, however, and her decision to terminate Vallas will now be reviewed by an appellate court, according to Deputy City Attorney Art Laske. The city filed a direct appeal Wednesday to the Supreme Court and if granted it will hear the appeal. As a result Vallas remains on the job. If the Supremes do not take the case the appellate court will hear it. Either way the city's legal response means Vallas will remain on the job pending this review, according to Laske. It's unclear how long that will take but at least 10 days. Confused? So is the short-term future of the school district. The city has hired lawyer Steven Ecker, an appellate specialist, to represent Vallas.

Lawyers representing retired Superior Court Judge Carmen Lopez who brought the case challenging Vallas' qualifications to serve urged Bellis to remove Vallas from the job immediately. City lawyers argued for Vallas to remain on the job pending appeal.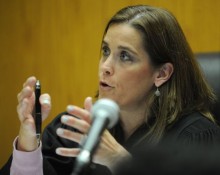 Bellis had ruled previously Vallas did not complete a school leadership program required by state law. Prior to Bridgeport, Vallas served as chief of school systems in Philadelphia, Chicago and New Orleans.
Mayor Bill Finch, in support of Vallas, issued this statement:
"We filled huge education budget deficits, avoided layoffs, increased funding, built new schools, gave every high school student a laptop computer, and all schoolchildren new textbooks for the very first time all because of Paul Vallas, the five board of education members who support him and my administration. What could this judge, whose children do not attend Bridgeport schools, be possibly thinking? I'm confident an impartial, higher court will give Bridgeport kids some of the justice they have long deserved. I want to keep Paul Vallas here fighting for our kids."
Gary Peluchette, president of the Bridgeport Education Association, told the Connecticut Post that the Board of Education should call on Sandra Kase, chief administrative officer for the district, to replace Vallas who hired the former New York City school administrator.
"We hope that the BOE calls upon Sandra Kase to lead the district at this time, as she is qualified to do so, and that her appointment would be in the best interest of the students and staff during this time of transition," said Peluchette.
Vallas' replacement will not be acted upon, however, until (if and when) he's off the job.
Statement from Connecticut Working Families Party:
We're glad to see that Paul Vallas won't continue to act as superintendent while he appeals the court ruling that he isn't legally qualified to lead a school district in Connecticut. Paul Vallas has taken Bridgeport in the wrong direction: cutting special education and creative programs, raising administrative costs while understaffing the schools, and imposing more rounds of standardized tests. It is time for the city to start the process of finding a superintendent who will work with teachers, parents, and students to improve Bridgeport's schools. And it is time Bridgeport's politicians listened to the outpouring of grassroots activity from Bridgeport residents who signed petitions and wrote letters to the editor urging the city to stop wasting taxpayer money on legal appeals to keep Vallas in a job he's unqualified for. The sooner Bridgeport puts the failures of Paul Vallas behind it and starts spending taxpayer money on education instead of continued legal action, the better.
Statement from Excel Bridgeport:
Earlier this afternoon, Judge Bellis ruled that Superintendent Vallas must step down immediately. The city's attorneys will appeal this ruling. The superintendent's future in Bridgeport remains unclear.

We have learned some important lessons about what makes a great district leader from Superintendent Vallas. We know that we need a leader who will set a vision for excellence, who will work to develop talented educators, who will focus first and foremost on student achievement, and who is committed to engaging parents and community members. As a community, we must work to ensure that all of our district leaders, present and future, share those qualities.