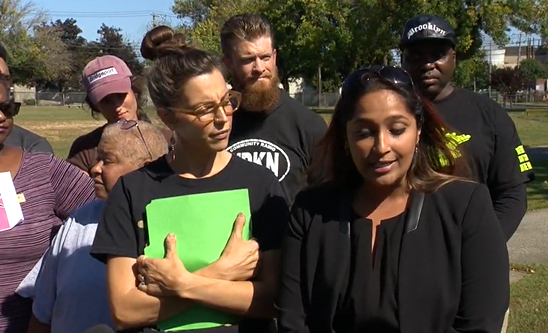 Toot the trumpets. Bang the drums. Sound the horns. The sister affiliate of the "non-partisan" Bridgeport Generation Now, made up largely of deep-pocketed Black Rockers, has issued a "major citywide announcement" that includes a formal way to win an endorsement on behalf of the "Beloved Bridgeport" campaign. Can't ya just feel the love, beloved ones?
In this sleepy off-cycle for Board of Education and City Council seats the so-called reform group is planting a flag in the ground after its failed effort to overturn the 2019 mayoral primary, a lawsuit that was unanimously rejected by the Connecticut Supreme Court for claims of absentee ballot fraud.
In 2019 the Black Rock organizers of the "non-partisan" group threw a fundraiser for State Senator Marilyn Moore for mayor then realized, oops, we must create a sister group so we don't violate our IRS status. Wouldn't it have just been better from day one to announce we are an ADVOCACY GROUP and we endorse!"
Now the group is stuck with this shell game of we want power as much as anyone else, and we're willing to buy it with our own money. We are this when we want to be and that when we want to be. All things to all people. How convenient. Sound familiar? Paging Yale, Harvard and Princeton limo-lib elitists.
But hey, let's give the group its full due because this release is biblical to "Beloved Bridgeport."
In a major citywide announcement, Bridgeport Generation Now Votes and the #UnrigBridgeport Coalition released a new and sweeping policy platform, unveiled its first-ever candidate endorsement process, and affirmed its intention to play a significant role in the upcoming 2021 municipal elections through an aggressive voter education and mobilization effort, all a part of the next phase of the #UnrigBridgeport campaign to fix Bridgeport's broken democracy.

The #UnrigBridgeport policy agenda, entitled The People's Platform, offers a transformative vision of a "Beloved Bridgeport" and comprehensive 30-point plan that offers a positive vision of justice and equity initiatives, good government proposals, pro-democracy measures, and takes on the culture of systemic corruption in the Park City. Informed by hundreds of conversations with city residents and members of the #UnrigBridgeport Coalition at community events and meetings as well as visits to public schools and public housing centers, The People's Platform seeks to help build a "Beloved Bridgeport" where all community members enjoy good schools, safe streets, affordable housing, a police department that respects us, and a thriving democracy and economy that delivers for its people.

"Bridgeport's democracy is broken, but we intend to fix it," said Gemeem Davis, President of Bridgepoint Generation Now Votes. "Through The People's Platform, and in partnership with like-minded advocates and elected leaders, we will turn the page on Bridgeport's storied history of systemic corruption, and help write a new chapter that builds a more just, equitable, and livable city for all. As we heard over and over from Bridgeport residents, they feel their voice–and their vote–doesn't matter. So much so that many people refused to participate in our local elections because they thought the game was rigged. Now, we're coming together as a community and a city to change that."

"UNRIG BRIDGEPORT 2021: The Campaign to Fix Bridgeport's Democracy" was launched in March 2021 by Bridgeport Generation Now Votes, the 501c4 affiliate of Bridgeport Generation Now, and the #UnrigBridgeport Coalition (see list below). Today's announcement shifts the #UnrigBridgeport campaign into a new, higher gear in advance of the 2021 election season this summer and fall.

THE PEOPLE'S PLATFORM
The People's Platform is centered around four key pillars–Justice + Equity, Good Government, Anti-Corruption and Pro-Democracy–and within each pillar are several related policy proposals. Some examples of the 30 policy proposals in the plan include, but are not limited to, the following:

— Justice + Equity:
-o- Economic Justice proposals to strategically invest Bridgeport's American Rescue Plan funds in high-impact youth services and employment, citywide broadband internet, and other critical infrastructure improvements; pay all city workers a Living Wage; and increase Education Funding by $6 million per year;
-o- Racial Justice proposals to require Anti-Racist Training for municipal leaders and to conduct a study that explores establishing a City Reparations Fund for Bridgeport residents who can trace their ancestry back to slavery.
-o- Police Safety & Police Accountability proposals to recognize that Public Safety is Public Health by divesting resources from the police budget and into services that address the root causes of violence such as mental health and addiction treatment; invest in Gun Violence Prevention; strengthen the authority of the Bridgeport Police Commission, and ensure Police Contract Reform.

— Good Government: Open Government proposals that enable greater public access, engagement, and engagement; Open Budgets that provide real-time updates of city expenditures as well as end-of-year reconciliations that compare the original adopted budgeted to the actual budget; a more Empowered City Council that is a stronger counterbalance to the mayor; Fully Seated & Functioning Boards and Commissions; and a Charter Revision Commission in 2022 to consider much-needed changes to city governance.

— Anti-Corruption: Supporting Election Oversight and Compliance; Public Financing of Municipal Elections; Ethics Reform; Ending Political Patronage; and Fiscal Watchdog proposals;

— Pro-Democracy: Expanding Voting Rights & Participation through early voting and no-excuse absentee ballot voting as well as ensuring Absentee Ballot Education, Reform & Compliance.

The full list of policy proposals and the specifics of each proposal can be found here.

CANDIDATE ENDORSEMENT PROCESS
Along with the The People's Platform, Bridgeport Generation Now Votes also unveiled its first-ever candidate endorsement process and an #UnrigBridgeport Candidate Questionnaire. All candidates running for Bridgeport City Council in the 2021 municipal elections will be invited to participate in the endorsement process, to fill out the questionnaire, and take the "#UnrigBridgeport People's Pledge" in support of The People's Platform. An endorsement committee, made up of senior leaders from Bridgeport Generation Now Votes and the #UnrigBridgeport Coalition, will evaluate all the candidates based on these inputs, invite like-minded candidates to participate in a candidate interview, and then announce the slate of endorsed candidates later this summer in advance of the city's primary elections.

"We are eager to work with reform-minded candidates running for Bridgeport City Council who share our positive vision for change, and who are committed to #UnrigBridgeport by advancing The People's Platform," said Callie Gale Heilmann, Co-Director of Bridgeport Generation Now Votes. "Bridgeport voters are demanding more from our elected leaders: we deserve an electoral process and city government that is free from systemic corruption–and instead fully responsive to and empowering of the people."

Rev. Stanley Lord, president of the Greater Bridgeport NAACP and an #UnrigBridgeport Coalition member, said "For far too long, we've allowed the few to control the many. No more. Today, we stand together and commit to supporting candidates that stand by what we stand for." Lord continued, "We want and demand the best for Bridgeport. When we stand together in common cause and common purpose, we can do great things–we can change Bridgeport."

VOTER EDUCATION & MOBILIZATION
In advance of the 2021 primary elections, Bridgeport Generation Now Votes and their #UnrigBridgeport Coalition partners (see list below) also committed to an aggressive voter education and mobilization campaign that will engage thousands of Bridgeport voters about The People's Platform and the endorsed slate of candidates. Planned voter engagement activities include, but are not limited to: door-to-door canvassing, phone banking, text banking, digital ads and other forms of paid media advertising. The effort promises to be one of the most significant voter engagement efforts from any organization this year, and in a projected low-turnout election could prove to be decisive.

In the 2020 election, we saw the power in how black women like me turned out to vote. We saw the impact that marginalized communities, existing largely in urban centers, could have on elections as large as the Presidential election. Today, it's about how we build power with our neighbors to fight for the issues we care about in Bridgeport. Being active in our communities and in our political elections is the only way things will change," said Zina Bennett, an #UnrigBridgeport Coalition member and a delegate and member of SEIU District 1199 New England. "I am proud to stand here today with the #UnrigBridgeport campaign to do the same thing at a local level."

Today's announcement follows a series of recent initiatives and victories by the #UnrigBridgeport Coalition, including: the successful appointment of an independent election monitor for Bridgeport (2020 and 2021), the exposure of widespread absentee ballot abuses in the 2019 mayoral election in the Lazar v. Ganim et al lawsuit (2019), the successful passage of the Bridgeport Anti-Corruption Resolution (2018), and led the fight for a transparent search for Bridgeport's police chief (2018).

Next the #UnrigBridgeport campaign will be hosting a special citywide event this Friday, July 16th at 6pm at The Klein Memorial Auditorium (910 Fairfield Ave, Bridgeport, CT 06605) with Dr. Mary Frances Berry–celebrated civil rights activist, American historian, and author of Five Dollars and a Pork Chop Sandwich: Vote Buying and the Corruption of Democracy–where discussion will focus on how corruption in Bridgeport works, how it is connected to voting, and why it is so important to get involved in local elections this year. The event is free for all Bridgeport residents and youth under 18.
###

About Bridgeport Generation Now Votes and the #UnrigBridgeport Coalition
BRIDGEPORT GENERATION NOW VOTES is on a mission to increase voter turnout in Bridgeport elections. Key to that work is strengthening democracy, fighting corruption, and expanding and protecting voting rights for the people of Bridgeport.
We are a nonprofit, nonpartisan 501(c)4 affiliate of Bridgeport Generation Now, working on legislation, litigation, and grassroots organizing.
For more information, go to bptgennowvotes.org and follow us on Twitter, Facebook, and Instagram.
The UNRIG BRIDGEPORT COALITION is made of the following partner organizations and individuals:

— Organizations: Bridgeport Generation Now Votes, Bridgeport Strong, Connecticut Citizen Action Group, The Greater Bridgeport NAACP, Make The Road CT Action, PT Partners, SEIU 1199 New England, The Working Families Party – Bridgeport, The Working Families Party – CT

— Individuals: Kelvin Ayala (Bridgeport Resident), Donna Curran (Former Democratic Town Committee member), Joe Luciano (Bridgeport Resident), Pete Spain (Former City Council Representative)